As of June 2020, I am taking online classes at APU from my family home in Tokyo. The current situation is forcing many of us APU students to attend classes from a location other than Beppu. I must say, however, that I miss Beppu terribly!
Regarding my own situation, last September, I left for Canada to study abroad. Fortunately for me, that was before the coronavirus (COVID-19) started spreading. Assuming a worst-case scenario in which all airline flights would be cancelled, I returned to Japan a month ahead of schedule. From here I continued to attend classes in Canada over the Internet, and managed to get through exams for those classes while fighting off sleepiness due to the difference in time zones.
My original plan was to head to Beppu right after returning to Japan. However, after taking various things into consideration, I gave up on that idea.
What this means is that I haven't set foot in Beppu in nearly a year. Recently, my body is literally itching to get back as soon as I can. With that, I'd like to share with you what I want to do when I finally do return to Beppu.
I hope that my story, amusing as it may be, is to help everyone feel more motivated to make their way to Beppu. Hopefully, new students will find what I have to say useful when they first head to Beppu, existing students will feel resonance with me, and alumni will look back fondly and say, yes, I remember doing that too!
1. Before getting things back on track, I want to get people back together!
The very first thing I want to do is to meet my friends. The longer you're unable to meet your friends, the stronger your yearning for them grows. Though we are still apart, imagining what my friends and I will talk about and where we will go the next time we actually meet puts a smile on my face. Because APU students come from all over Japan and all over the world, it is not uncommon for us to be unable to meet up with our friends during summer vacation and other long breaks. I thought I had built up an immunity to that, but it turns out I was dead wrong.
Right now, I have to be content with talking to my friends over Zoom. As soon as the COVID-19 situation has settled down, though, I will be ready to spring into action to meet them.
I went to a flower shop in Nishi-Oita with my friend who is fond of flowers. Accompanying friends to places they want to go opens up new worlds!
2. In Beppu, you'll find feasts for the eyes as well as the mouth! Enjoy them in a fashionable setting here!
The next thing I will do is treat myself to some of Beppu's many delectable foods, such as toriten (chicken tempura) and reimen (cold noodles), to name a couple. Enjoying these together with friends makes them twice as tasty!
The place I particularly want to visit to eat together with my friends is "Dig Coffee" for their cake. While all of their offerings are scrumptious, after eating some cake in the café, I want some of their apple pie to go. I want to spend a quality afternoon filling myself up with delicious cake while lounging in the café's fashionable interior, and sharing the happy vibes that come with it with my good friends.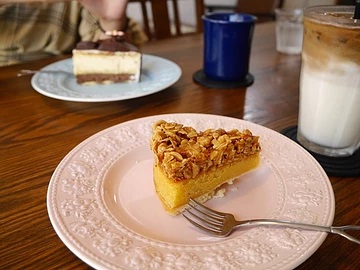 In summer, I find myself heading to the café to cool off. Since I sweat so much during the season, it's like I don't gain any calories!
Dig Coffee
Scheduled to resume eat-in business in June with fewer seats.
Business hours: From 10:00 AM until the last item is sold out
Address: 8-20 Shoningahama-cho, Beppu-shi
URL:https://www.instagram.com/dig_coffee_/
3. Enough staying at home—time to go outside!
Beppu has plenty of sightseeing spots outside of hot springs resorts. In my opinion, meeting with your friends off campus to have loads of fun is one of the special privileges of being a university student. For that purpose, I'd especially like to recommend our local aquarium, "Umitamago!"
You'll never get tired of looking at the adorable creatures here. It's definitely a place to go if you don't get enough mental relaxation in your day-to-day life. I can't wait to see this seal again.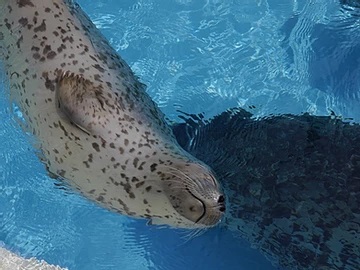 This seal made this face at me, showing no sense of distrust. I found myself unconsciously making the same face back! I wonder if it still remembers me…?
Oita Marine Palace Aquarium Umitamago
Address: 3078-22 Kanzaki-Uto, Oita-Shi
URL:https://www.umitamago.jp/index-en/
Official Instagram account: https://www.instagram.com/umitamago_staff/
*Please see the above official website for opening hours and other information.
Today, when what was once our routine is now completely the opposite, living a completely normal life in Beppu is more than just valuable—it is truly priceless. The situation we now find ourselves in enabled me to realize that for the first time. That is precisely why the next time I head back to Beppu, I intend to be more mindful to make every single moment count!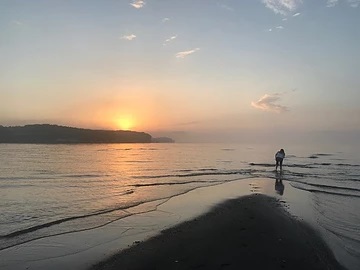 A shot of the sunrise early in the morning from the Town of Hiji, which is adjacent to Beppu City.
Having written all this, my motivation for heading back to Beppu has reached its peak.
I hope that all of you are taking care of your health so we can all experience great times and good experiences in Beppu. When the time comes to return, let us all, collectively, ready ourselves so that we can enjoy both APU and Beppu. I pray that I can see you all again real soon.
★SPA will take turns writing the column.We hope our articles make you feel closer to APU, even we are under the limitations to prevent the spread of COVID-19 infection.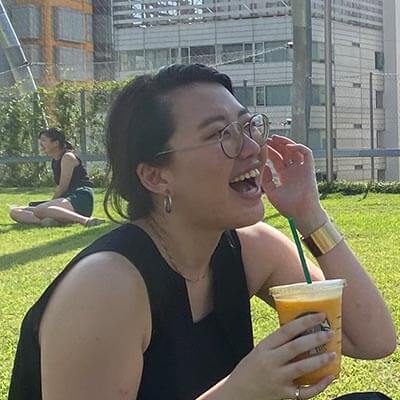 Hanako Koda
I'm Hanako Koda, a lover of good food, and my goal for 2021 is to find my favorite cafe in Beppu! I'm writing this in a rambling, frank style... I'd love to hear what you think of it, and if you can tell me what's good in Beppu, I'd love to hear from you.