Click here for Part1.
【Part 2: APU Classes】
1. What kind of class content do you feel is engaging and what do you want to get out of a class? (Sulagna)
Opal:
Classes in which the professor takes time to go through the class content in a steady pace and explain each part in detail are the classes which I find interesting. I find well-designed PowerPoints easy to follow and quite engaging as well. I also enjoy classes in which professors offer opportunities for small group discussions. As APU has a diverse group of students, these students have diverse ways of explaining ideas and concepts which I find remarkably interesting. These kind of discussions shed light on how people from all over the world can come together to address issues. At the same time, I learn multiple ways of approaching issues from angle I would never have imagined previously.
Hyunseung:
I personally prefer classes with comprehensive yet simple explanations from the professor, especially with content that focuses on current affairs and global issues. For example, I recently took an Environmental Policy Class with Professor Sudo. Even though the course contained mathematics and economics, which I am a little rough around the edges in, the contemporary content kept me challenged and made me look forward to each class.
2. Have you discovered any connections between the disciplines offered in the APS curriculum? (Pascal)
Opal:
After I started taking 200 and 300 level classes I started to notice the interrelation between the four APS majors as the content introduced at these levels begins to overlap. For example, as an international relations major, I find it fascinating how governance, environment, and society interact. Governance as an international relations concept stems from human behavior. In turn, the study of humans and their behaviors and characteristics is a concept prominent in culture and society classes. Moreover, environmental issues in the environment major are influenced by decisions made by humans and governments. Through these observations, I concluded that these concepts are interdependent. This discovery gave me a newfound respect and admiration for the three disciplines.
Hyunseung:
I believe that the world is interconnected and so are the four disciplines of APS. APS major classes are built on the foundation of liberal arts, and therefore the concepts, ideas, and theories in APS classes all intersect at some point. This intersection is not limited to APS major classes. For example, an Environmental Policy which that I took also included economics and mathematics. There are several instances such as this example in which APS and APM disciplines also coincide.
3. What do you look for in a professor or a course while choosing your courses during course registration? (Pascal)
Opal:
I have multiple ways of selecting both classes and professors. Firstly, I rely on my previous classes. Professors usually teach more than one class, so if I enjoy a professor's class, I will usually take more of their classes based on my experience. Secondly, I use the "APU Review" group on Facebook in which students share their various experiences with professors and classes they took. If a class receives positive reviews, I am more likely to select it in the next registration period. Thirdly, I rely on the class syllabi available through Campus Terminal. After deciding on potential classes, I look to the syllabus to understand the demands of that course before registering in it.
I am also interested in classes in which the professor is clear about the grading system and content. I highly value the quality delivery of lectures, and this potential will also influence my choice in classes.
Hyunseung:
I personally find that researching about the course content before registration is crucial, so I look through reviews of courses and read about course content on Campus Terminal. What I ultimately seek in a course is whether the content is engaging and covers issues which interest me, for both language and lecture classes. Therefore, my suggestion to all students is to take courses with content that interests them rather than simply picking up classes which are supposedly easy.
【Part 3: Life Outside Class & Future Plans】
1. What do you do to relieve stress after class? (Sulagna)
Opal:
During my daily routine, I dedicate time to listen to music. I usually listen to music in the morning and just before I sleep. Listening to Indie music during the morning helps me set a positive tone which I will carry with me throughout the day. In the evening, music helps me relax and reflect upon my day, and this helps me collect my thoughts and plan for the following day. I also find music helpful during my studies. Normally I rely on YouTube to get some feel-good music which I believe helps me concentrate and be productive.
Hyunseung:
I usually exercise to relieve stress. I have made a habit of going to the gym 3-4 times a week. I don't go just to keep fit, but to clear my head as well. Online classes take a great toll on physical and mental health, so the time to myself at the gym clears my head which helps me focus when I return to my work. Having such habits also helps me create a disciplined lifestyle. Besides frequenting the gym, I am also a member of the APU Lacrosse Team. I have been playing lacrosse since high school and have even represented my country in the Under-17 National Lacrosse team. Aside from club activities and the gym, I hang out with friends as often as possible. My friend and I don't do anything specific, but simply being around them cheers me up!
2. Are you involved in any extracurricular activities (such as circles or study abroad programs?) (Pascal)
Opal:
I have three main extracurricular activities that I am currently participating in. The first one is Thailand Multicultural Week. I have participated in this activity as both an organizer and a performer. The main aim of this Week is to represent Thailand's rich culture through dance and other exhibitions. Secondly, I am part of the GASS circle which organizes campus tours for prospective APU students. This circle has helped me move out of my comfort zone as it is mostly made up of Japanese students, meaning I must speak Japanese while carrying out the activities. Upon joining this circle, I struggled to communicate using my limited Japanese skills, however, my prolonged stay in the circle and constant communication with its members have improved my Japanese significantly. Thirdly, I am part of a media-related circle called "People Stuff." This circle shares stories of local small business owners through holding interviews which we then publish. Through this process, we aims to raise awareness of these local products and services and promote these businesses to our fellow APU students, especially during this disruptive phase of the Covid-19 pandemic.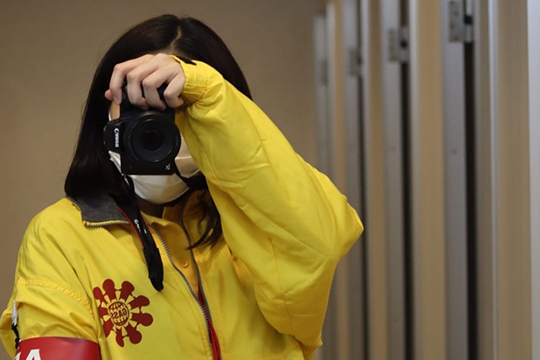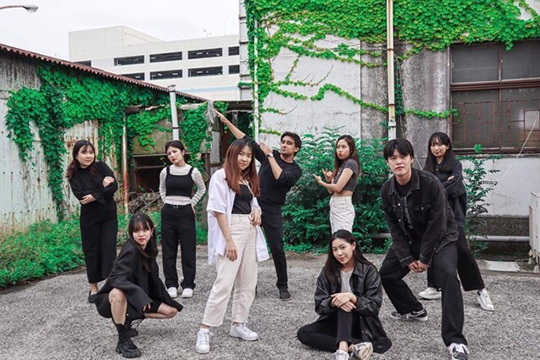 Hyunseung:
As I mentioned, when I am not studying I usually visit the gym, play lacrosse or simply hangout with my friends. I would like to emphasize that taking time for oneself is particularly important especially nowadays, when everyone is always busy and people often forget to stop and reflect.
3. How do you spend your time on a daily basis? (Sulagna)
Opal:
The following image is a typical day in my life. I try as much as possible to follow this routine, although sometimes some inevitable disruptions result in rescheduling or postponement of activities.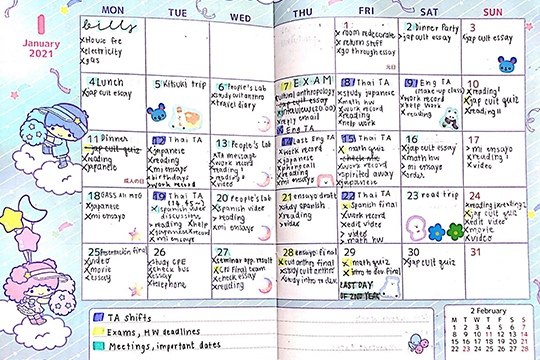 Hyunseung:
My daily schedule includes:

Waking up an hour or hour and a half before class.
Checking which materials are needed for class that day.
Check up Campus Terminal and Manaba.
Taking classes, usually from 2nd Period to 5th Period.
Having a lunch break in between classes.
Going to the gym or lacrosse practice after classes.
Working on assignments between 9-11 p.m.
Sleeping around midnight.
This is not a fixed schedule and it definitely changes from day to day, but this list gives a rough idea of how I plan out my day.
4. How did you decide on your major? What would you like to do in the future in relation to your major? (Pascal)
Opal:
Initially, I wanted to major in Culture, Society, and Media because of my strong interest in photography and media-related studies. However, I ended up settling on International Relations and Peace Studies. After taking some APS classes related to International Relations, I was drawn to this major through my discovery of the influential role international relations plays in media and culture. Upon this realization, I became keener to study information sources and political systems and I ended up majoring in International Relations. To continue this knowledge-seeking endeavor, I hope to work as a political photographer. This role would allow me to learn more about this field while contributing to stories related to international relations through my photography work.
Hyunseung:
I am currently majoring in International Relations and Peace Studies, and my research interests mainly focus on North and South Korea issues. My main reasons behind choosing this major and my research interests are the product of my time in the Korean military. I was stationed in the DMZ area, the border which faces the North Korean military, and during this time I felt the need for peace in the Korean Peninsula. My grandfather is also a Korean war veteran who went through horrible experiences during the war, and his stories also inspired me to work towards achieving peace in the Korean Peninsula. I therefore believe studying International relations and Peace Studies is one way for me to achieve this dream. During high school, I also had the opportunity to study in the United States and during that program I was able to visit the UN headquarters in America. These collective experiences made me decide that to achieve my end goal, I should pursue higher education including the possibility of receiving a PhD after graduating from APU. Ultimately, the IRPS major suited me the most.
This concludes the interview with these 2 students. We thank you for reading.
ProjectQ Interviewer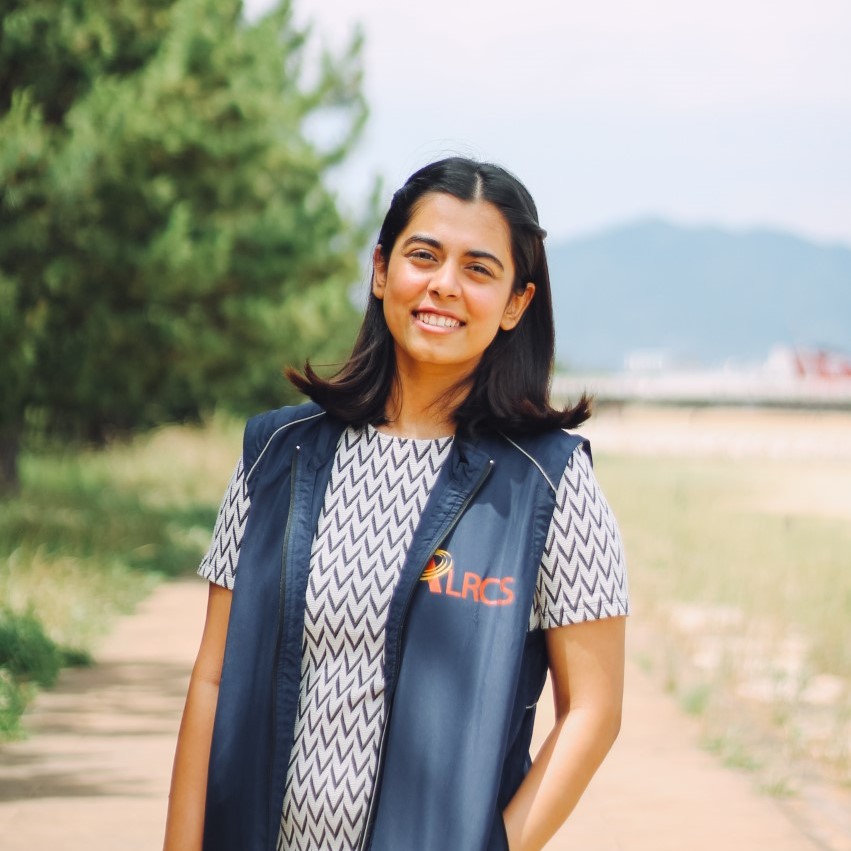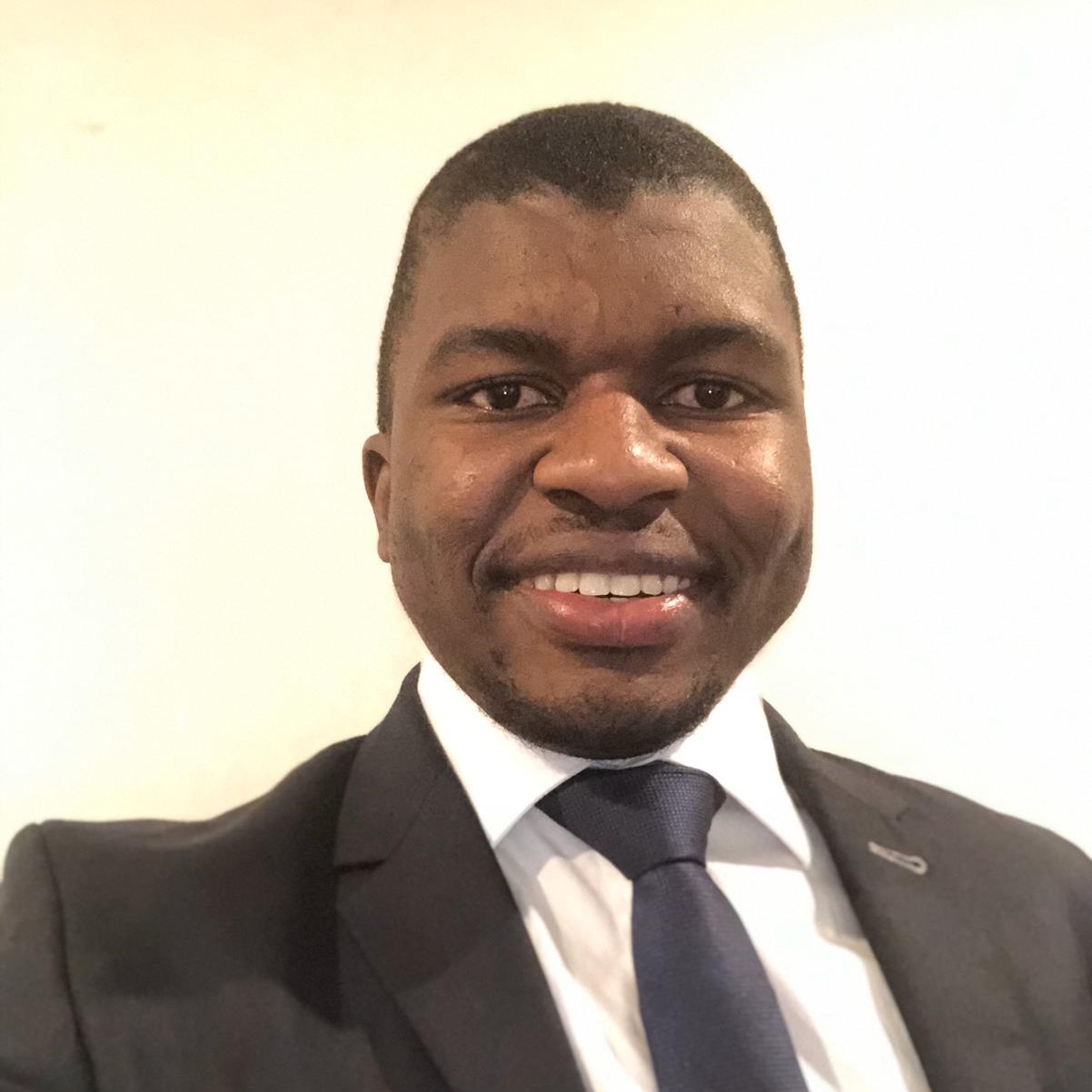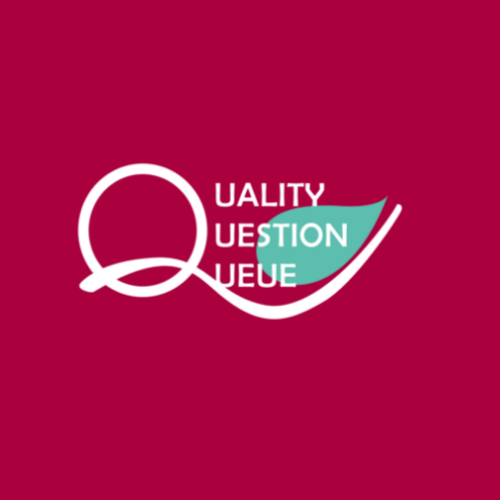 ProjectQ from ALRCS
Project Q is a team within the student organization ALRCS that is working to improve the Quality of learning at APU by interviewing professors and students (Questions) and compiling them into articles (Queues). On the Academic Office website, we have posted several interviews with professors about their good practices that they implement while teaching classes. Please take a look at them and use them as a reference for your future studies and course registration!