Have you ever wondered what to buy from APU as a souvenir that can actually cover all aspects of Japan, Beppu, and APU?
"APPU Miyage" is the answer.
---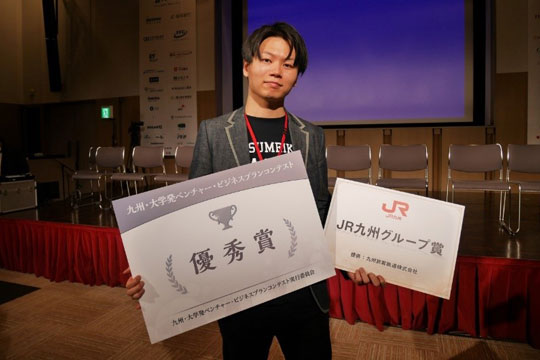 Airu Ito, representative of Wings,
In December 2021, Mr. Itoh won the Excellence Award in the Kyushu Region University Students' Business Plan Contest for another business plan from the APU Startup Program.
Click here for detail.(Japanese only)
Meet Airu Ito, a third-year Japanese student of the College of International Management (APM), who transferred from New Zealand in 2020. With his strong passion in investment and his business initiative, he and other international colleagues he established a team, called "Wings," that manages a project called "APPU Miyage" with the goal of enhancing Beppu's souvenir industry.
How did Airu come up with APPU Miyage?
When Airu first transferred to APU, he wondered what souvenirs Beppu had because back in high school in New Zealand, he had an experience in developing a souvenir. When he realized that not even most APU students knew the answer, he formed Wings and drove around Beppu to visit various souvenir stores. They bought different souvenir examples and shared it with friends in AP House to gather feedback. As a result, they figured out that there are various great souvenirs in Beppu, but not many people know about them.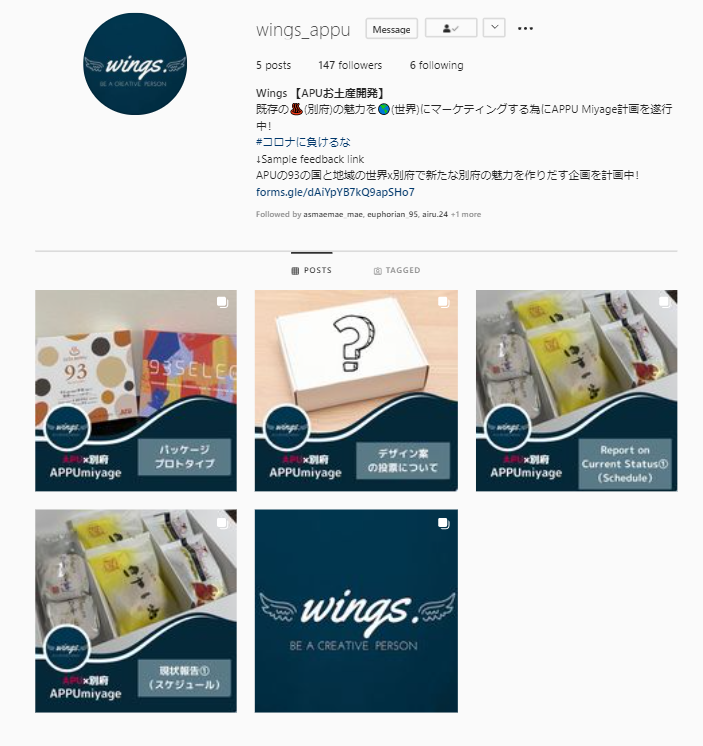 Wings' Instagram (@wings_appu)
After they selected souvenirs, Wings visited each company and proposed their business plan to combine these souvenirs into one single product as an APU souvenir. Fortunately, they were able to cooperate with
幻の華 白蓮 (Phantom Flower Byakuren)
ゆず一番 (Yuzu Confectionary)
甘太のすいーとぽてと (Sweet Potato Cake)
Also, as you can see, there is a "93" on the package design to symbolize the fact that APPU Miyage is carefully selected by APU students from 93 different countries!
"We want to offer like a discovery box where those souvenirs are recommended by APU students since they have been living in Beppu for a long time and are familiar with Japanese culture."
- Wings
Even more importantly, APPU Miyage is supported by出口塾(the Deguchi School: APU Startup Program), which is a program that financially supports students who want to become entrepreneurs in the future.
For more information: https://en.apu.ac.jp/home/news/article/?storyid=3000
What's next?
Now, they are gathering feedback from international students and determining the package design. In fact, they were supposed to start the sales by Christmas 2021. However, due to the fact that the pandemic has left new international students unable to enter Japan and stopped tourism, they decided to postpone the release, which aligns with Go-to-travel campaign. They expect to sell at Oita Airport, Co-op, and Beppu Station.
Package Designs
What's in the future for Wings?
Wings was not created for the purpose of making money. They intend to create a system and opportunities in which APM students can apply their knowledge and test out their innovation, creativity, and strategies in a practical field.
"Sometimes, you got to do business to learn the business."
- Airu
What are the challenges?
Keeping up motivation. This project was started during the COVID-19 pandemic, so most face-to-face activities and events were prohibited and not so many people were in AP House. Moreover, the souvenir industry is directly related to tourism and there were not so many tourists either. You might wonder, "Why implement it now, then?" It is because this timing can be seen as a great opportunity to prepare and develop ideas so the products can be released as soon as the COVID-19 situation gets better. Additionally, this project is a non-profit organization, so the members get discouraged sometimes. Nevertheless, there are a lot of good things that are realized through the working process as well, such as connection with mentors, the team, and companies, in addition to self-development.
It is all about how you can realize and grab those opportunities!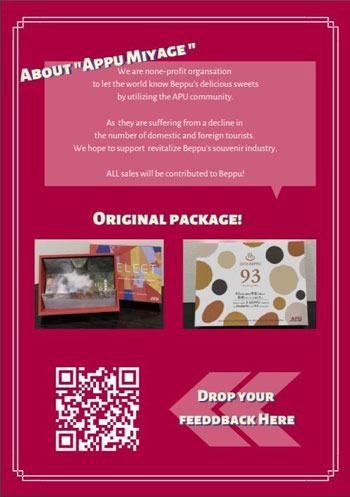 Last but not least, please feel free to be a part of this project by contacting @wing.appu! Receive free samples and send feedback following the instructions above!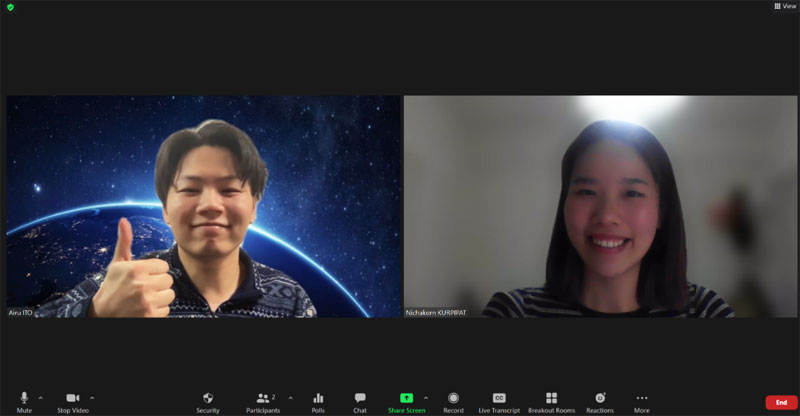 Online Interview with Airu Ito, representative of Wings
---
Special thanks to Airu Ito for sharing a really inspirational story. Can't wait to see APPU Miyage selling all over Beppu. Wish you good luck with the project!
I hope this article can motivate readers to take on challenges and do what you think is right. Who knows, anything can happen if you just believe.
Lastly, I would like to end the article with Airu's favorite quote: "Work smarter, not harder."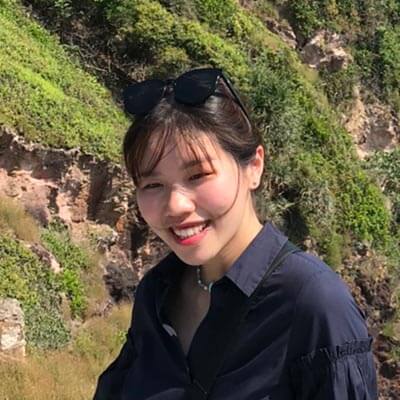 Nichakorn Kurpipat
Sa-was-dee (greeting in Thai)! I'm Pim, a Fourth year APM student majoring in SMO (Strategic Management and Organization). I love to observe nature and learn from inspiring people and their lifestyles. I then turn those experiences into positive energy to drive myself towards a successful life - a happy life. Let me share it with you!