Based on a comprehensive cooperation agreement with Oita Godo Newspaper, starting in January 2022, Student PR Assistants (SPA) will contribute their interviews with international students to the life and culture section of the newspaper's morning edition. SPA will introduce different cultures and the interesting topics they raise from an authentic, student perspective. These student writers will take this as an opportunity to get the newspaper's readership and students interested in the world as well as aim to improve their skills with the aid of professional editors.
I asked my Indonesian friend, Maru, and my Indonesian-Japanese friend, Sachi, about Indonesian food.
In Indonesia, there are many dishes that use various spices and have roots in many countries, such as China. In fact, Maru's family has roots in China and explained the importance of oyster sauce and garlic.
There are many similarities with Japanese food, like rice being a staple and using a lot of chicken like in Oita. It was interesting to hear that just like Japan's salty and sweet rolled omelets, the taste of fried rice with egg and Nasi goreng depends on the family.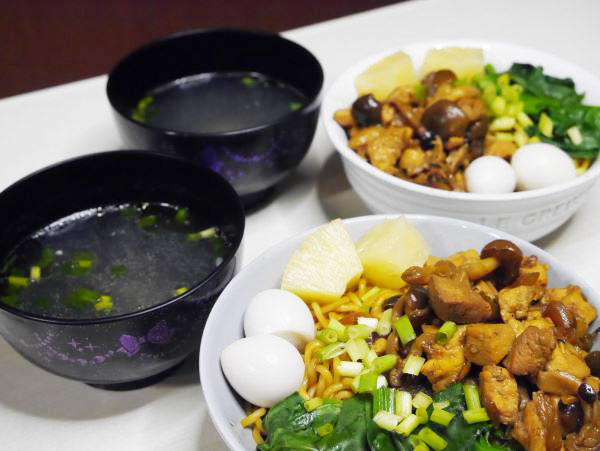 When talking with me, the two prepared Indonesian ramen called bakmi ayam. It is a noodle dish mainly eaten for lunch that tastes of sweet soy sauce. I gobbled it up as the taste of the soy sauce, called kecap manis, and the accent of pineapple reminded me of my childhood. It resembles sweet-and-sour pork and potato salad (popular dishes among Japanese children). I felt jealous when they told me Indonesians can enjoy this at the school cafeteria for 50 yen.
Maru told me that when the rain falls and it grows colder, she feels like eating this dish. Sachi told me that she had fun recreating this dish with the ingredients she could find in Japan.
Marsya Aurelia Sentosa Nooril
(Nickname: Maru)
College of International Management 4th year, Indonesia
Sachiko Okamoto
(Nickname: Sachi)
College of International Management 4th year, Japan
Next time, I would love to go buy bakmi ayam with these two from a food truck in Indonesia. Truly, terima kasih (thank you) for the enak (delicious) meal and for talking with me!
Published in the January 25, 2022 morning edition of Oita Godo Newspaper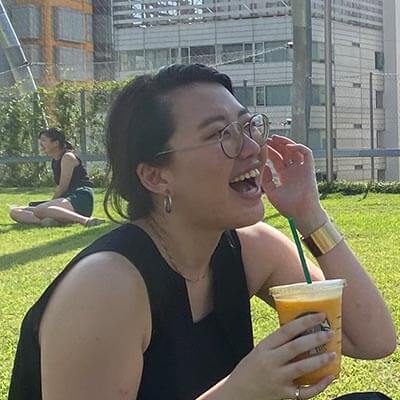 Hanako Koda
I'm Hanako Koda, a lover of good food, and my goal for 2021 is to find my favorite cafe in Beppu! I'm writing this in a rambling, frank style... I'd love to hear what you think of it, and if you can tell me what's good in Beppu, I'd love to hear from you.
(Graduated in spring 2022)