Did you know that APU has an office in Tokyo? While I was a third-year student, I spent the period from July up through March serving as an intern and conducting my job search while being based in Tokyo. While I was there, the Ritsumeikan Tokyo Campus helped me out more times than I can count.
In this blog entry, with the help of staff members at the Tokyo Campus, we will introduce the campus—which is not all that well-known by APU students—as well as how you can make use of the campus and its services. This is a must-see for students who plan to search for a job while basing themselves in Tokyo.
---
An introduction to the Tokyo Campus
The Ritsumeikan Tokyo Campus is available to students of Ritsumeikan University and Ritsumeikan Asia Pacific University (APU). During peak job search periods, the Campus is bustling with upwards of 70 students per day. While a large number of them mostly access the campus for their job search, any existing student can freely stop by to use the computers on the premises, among other things.
Alumni, who can also access and use the campus, also stop by on occasion to hang out.
■Tokyo Campus Hours
Mondays and Saturdays: 9:00-17:30
Tuesday through Friday: 9:00-20:45
*For information on the changes to services and hours due to the novel coronavirus (COVID-19), please check the below website as needed.
http://www.ritsumei.ac.jp/tokyocampus/news/article/?news_id=420
(Information available in Japanese only)
■Available Services
(For schedule of availability, please check the Tokyo Campus website.)
Consultations with Career Counselors (not available on Saturdays)
→Many students take advantage of mock interviews!
Access to certificate printer (not available on Saturdays)
→!In addition to cash, transportation IC cards are accepted.
Availability of resume forms for purchase (not available on Saturdays)
Use of lockers (not available on Saturdays)
Use of dressing room
Access to PCs
Access to books
→Industry books, books on SPI measures and even manga are available!
Access to water bubbler and writing utensils (free of charge)
Eating and drinking allowed
→Two convenience stores are available in the same building!
Mobile phone recharging
→Chargers can be lent out for compatible models! (not available on Saturdays)
Use of copier (charges apply)
■Equipment and furnishings loaned out
Iron (The most popular item)
Hair iron
Belts
Neckties
Mobile phone chargers (Only certain models are supported)
■Supplies loaned out
Shoehorn
Shoe care items
Clothing deodorizer
Wrinkle-removal spray for clothes
Etc
Address:
Sapia Tower, 8th Floor, 1-7-12 Marunouchi, Chiyoda-ku, Tokyo 100-0005
(Located right outside the Nihombashi Exit of Tokyo Station and the B7 Exit of Otemachi Station)
Ritsumeikan Tokyo Campus Recruit Support
Ritsumeikan Tokyo CampusOfficial Twitter page is here.
---
The Tokyo Campus is close enough to Tokyo Station that even if it rains, you will not get wet. Everything one needs to help them with their job search is at the ready here. You can request the touching-up of your entry sheets or interview practice to give you self-confidence as you pursue your job search.
Take advantage of the Tokyo Campus
I used the Tokyo Campus a lot during my job search. Looking up at the striking Sapia Tower, some of you may feel apprehension at setting foot in the Campus. Let me show you how to use the Campus to help put you at ease.
After registering at the security desk on the third floor of Sapia Tower, proceed to the eighth floor to reach the Ritsumeikan Tokyo Campus. When the campus is open to students from Ritsumeikan University and APU, they can come and go as they please. Simply show your student ID at the reception desk, which is located right inside the entrance.
On the right side of the photo are four consultation booths. Towards the back there are study spaces.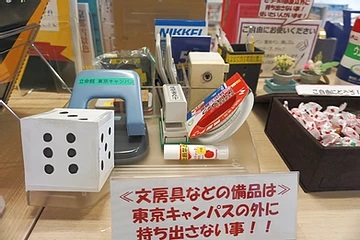 The storage shelf at the center of the office contains a full complement of writing supplies needed to fill out and send entry sheets and other documents. To the right of the photo is a box containing hard candy that says "Help yourself!" Just make sure to only take one!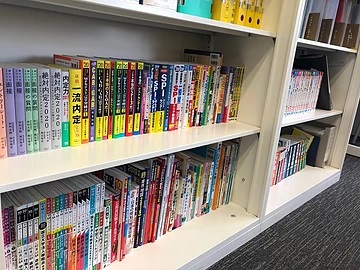 The book shelves are packed with publications to help you with your job search. Many of them are separated according to job and industry type. Here, you can obtain the information and know-how that you are looking for without buying a bunch of job search books.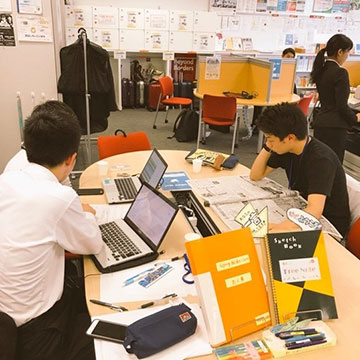 This spacious area for students is called the Student Commons. The large table towards the front in the photo can also be used for groupwork purposes. Using the personal partitioned desks, students can concentrate on their studies and the completion of their entry sheets. You can also charge your computer or smartphone here. I personally prefer the desks by the window in the rear of the photo. By virtue of its elevated location, the Tokyo Campus offers a panoramic view of the headquarters of Pasona and Asahi Mutual Life Insurance, among others.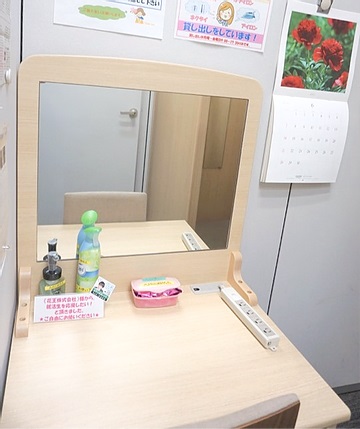 There's a mirror stand inside the changing booth so you can get your grooming in order.You can even borrow hair irons and wrinkle remover spray!Use the campus to change out of your street clothes and into a suit before you head out for a job interview.
The lockers shown above can be used to store bags and other belongings. The compartments below them are capable of holding large suitcases. These will eliminate the need for you to rent out a coin locker or lug large belongings with you to interviews. Belongings can only be stored at the Tokyo Campus for the day only, and must be collected no later than 15 min. before closing time.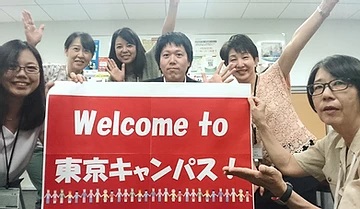 The staff at the Tokyo Campus will help you practice your interviews, touch up your entry sheets, and give you advice on your job search. (I myself practiced interviews at the Tokyo Campus. Doing so allowed me to tackle the final interview at a company with confidence.) Interview practice, entry sheet correction and other such staff services are only available with an appointment in advance. Make your appointment up to 15 min. prior to your desired time for those services at the Tokyo Campus student counter.
Message from the student floor staff at the Tokyo Campus
Please come and see the signature book containing numerous messages written by APU sempai for their kohai.
Message from Akihiro Miyashita, Tokyo Campus Director
Interacting with students from Ritsumeikan University in the "Student Commons" on the student floor provides new opportunities to broaden one's horizons. Visiting students can also use classrooms for group activities and other endeavors outside of job searches. Please take advantage of the facility throughout the year.
Hopefully this gave you a good look at what the Tokyo Campus has to offer. Taking advantage of the campus does more than simply allow students to conduct their job search with Tokyo as their base. Instead of buying an expensive cup of coffee to take a break at a café while waiting for your job interview, try coming to the Tokyo Campus and practice for that interview as much as you can!
Nagisa Sakamoto
My major is International Relations and I am taking Media Journalism seminar. I like Kannawa area Onsen and I decided to live there. I am living well with my motor bike by going to anywhere in Beppu. I will upload new article about my favorite spot. Enjoy your Beppu life after current situation will be improved.