Many know that sakura – the cherry blossom– is one of the national symbols of Japan, but have you ever heard about "hanami" culture? In Japanese, "hana – 花" and "mi – 見" stand for "flower" and "to look," respectively, so "hanami" (花見) or "o-hanami" (お花見) translates to "looking at the flowers," particularly sakura. It has been a special culture of the Japanese for such a long time; therefore, if you have never participated in a hanami festival, you have not truly experienced Japan. Hence, in this article, we will go over some special points about hanami culture and how to enjoy it in Beppu. Without further ado, let's follow along and immerse ourselves in this wonderful culture!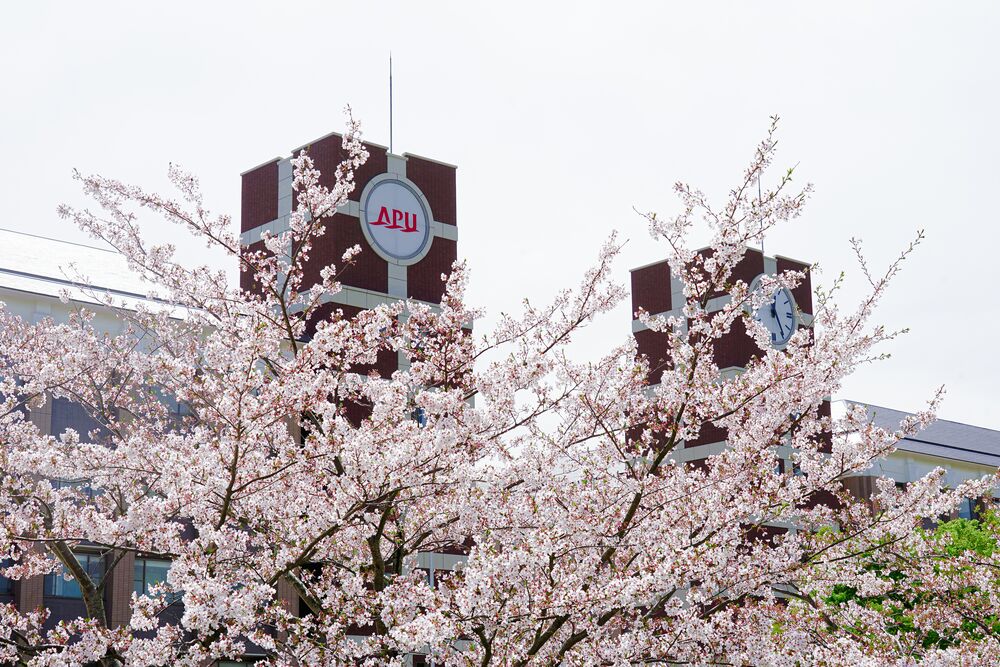 Cherry blossoms on APU campus
I. Origin of the name "sakura" and hanami culture
Although there are many theories on the origin of the name of the cherry blossom, there is this one. During ancient times, Japanese farmers believed that the cherry blossoms' bloom coincided with the arrival of the rice paddy god to the village. Therefore, this type of flower was named "Sakura," in which "sa" referred to the rice paddy god and "kura" meant "a seat for god," so "sakura" originally stood for "a sacred place for the rice paddy god to dwell." Believing such, the farmers would hold a feast which was akin to a religious ceremony under the sakura trees to pray to the god for a full harvest. Since then, feasting under cherry blossom trees became popular and then, turned into a tradition in which people gather together and enjoy cherry blossoms, which is called "hanami."
II. The meaning of hanami in modern days
The cherry blossom only blooms once a year and lasts for about two weeks (the blooming time of sakura depends on the region, and for Beppu, it is around March and April). However, cherry blossoms usually bloom at the same time with the start of the Japanese school year and fiscal year as well. Hence, celebrating the hanami season is as same as wishing for a wonderful and fresh start. In addition, the Japanese consider the sakura's short blooming period to be a reminder to treasure all the moments in life as everything, regardless of its breathtaking beauty, must come to an end. It is similar to the saying, "Ichigo-ichie" (One opportunity – one encounter), culture of Japan, which states people should be aware to enjoy the transience of life.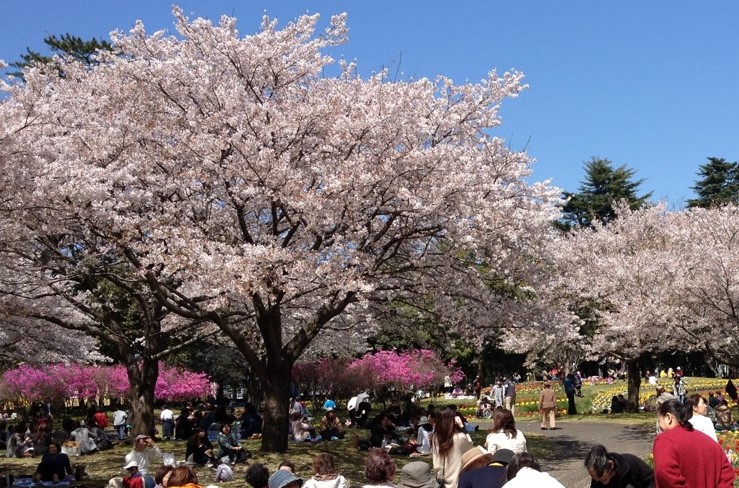 Beppu Park before the pandemic
III. A quick guide to hanami like a pro
1. Keep walking:
Due to the infectious risk of COVID-19, many hanami places do not allow people to sit down, have party, eat, or drink. Therefore, it is highly recommended to hanami while walking as it will certainly decrease the risk of infection. However, if you still want to sit down and view the cherry blossoms with friends, you should follow the rules below:
Always put on your mask
Refrain from eating/drinking and talking in loud voices
Bring along hand sanitizer and use it frequently
Choose a wide open, well-ventilated hanami spot that is not crowded
Keep your groups small (about five people per group)
Keep groups two or more meters apart
Keep your hanami short (about 2 hours)
DO NOT attend if you are not feeling well
2. Grab some hanami friends:
After checking the weather forecast, setting a date, and deciding on the location, it is time to invite your like-minded friends or loved ones to gain the best hanami experience. However, please remember not to gather too many people as it will increase the risk of infection. Besides, it is still fine to fly solo as you may make new friends at the hanami location and share spare space with them.
3. Get there early:
The hanami spot is available on a first-come, first-serve basis, so it is better to arrive at the decided location early and leave your plastic groundsheet or one person to save the spot. Therefore, if you go in a group, everyone can take turns doing so.
4. Pick up your garbage:
You are expected to take care of your hanami spot which also includes collecting the leftovers, garbage and putting them at the appropriate places. If there are not any trash bins on the spot, please kindly bring the garbage home.
IV. Best spots to experience sakura in Beppu
In March 2022, Beppu City announced that it would allow hanami in parks and green areas managed by the city for only small groups and family units as an infection prevention measure. You may enjoy hanami until 9 pm and drinking is prohibited. Please be careful.
1. Beppu Park
Located in the heart of the city, Beppu Park is a highly recommended place for people who want to really experience Japanese hanami with friends and loved ones. With more than a hundred cherry blossom trees and plants, you will easily find an ideal spot to settle down and enjoy the beauty of sakura petals scattered by the wind.
Open: throughout the year
Entrance fee: free
How to get there: From the West entrance of JR Beppu Station, go straight up to the slope and walk for around 10 minutes, you will see the Beppu Park entrance.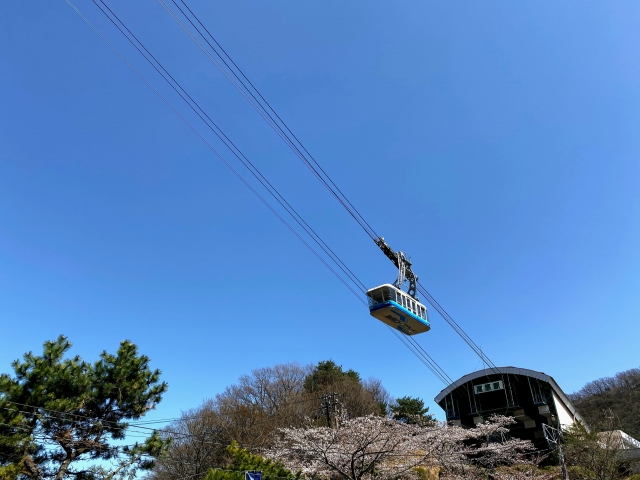 2. Tsurumi Mountain
Having a height of over 1300 meters and more than 2000 cherry blossoms trees, Tsurumi Mountain will not only bring to you the best time of hanami but also be a valuable opportunity to view a whole spectacular scenery of Beppu City, which is filled with the white steam of onsen and wonderful pink colors of the sakura.
Open: 9:00 – 17:30 Spring - Summer
How to get there: From JR Beppu Station, you can get on Kamenoi Bus No. 36, to reach the Mountain Tsurumi's cable car station. From here, you can travel by cable car to the peak of the mountain and enjoy the beauty of cherry blossoms along the way up.
Cable car fee for adult: 1,000 Yen (one-way ticket) – 1,600 Yen (round-trip ticket)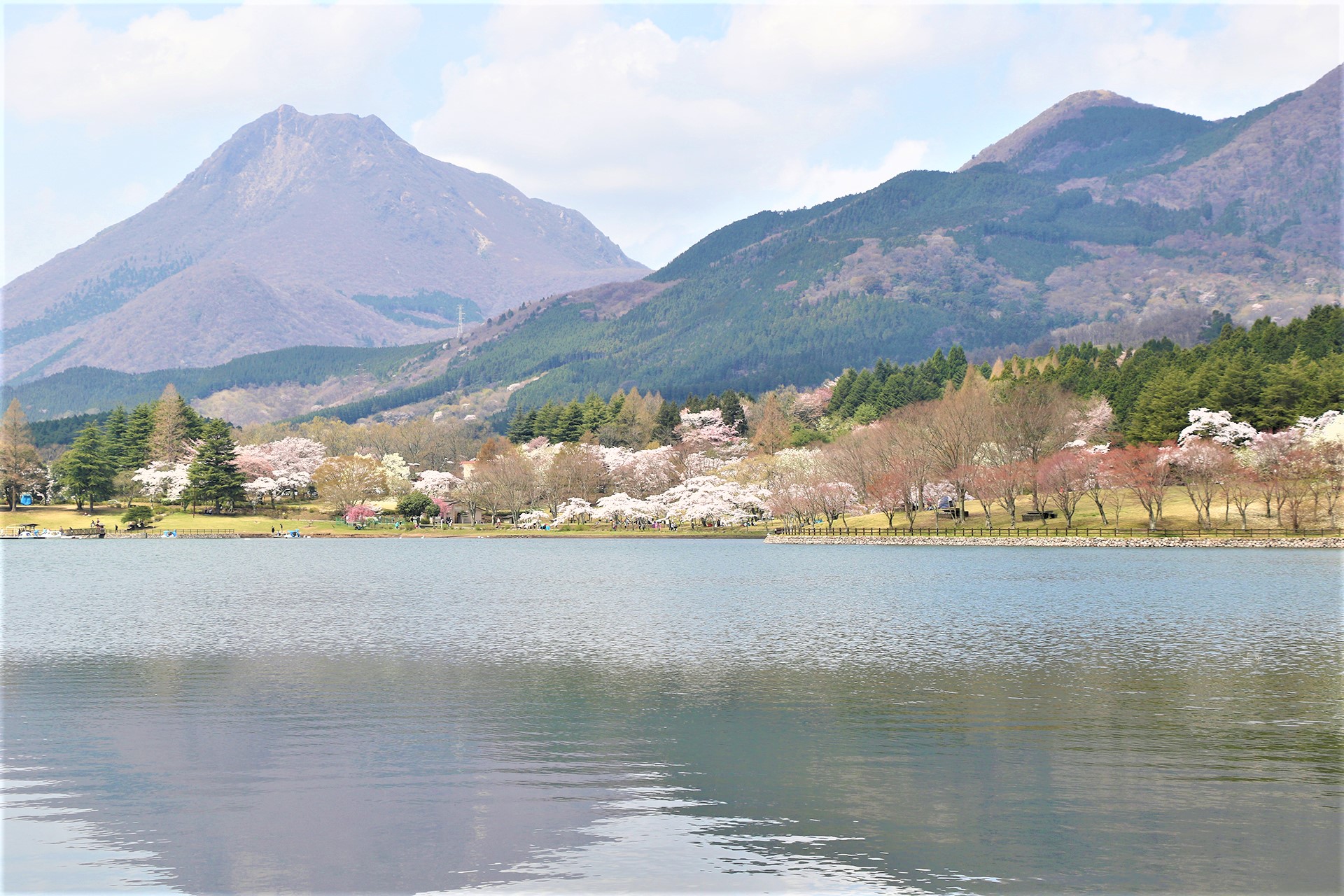 3. Shitaka Lake (Shidaka Lake)
This lake belongs to the Aso Kuju National Park which is located between Beppu and Yufuin. Therefore, if you want to go outside somewhere far to hanami and have a picnic, Shitaka Lake should be on the top of your list. Being surrounded by lots of cherry blossom trees, you will be guaranteed to have a wonderful and memorable time with your loved ones here.
Open: Throughout the year
Entrance fee: free
How to get there: From the West entrance of JR Beppu Station, you can get on Kamenoi Bus No. 34 or 37 and get off at the Bus Stop named Shitakako Lakeside.
*Be careful, there are very few buses.
V. An ideal alternative: Hanami by Virtual Reality (VR)
Hanami usually includes gathering and feasting; however, during the COVID-19 pandemic, it is dangerous to hold an event with a large number of people. Hence, if you still want to view the cherry blossom trees in this season, you can access O-hanami VR – a website collecting the best and most popular hanami places throughout Japan in a 360-degree view.
Link to the website: https://weathernews.jp/s/sakura/vr/
After reaching the website, you only need to click the pink box with the word "再生" in the list. It will lead you to a YouTube video including the 10 top hanami spots in Japan. Now, you can just grab your favorite drink and enjoy your hanami in a new and safe way!
That's all about the Japanese hanami culture and how enjoy it in Beppu. We hope that you find this article helpful to know about a new culture and learn some quick tips to stay safe and experience hanami like a pro. However, please be aware of following the prefecture's rules regarding COVID-19, such as social distancing, to keep yourself and your loved ones safe. There will be more useful tips for life in Beppu by SPA, so look forward to it!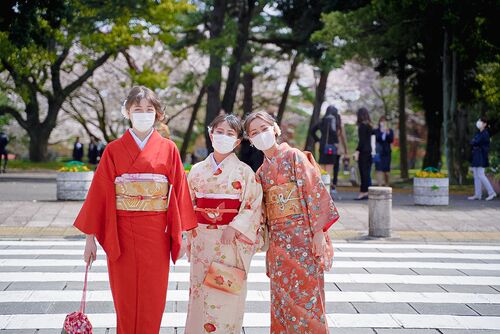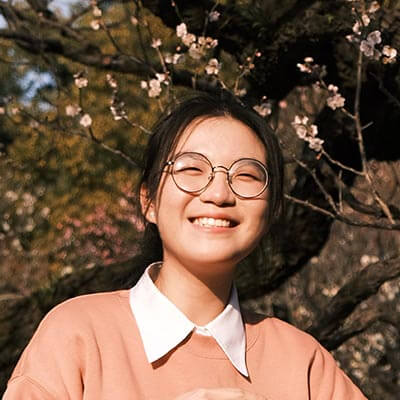 Anh Van NGUYEN
Hi! I'm Van Anh from Vietnam. My love of handwriting gave rise to my deep interest in writing. Being a member of SPA, I can finally make the best use of my writing skill to share with other students useful information. Feel free to ask me anything, I'll try to answer the best I can!