AP House Life Vol. 2
Hello. My name is Moyu Araki, a new member of SPA as of April. I lived in AP House for about a year, starting in Spring 2019. I'd like to follow up on Vol. 1 of AP House Life by spending this volume on a detailed introduction of events at AP House based on my own experiences.
AP House Events
Before I talk about AP House Events, first I need to talk about Resident Assistants, or RAs. These are student staff who live in AP House alongside other students, providing support to residents as they begin their lives at APU and in Beppu. RAs manage and oversee several aspects of life in AP House including monthly floor meetings, guidance sessions, kitchen duty (or KD), and exchange events.
RAs regularly organize and hold events at AP House. While these events can vary in size depending on their content, they can largely be separated into three categories.
1)Events for all AP House residents
These include World Carnival, which is held around June, and the New Year's Countdown Party on December 31.
World Carnival is held at AP House around the month of June. Samples of culture from multiple countries, including cuisine, dance, and makeup, are available for residents to enjoy. At World Carnival, you can experience culture directly from the source! When I watched a Korean dance, I was floored at the sense of solidarity created by the audience as they called out to the dancers. I also enjoyed an African-style dance, which involved following a rhythm that is not that commonly heard in Japan.
The Countdown Party is held on New Year's Eve. This event offers both RA-planned events involving resident participation, and programs concocted by resident volunteers. The ability to usher in the New Year together with people representing a multitude of nationalities in true Times Square, New York fashion is definitely an experience unique to AP House.
2)AP House building events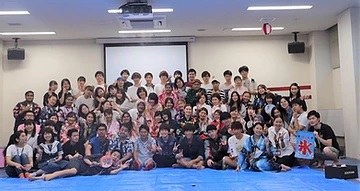 2019 Summer Festival
The content and timing of AP House building events are varied. Last year, for example, AP House had events such as "Summer Festival," "Masquerade Party," and "Prom." On the day of the Summer Festival (shown in the above photo), excitement was in the air from the early morning hours as domestic students loaned summer yukata robes to international students, and students of all nationalities contemplated makeup and accessory choices to match their robes. Even domestic students typically uncomfortable communicating in English with international students discovered a chance to develop friendships with international students at this event.
3)AP House floor events
At floor parties—which, as the name suggests, are held on each floor—members who live on a common floor enjoy a meal together. When I ate yakiniku—Korean-style barbeque—with everyone, my Korean friend brought seasoning to the communal kitchen that her family had sent from Korea, exclaiming, "this makes yakiniku taste even better!" When I ate takoyaki (octopus dumplings) with everybody, the international students were surprised at just how skilled our floormate from the Kansai region—which is famous for takoyaki—was at preparing it. This made for a fun time.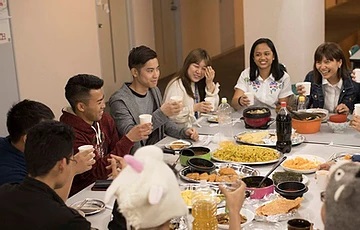 In addition, once a month a floor meeting is held where attendees exchange information with APU and discuss rules that apply to inside AP House. For example, attendees confirm whose turn it is to handle KD, the term given to kitchen cleanup, and how trash should be separated. Because rules that are mindful of religious circumstances and cultural differences are created at these meetings, they also serve as a forum of learning for dorm students. All floor members must attend floor meetings as a general rule.
Girls' talk at the communal bath
At AP House, I would go to the communal bath everyday with international students except Mondays, which was the cleaning and maintenance day for the bath. I usually went with my floormates from Rwanda, India, Korea and Thailand. Because we felt free to open up to each other in the bath, we talked about a lot of personal subjects. I was anxious about my weight when I first started going to the bath with them, and I mentioned that anxiety to them. When I did, my friend from Southeast Asia confessed to me that she was concerned about how she was hereditarily incapable of gaining weight, and even expressed her jealousy of me. Another friend, this one from Africa, got angry at me, saying, "in my country, we don't call that fat!"
In the end, we came to the conclusion that because we were all so different, including our individual ethnicities and nationalies, having a body shape that differs slightly from what is considered "standard" is trivial, and for that reason, it is nothing to be overly anxious about. This is one example of how my nightly bath time formed precious opportunities for me to candidly discuss things that I couldn't really talk about with others, and to hear opinions on those topics from different viewpoints.
The people who live in AP House come from a variety of backgrounds. I am confident that you, too, will be able to enjoy experiences that you never imagined when you meet those people. At the same time, the most important thing is to not lose sight of the fact that you all live together. Enjoy your experiences in AP House to the fullest, but make sure to do with a sense of community and harmony in the rich, internationally diverse environment that AP House provides.
AP House Life Vol.1 What to know about APU's student dorm,here.
Please note that this article reflects the experiences of SPA student staff. Refer to official Ritsumeikan APU literature for information about AP House and the university. SPA student staff take turns writing this column in the hope that readers will be able to develop a greater understanding of and appreciation for APU even with the existing restrictions on movement due to the effects of the COVID-19 pandemic.
Moyu Araki
Nice to meet you! I am a third year APS student who loves to try new things. I am 100% Japanese with no experience studying abroad by Japanese standards. I want to have academic conversations with my international student friends, so I'm taking advantage of quarantine to study English! Once things turn around, I'll be back on the road to various places~! Best regards.