How is everyone doing? May I introduce myself: I am VO Phan My Tra, an APS student - 2nd year, 2nd semester, who has been a member of SPA since the beginning of this semester. Currently, I am staying in Hochiminh City, Vietnam, and attending the courses through Zoom, just like everyone else.
Vietnam is in its summertime, and I believe it's also the same case for Japan. What could be better than soft serve, or any ice cream in general, to ease the intense heat of the summer!Therefore, in this article, I would like to talk about some of the iconic ice cream types in Japan,including soft-serve ice cream, which is rare outside of Japan. followed by a few recommendations for delicious ice cream treats!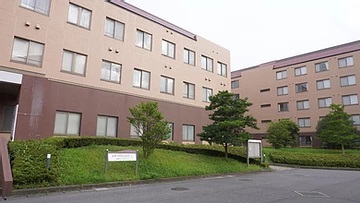 AP House after the rain
As strange as it might see for a chubby girl, I don't have a sweet tooth. And because many 'wagashi' - traditional Japanese sweets - contain red bean, which I absolutely hate, I didn't expect my mindset to be challenged. Yet, it all changed since I came to Japan when I had my first ice cream.
I remember the moment when I arrived at AP House. It was raining outside, and a long flight, plus a 3-hour trip from Fukuoka Airport, had drained my energy completely. Things did get better, though, when I received help from the lovely RAs and floormates with my three enormous suitcases. I did feel great at the end of the day, but my body still craved a boost. "A sugar rush might just do the work!" – I thought. Wandering through House Coop, I didn't know that pre-packed ice cream could be that significant. But yes, it could. It was a life-changing experience, and I'm not even exaggerating.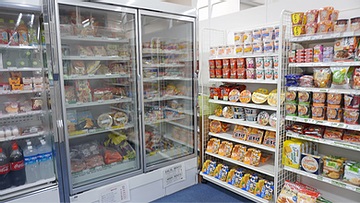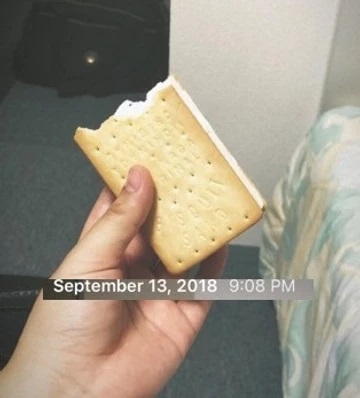 The proof of my love on my Instagram story
This is the ice cream sandwich that started my addiction. The buttery biscuit "san-do", combined with the smooth, creamy, subtly sweet vanilla ice cream, create a refreshing, soothing and satisfying sensation – which lifted my mood up immediately. These factors, I believe, not only apply to that particular ice cream sandwich, but are also what differentiates Japanese ice cream from others that I have tried.
Ice cream in Japan has a very distinct mouthfeel. Even if it is not a soft serve, the texture is just like one – a paste of absolute smoothness. Besides, though not all ice cream/soft serve stores use Hokkaido milk, the milk base always shines through regardless of the main flavor. Ice cream has also gained a 'soft (serve) spot' in Japanese society, since the invasion of 'conbini' ice cream in the 1970s (B, n.d.).
Good things ain't fun when you enjoy them alone, that's what people said. So, I decided to introduce some of my holy-grail ice cream/soft serve stands here in Beppu.
1.Beppuwan Service Area
My first soft serve is from Beppuwan SA – and definitely where I will recommend for enjoying soft serve. From the APU campus, you can take the staircase near the B Building, and then walk for 10 minutes to Beppuwan SA. Climbing up might be a bit tiring, but the view, combined with the cone, will make the experience worth it. Especially if you are a freshman, this is an excellent chance to explore APU's surroundings. I have tried the Vanilla and Matcha flavor, both are equally amazing for 350 yen (Eat-in is ¥357.)!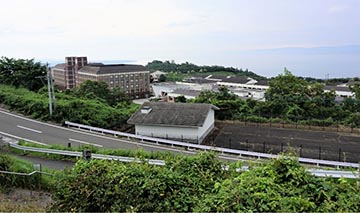 You can see our APU campus from SA.
2.APU Pacific Café (on APU campus)
Living on a budget while waiting for salaries, yet still need something to boost your mood? Think no more! Head to the Pacific Café and get yourself a soft serve! Besides the staple flavor – Vanilla, Matcha, and Chocolate are rotated occasionally. But the most important thing: A huge, delicious soft serve portion, put in a cone or a cup, will only cost you 180 yen! How good is that? This is why it's almost impossible to be on a diet in APU.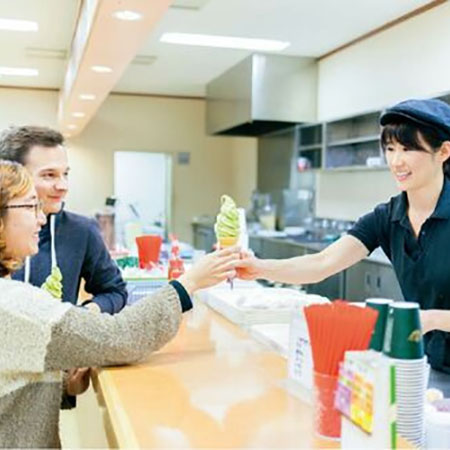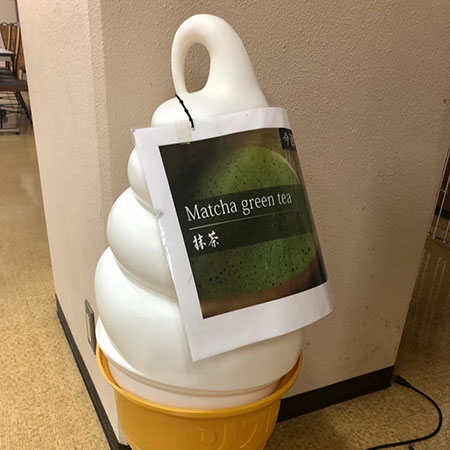 3.Cold Shea Factory Genova (near Kitahama bus stop)
Different from the other two, Genova is a gelato parlor. Genova serves a variety of ice cream flavors, including Houjicha, Matcha, Jersey Milk, Black Sesame..It comes in 22 flavors.
Personally, I have never been let down by any flavors from Genova. With the price range of 450 yen to 600 yen for a single scoop cup, it is surely pricey. But treat yourself sometimes, better have no regrets when graduating from APU!
冷乳果工房ジェノバ (Cold Shea FactoryGenova)
1-10-5 Kitahama, Beppu-shi, Oita 〒874-0920
Operating hours: Mon, Tues, Thurs, Fri: 15:00 – 24:00;
Sat: 12:00 – 24:00;
Sun, Hol: 12:00 – 22:00 (Operating hours are subject to change to prevent coronavirus infection)
mail-order website https://genovaice.thebase.in/
As written in L.M. Montgomery's Anne Of Green Gables: "I guess ice cream is one of those things that are beyond imagination", no one can describe how magical Japanese ice cream is until you try it. So, my APU fellows, what are you waiting for? Put these places on top of your bucket list after the stay-at-home period, now!
SPA student staff take turns writing this column in the hope that readers will be able to develop a greater understanding of and appreciation for APU even with the existing restrictions on movement due to the effects of the COVID-19 pandemic.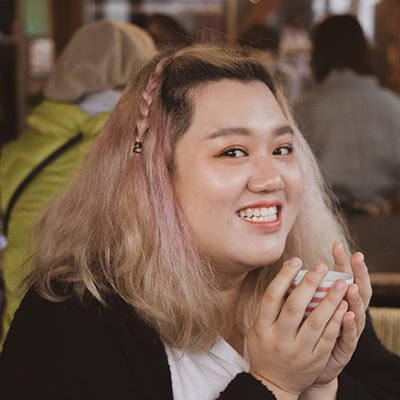 Tra Phan My VO
How's everyone doing? I'm Myze (should sound like Mie with a "z" ). I love binge-watching crime documentaries on Netflix, but there's also the other side of me which just lovees sobby Kdramas so bad! Hope this odd personality can show you guys some interesting insights about APU! ♡