Having the opportunity to study abroad can provide students with countless advantages, not only through education but also through valuable experiences. However, living far from their home country makes students yearn not only for their family and friends, but also for the tastes of their home culture. Homesickness can also be an issue for students living abroad, because they are often dealing with a new environment and society, which can be stressful.
Overcoming these challenges is a bit easier for students studying at Ritsumeikan Asia Pacific University (APU). The university is located in southwestern Japan, in Beppu City, Oita Prefecture. Founded here only 20 years ago, the university and it's 2,691 students from about 90 countries and regions (as of May 2020) has influenced the city. For a smaller city, Beppu is home to a fairly diverse set of restaurant options, and local markets offer imported food products from numerous foreign countries. Frankly speaking; I have experienced homesickness, because living in overseas is not easy. Being able to taste some of the authentic spicy dishes from my home country helps cure a large part of my homesickness, or at least distracts me from it.I want to use this series of articles to introduce some of the restaurants in Beppu that offer authentic international dishes.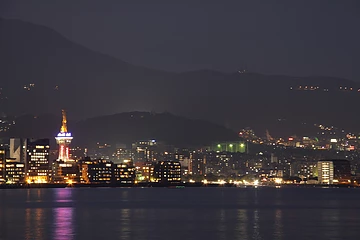 We will start with Coffee Stand Stairs, one of the most popular coffee shops in Beppu. It is located in the Motomachi area, only a short 270 meter walk from the Ekimae Honmachi bus stop in front of Beppu Station. Students visit this outdoor coffee shop when they want to hang out with friends, have informal meetings, do their homework, or relieve stress after working on university assignments. Coffee Stand Stairs offers both hot and cold beverages ranging from matcha lattes and chai lattes to coffee-based drinks like americanos or lattes flavored with hazelnut, caramel, and vanilla. Prices range from around 400 to 500 yen per drink. Aside from drinks, Coffee Stand Stairs also provides cookies to accompany your beverage. If you are wondering where to get a cup of coffee, go check out Coffee Stand Stairs!
Next, let's go to Southeast Asia, Ruanmai is a Thai restaurant popular with APU students, especially for Thai students yearning for authentic Thai dishes. Ruanmai is located between the Harukigawa and Minamisuga Iriguchi bus stops. You can get there on the Oita Kotsu #50 bus followed by an eight minute walk, or a two minute walk from the Musumeda bus stop if you take the Oita Kotsu #51 bus.
Ruanmai offers an extensive menu with Thai favorites like pad thai, tom yum, nam tok moo, mango sticky rice and more than 70 other selections. Some drinks are imported directly from Thailand. Not only does Ruanmai offer traditional Thai dishes, but they also keep up with current trends, like their very popular tapioca milk tea soft serve.
Ruanmai Thai Restaurant
Business Hours:
Monday: Closed
Tuesday to Sunday: 12:00 – 21:00(Closing times may be extended in the future)
Address: 10 Chome-2-42 Ishigakihigashi, Beppu, Oita 874-0919, Japan
https://www.facebook.com/Thairestaurant.Ruanmai
Curry loving students, especially students from South Asia, probably miss authentic curry the most. There are a lot of curry restaurants in Beppu, we have two popular restaurants specializing in curry made from with genuine spices, such as those offered by the restaurants Cumin Seed (also spelled Cuminum Seed), and TANE.
At Cumin Seeds, they feature homemade curry with yellow rice and raisins. Lunch is about 1,000 yen, and one-dish meals are about 950-1800 yen. It's located along the railroad tracks, about a 7 minute walk up the hill from Minamisuga Iriguchi bus stop.
TANE is a south Indian curry restaurant located a 3 minute walk from Beppu Station. It is mostly vegetarian, but they also provide a meat curry that changes every day. The price for the vegetarian curry, "TANE meals", is 1000 yen, but customers can get the additional meat curry for an additional 200 yen.
These restaurants offer not only main courses, but they also drinks such as plain or mango lassi.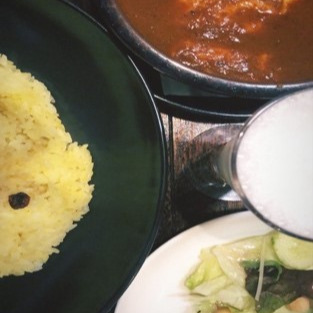 Cumin Seed
Business Hours:
Monday: Closed
Tuesday to Saturday: 11:30 – 15:00, 17:30 – 21:30
Address: 10 Chome-1-1 Ishigakihigashi, Beppu, Oita 874-0919, Japan
TANE
Business Hours:
Monday – Sunday: 11:30 – 17:00(They close when all meals sold out)
Address: 10-2 Ekimae Honmachi, Beppu, Oita 874-0934, Japan
https://www.facebook.com/TANEspice/
So far in this series we have covered restaurants offering traditional dishes from Southeast and Southern Asia. In the next and final article in this series, we will recommend some East Asian restaurants as well as one of the most diverse supermarkets in Beppu, offering various spices from around the world. If you want to know more, be sure to check it out!
SPA student staff take turns writing this column in the hope that readers will be able to develop a greater understanding of and appreciation for APU even with the existing restrictions on movement due to the effects of the COVID-19 pandemic.
Abigail Kezia
Hey readers! This is Kezia from Indonesia and I am currently an 8th semester student majoring in Strategic Management and Organization. It's been a tough year experiencing this new normal, going hand-in-hand with the pandemic. However, as the APU community that pursues shaping the world, we are all in this together, never apart, maybe in distance, but never in heart. Let's keep in touch virtually through SPA's blog.