I would like to congratulate all the new students. I'm Amara, the fourth writer to send a message to the new students.
The current pandemic has created many concerns for people across the globe. If you're about to start university at APU, it is understandable to feel anxious about what awaits.
You might be unable to find the enthusiasm in starting a new chapter of your education. It's a concerning attitude to approach learning with. So, you might ask: "How do I make the most out of this learning process?"
A clean and neat study area makes a difference. (Photographer/Maria Josephine)
The downs of online classes
After the semester ended, I took it upon myself to talk to one of my good friends about our online class experiences.
Temilolu Awofeso, a first-year second semester student from Nigeria, expressed that because students have to sit in front of their computers for hours every day, it's easy for their eyes to become tired quickly. He called this "Zoom Fatigue," a specific kind of fatigue you get by becoming exhausted from taking classes through Zoom.
Many would think that the idea of online class would exhaust you less given that you stay home almost all day every day, but the mental and physical strain is just as much as the strain you would get if you went to campus. This "Zoom Fatigue" put a burden on me, and I know many of my classmates have experienced it as well.
Utilizing online classes
I found taking online classes for the first time very challenging. There was a stark difference between having my academic learning accessible from my room and coming to campus every day, and it took a while to adjust. It led to me to change my daily habits, like waking up five minutes before class every day and going to sleep right after if I was tired.
The biggest drawback of online classes in my opinion is the inability to meet people face to face during my learning process. Education is a shared process that requires many students to interact with each other in order to get the best learning experience. Unable to meet with students face to face brings forth hindrances such as ineffective communication (which can be due to technical network problems or just the online environment itself).
However, many APU courses still utilize group discussions even in online classes. Professors use Breakout Rooms to divide students into groups. It is not much different from having class discussions, the only difference being that you interact with your peers from behind a computer screen.
Most Breakout Rooms are assigned at random unless the professor has put you in a fixed group. Treat it as if you were taking the class in an actual classroom. It was difficult at first, but when I met my friends during a discussion, I would always have a good laugh with them.
Realizing that I'm unable to meet my friends and classmates directly, it is those small moments of joy that I cherish. Although we are scattered across the globe, we are still able to see each other. I started to think that online learning was feasible and convenient. Despite these conditions, I was still able to connect with people and obtain the education I came here for.
Don't forget your textbooks! (Photographer/Amara Zahra)
A positive approach
Technology in this era has given many of us great access to things in our lives that we cannot normally conduct due to our current circumstances. Hence, rather than focusing on the drawbacks, I made it a habit to approach things with an open mind and positive attitude.
Think about the accessibility that comes with online learning. Only in this day and age can you easily grab your computer to go to school. Information is only one click away, and even note-taking can be conducted online.
To quote some very wise words from a very wise student and good friend of mine, one useful thing to keep in mind is that "since the idea of learning has been compromised, you have to change the way you want to learn too." As with everything else in life, progress cannot be made if you do not adapt.
For current students, keep up the good work and congratulations on finishing your first semester online. For new enrollees, on behalf of the SPA team, I wish you the best of luck!
---
Check out some of the other SPA members' ideas!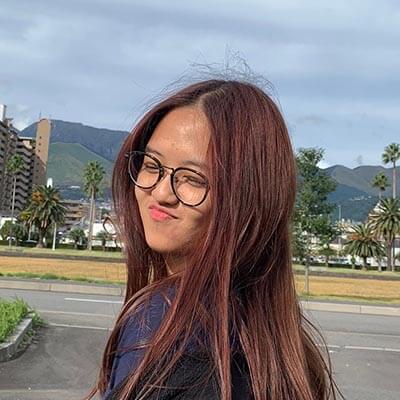 AMARA Zahra Djamil
Hello! I'm Amara from Indonesia. I enjoy writing and sharing stories. Being a part of SPA has given me the opportunity to meet new and creative people at APU and learn about their interesting experiences. When I'm not busy with schoolwork, I like to watch movies in my free time.