Hello, everyone. I'm Maasa Furumori, a fourth year APS student.
How is your fall semester going? Today, I would like to introduce an ongoing big project in Oita to you all.
Have you ever heard of "Ouchi Onsen Todoketai"?
With the minds of "Gratitude" and "Healing", there is a team called "Ouchi Onsen Todoketai" who is working on a project to bring hot springs to medical professionals this year.
Members of the Ouchi Onsen Todoketai
The new coronavirus, which has been rampant since February this year, has not only affected social conditions, but has also significantly changed the health consciousness of people around the world. This project was launched with the aim of bringing healing to the medical professionals who are fighting on the front lines every day to save and protect the lives and health of as many people as possible, both physically and mentally.
So here is a question, what does Ouchi Onsen Todoketai plan to deliver?
The answer is "Onsen♨ in Oita."
As you know, onsen, or Japanese hot springs, have ingredients which allow the mind and body to relax, and their chemicals are said to be effective too. In cooperation with B-biz Link, a general incorporated association which operates Beppu Onsen Omiya, Beppu City is marketing hot springs nationwide and working to deliver natural hot springs to medical professionals all over Japan.
Associate Professor Yoshiki Shinohara and other student volunteers are in charge of this major project. Associate Professor Shinohara encourages students in class to join his team of six students to work together to support the project.
Hot spring spa in a transport truck
During an interview via Zoom, I was able to talk about the project with Mao Murakami, one of the managing members of "Ouchi Onsen Todoketai" and as well as a fellow SPA member.
When asked why she participated in this project, Ms. Murakami replied, "I was wondering if there was anything I could do to help the medical professionals who are working so hard for us. When I heard about this project, I sent an email to Dr. Shinohara immediately."
The six students who have gathered together to form "Todoketai"(とどけ隊) have different roles to play as members. They are mainly divided into a return team which brainstorms ideas for thank-you gifts, an activity report team, an events team, a social networking team, etc., and these teams communicate about their daily project activities via SNS.
Official crowdfunding "GOOD MORNING" website: (Japanese only)
https://camp-fire.jp/projects/view/308762
Facebook:
https://www.facebook.com/ouchionsentodoketai
Twitter
https://twitter.com/Oita_hotspring7
Note
https://note.com/onsen_todoketai
Instagram
https://www.instagram.com/ouchionsen2020_apu/
The hardest things since starting work in Todoketai are…
"Deciding what the thank-you gifts should be and keeping our members motivated," Ms. Murakami said.
Todoketai gives thank-you gifts to people who support their efforts through crowdfunding, but due to various restrictions on the returns that can be posted on the crowdfunding page, there are many things that don't go over well and it can be difficult to coordinate.
As for keeping the team members motivated, the current crowdfunding process is in its early to middle stages, and we're in a state of trial and error as we try to get more supporters to share in the project. Todoketai has a social networking site where we post daily to motivate each other, says Ms. Murakami.
~ Lastly, a message from Ms. Murakami
I think there are four main keywords: "medical professionals," "hot springs," "gratitude," and "healing."
Though we may not ourselves be medical professionals or doctors, we know they have taken care of us since we were little and always protect us. Today, we want to express our gratitude to those who are fighting on the front lines of the corona crisis with no end in sight. We would like to bring healing to as many people as possible through our ingenuity, and we would be grateful for your support.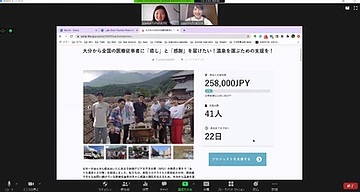 We are currently collecting money through crowdfunding and have set a target of raising 2 million yen.
(As of October 7th, we have 46 supporters and have raised a total of 294,000 yen.)
*We will deliver hot springs to medical professionals depending on the amount of support we garner. Please click here for more information about how the hot springs will be delivered, how you can support the project, and the thank-you gifts you could receive.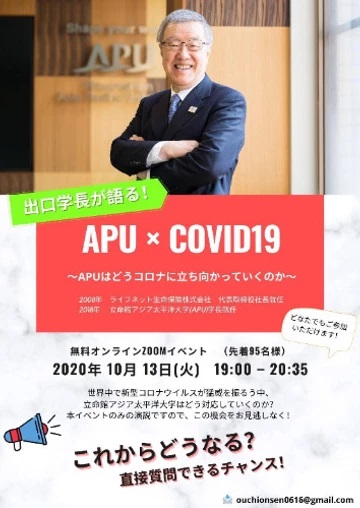 Future plans for Ouchi Onsen Todoketai:
Online Event with President Deguchi
APU × COVID19 ~ How will APU confront the coronavirus?
October 13, 2020 (Tue)
19:00 - 20:35
All are welcome!
To apply, click here.
"We would love to have your support!"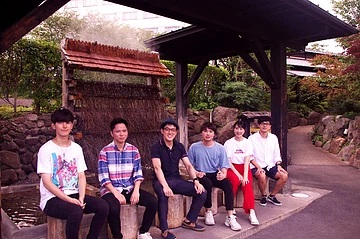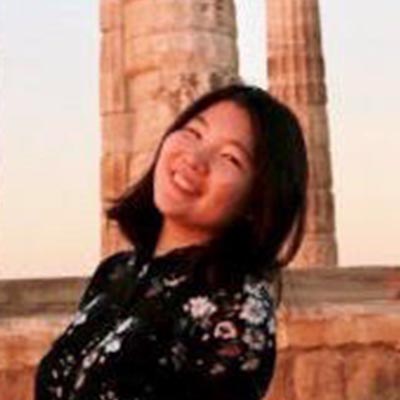 Maasa Furumori
Hello, I'm Maasa from Japan. I was born and raised in Nara, and lived in the states for 2 and a half years during my highschool. I spend my weekend to watch movies, go to onsen, and do some outdoor activities. Climbing mt.Yufu in 2019 was one of my favorite outdoor activities I did in Oita.My next challenge is to make it to the top of mt. Kuju. As a member of SPA, we would like to spread more fun information from diversified standpoints so please check out SPA's Blog !