Warmest greetings from the SPA student staff at FAFA. We hope that every member of the APU community, no matter where you find yourself right now, are staying safe and healthy, and are doing well in your online studies.
After a long and eventful spring break, SPA is back with our special series, "APU Alumni Interview." In this series, we interview APU alumni who are actively shaping our world. For this interview, we spoke online with Mingyu Du '12, who is now working as a Custom Success Manager at UMU, a company which provides an interactive E-learning platform to deliver training and lectures for companies and educational institutions.
Alumni Profile
Name: Mingyu Du
College: APM
Graduation year: 2012
Home Country: China
Scholarships received: 100% APU Tuition Reduction Scholarship Recipient
Extracurricular activities at APU: APU Orchestra, FLAG (first generation of FLAG)
Career path after APU: Fujitsu via APU On-campus Recruiting (System Engineering) – UMU (Customer Success Manager)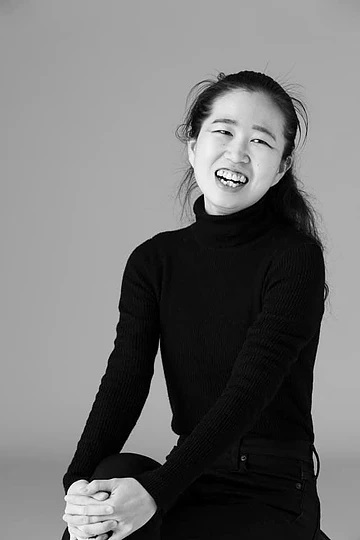 Mingyu Du is an APU alumni who graduated in 2012 and is now working in the IT industry
Can you share about your path to APU?
I first learned about APU when I was in my third year of high school. I was preparing for the National University Entrance Exam and was not sure if I would study abroad when I learned about APU holding an information session. I was very impressed when I first saw a pamphlet about APU, because even though it is a Japanese university, the students are from all over the world. I thought that it would be a different experience to study in such a diverse environment. While I had only studied in English until high school, the fact that APU offers a great range of courses with a major focus in Japanese courses, I felt that any language barrier would not be a problem if I become an APU student. I was very lucky to receive a 100% APU Tuition Reduction Scholarship, since I had promised my parents that I would only pursue studying abroad if I received a 100% scholarship (laughs).
How did you study or improve your Japanese at APU?
In order to be prepared for life in Japan I tried to learn some Japanese before coming to APU, but when I arrived I found the learning environment at APU was very different from what I had experienced in China. I remember spending almost 80% of my time in first year studying and practicing my Japanese, as I was always eager to be able to communicate with Japanese students and understand their mindset, and I also wanted to take courses in Japanese. International students who want to improve their Japanese should practice, practice, and practice, especially in real life situations. What you learn in class is very crucial, but to get the intonation and nature of the language, practice is important.
Please tell us about your job hunting journey.
I started my by looking for international companies with branches in Japan, and tried applying for several companies from various industries. My job hunting was mostly on campus as there were numerous companies—including some very big ones—coming to APU for recruiting. I also joined some information sessions in Fukuoka and Osaka. In the beginning I has little knowledge about IT, but I acknowledged that in our fast-changing world, technology is growing to be one of the most essential sectors. I recognized that working in the IT industry will greatly benefit the future, so I chose a jog in the IT sector, starting my career by working for Fujitsu.
Mingyu Du in her graduation ceremony
What did you learn in APU that has benefited your career?
The experience of working with students from many different countries with different backgrounds and different mindsets is very special. In addition, having the ability to adapt and to survive in new environments with communication skills and the ability to overcome difficulties with an open mind have been very advantageous for me when I started working.
Please tell us about your career path after APU.
I started my career as a system engineer at Fujitsu, which provides IT-based solutions for clients; this job was more about technical support. I spent four years in Fujitsu, including one year working for a Fujitsu-supported startup called Deaps. My job shifted from handling technical issues to marketing and business. Currently, I am working for UMU—an online platform which provides interactive E-learning systems to deliver training and lectures for companies and schools through various means such as exercises, livestreaming, real time quizzes, cognitive games, and more. As a Customer Success Manager, my main role is to assist customers in maximizing their use of UMU products and services.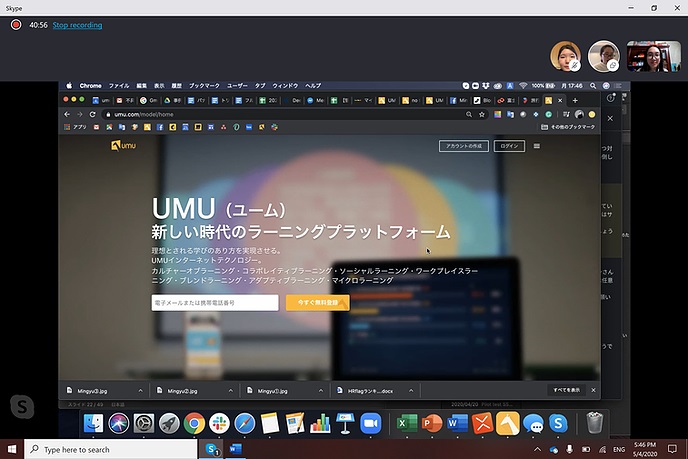 Currently, Mingyu Du is working for UMU as a Customer Success Manager
What is it like to work in a Japanese company as a non-Japanese employee?
I have worked in very traditional Japanese companies where almost all of my colleagues are Japanese. I would say the thing that I have always appreciated is the mentoring by more senior employees when I first joined the company. To international students who are worried about adapting to the company culture in a traditional Japanese company, I would tell them don't be worried, because this depends a lot on the company itself. A small tip here for those who are job hunting: if possible, try to find opportunities to talk with not only HR people but also people in other departments working for that company. These are the people who may become your colleagues if you get hired. The job you wind up doing may be different from the original description. Most importantly, get to know more about the company vision as well as the company culture.
How are you adapting with "work from home"? Have you encountered any challenges?
UMU as a company was founded five years ago. UMU Japan was established in 2018, and is one of five areas where UMU has staff and partners at (together with US, China, Taiwan and Hong Kong). In the Japan office we mostly use the office for internal meetings with shared space with everyone working together, or we can work from home. So, I am actually very used to working remotely, which has been helpful during this pandemic.
What are your future career plans?
In the next 2-3 years, I hope our business will grow bigger as the company expands, and I will be able to assist more clients with our advanced platform to improve proficiency for learning environments, staff training, and productivity.
Do you have a message for current APU students?
Your four years at university will pass by very quickly, so enjoy every single minute—or even every second—of it. I encourage you all to try your best, make use of every opportunity APU gives you to explore new things. Don't hesitate, and don't be afraid of making mistakes!
For those who are job hunting, I would suggest that you prepare as much and as early as possible. As I mentioned above, as you go through your own job hunting, try to find opportunities to talk with not only HR people but also people in other departments working for that company; people who may become your colleagues if you get a job there, because they may be able to give you more insight into what it can be like to work at that company, and most importantly, to get to know more about the company vision as well as its culture.
Thank you very much for your time! Stay healthy and safe, and we wish you the best with your career!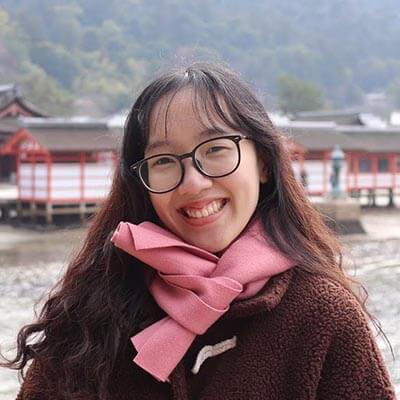 Ha Phan Ngoc DOAN
Hi! I'm Ha, class of 2021FA, majoring in IRPS (International Relations and Peace Studies). On campus, I was a Resident Assistant, Teaching Assistant, APU Student Ambassador and Student Staff at APU Library. I can't wait to share with you all my experience as a SPA member!