On May 14, Yosshakoi held their first in-person performance, called Ikigomu, on campus since the pandemic started. Due to many of their activities being halted, many Yosshakoi members were excited to finally be able to show their charm and unique dances.
Yosshakoi is known for their lively and passionate performances. Their energy was reflected the instant the music had filled Millennium Hall that Friday evening, and being a part of the audience myself, I knew that everyone could not help but be mesmerized.
A week prior, I was able to sit down and talk with one of the performers who is also a core member in the circle. Krisa, who comes from Indonesia, joined the circle during his first year and is now a part of the core members.
SPA: Can you briefly introduce the event?
Krisna: Our event is called Ikigomu. The word itself is made up of four kanji that can be translated into an idiom, of sorts. "Iki" means one and connection, while "gomu" means tiger and performance. Hence, I guess it could be interpreted as us Yosshakoi members, united as one, finally getting the opportunity to show the students our performance. We wanted to make people interested in joining Yosshakoi.
Yosshakoi performing at Ikigomu in APU Millenium Hall (Photo by Amara Zahra)
According to the pamphlet distributed at the performance:
The performance itself is composed of three parts; Sparkle of the Earth, Maishin, and The Red Ring, and each section of the show has its own story as well. Sparkle of the Earth is the first Yosshakoi original song that tells the story of how they grow as a team. Maishin tells the story of Yosshakoi's development overtime. And last but not least, The Red Ring uses the sun as a symbol of Yosshakoi's hope, love, and energy.
SPA: How long do you usually prepare for an event like Ikigomu?
Krisna: Events like this usually take about one month for all preparations, starting from recruiting performers. The recruitment process this time is a lot stricter because of the pandemic. The performers' health was taken into consideration and they must be in Beppu three weeks before the performance date. From there, we start practicing as much as we can. We practice almost every day of the week if we can. But overall, it doesn't really feel like we're just practicing dance. There's a lot of things that happen behind the scenes. From costume preparations and all, it's fun to see how it all unfolds and takes shape into one full show, especially as a core member myself.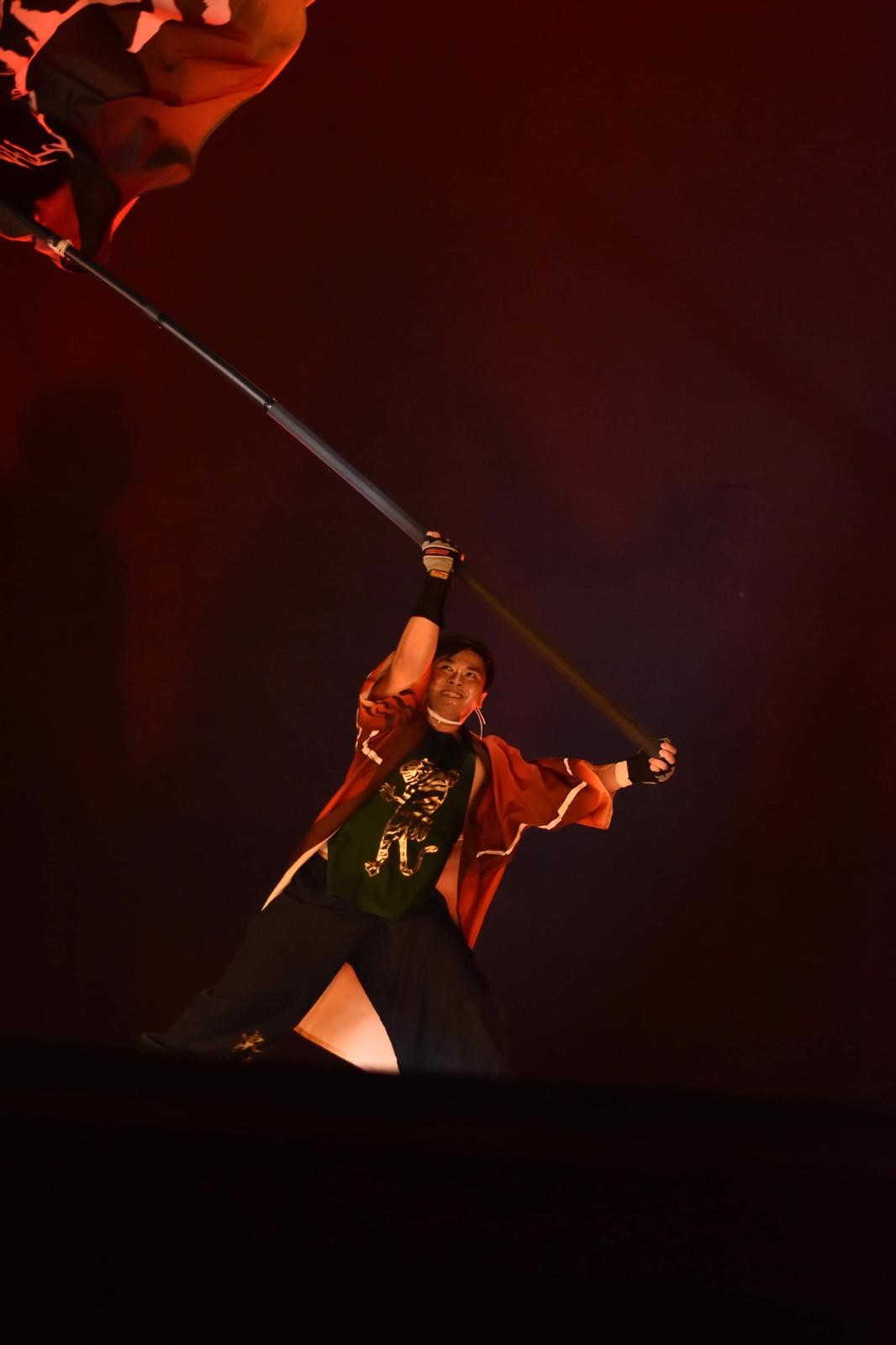 Krisna carrying Yosshakoi's flag during Ikigomu (Photo by Stephanie)
SPA: Is this your first time as a flag bearer? Can you tell us why you decided to become one?
Krisna: I think the flag is a big part of the performance because it usually stands out. There weren't a lot of people who wanted to carry the flag, but I wanted to give it a try. It's a lot of hard work because the flag itself is very heavy, but I thought it was really cool. The training process is very tiring, yes, but I was motivated because I want to prove to myself that I can do it.
SPA: You mentioned that you were also a core member in the circle. Can you explain what your roles are for this event?
Krisna: The core members are usually chosen from a combination of volunteers, votes, and recommendations from seniors. As a core member and also for this event, I am in charge of costumes. I am the one responsible for checking the supply of the costumes to make sure we had enough for every performer. I also have to check the supply for accessories. In the case we don't have enough, we usually have to borrow from senpai.
SPA: What kind of preventive measures are taken in order to hold an event like this, considering the current situation?
Krisna: We follow the guidelines given by the Student Office by implementing social distancing rules and checking the temperature and symptoms of all performers and even the audience on the performance date. Before the pandemic, it was easy for us to reserve places on campus to practice, but now we have to go through measures such as providing a list of the people that will be present. We also regularly submit health checkups leading up to the performance date (and after) to ensure that everyone is in good health. To sum it up, there are a lot of documents involved. Without these measures, Ikigomu wouldn't be possible.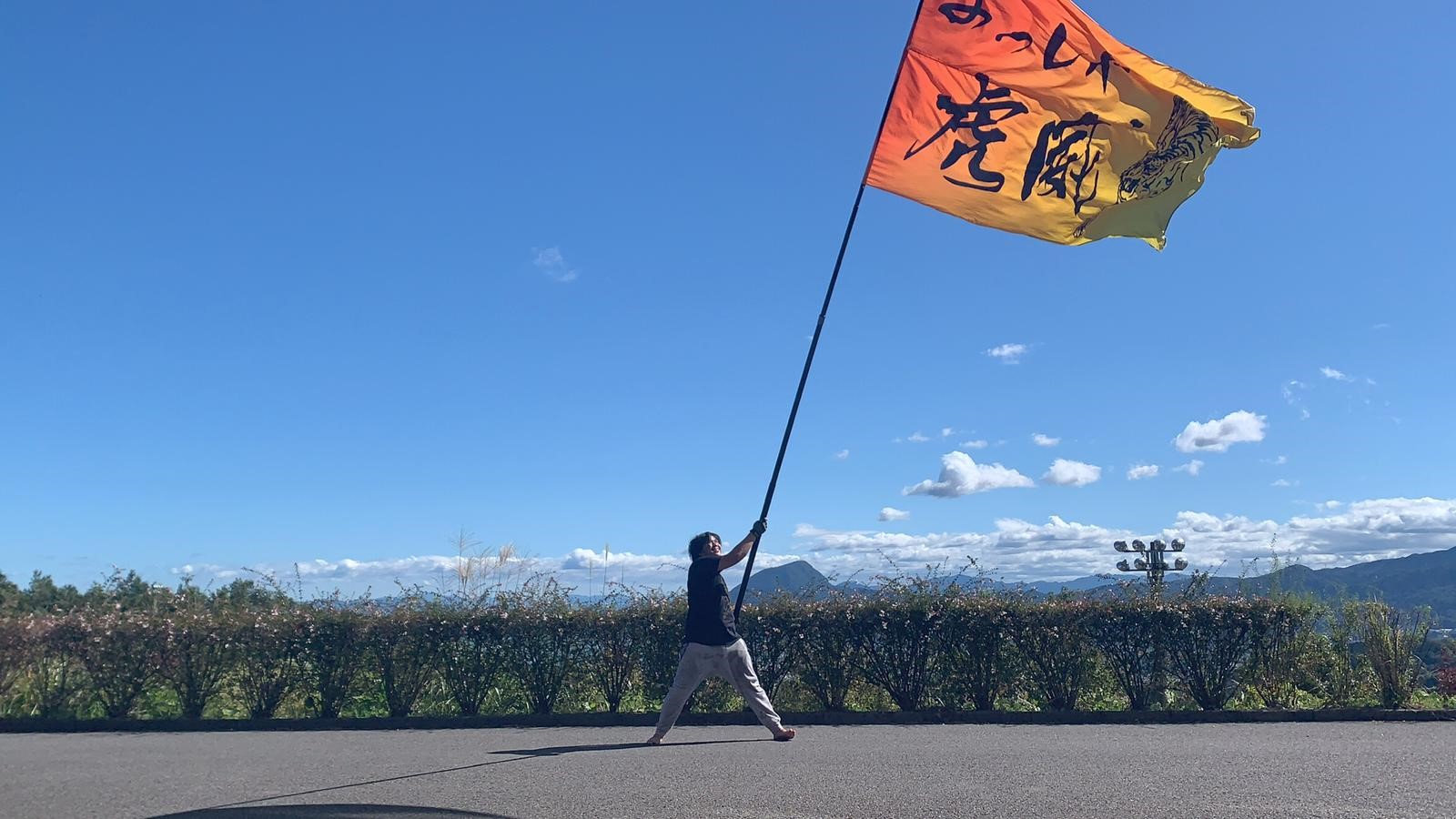 Krisna practicing with the flag on campus (Photo by Maria Josephine)
To stay updated on Yosshakoi's next live performance and other activities, be sure to follow their Instagram at apu_yosshakoi.
Special thanks to Krisna Uriel for the interview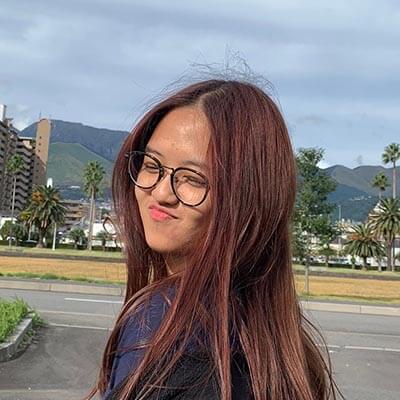 AMARA Zahra Djamil
Hello! I'm Amara from Indonesia. I enjoy writing and sharing stories. Being a part of SPA has given me the opportunity to meet new and creative people at APU and learn about their interesting experiences. When I'm not busy with schoolwork, I like to watch movies in my free time.