With over 100 student organizations and circles, APU offers students with many opportunities to venture into a variety of hobbies and communities. One notable circle is Yossha-Koi, a circle that performs contemporary traditional dances from Kochi Prefecture. Despite being a Japanese culture-based circle, Yossha-Koi is actually very popular amongst international students with more than half of its members being international students.
Yossha-Koi members during practice (Photo by Ameera Anarha)
Typically, Yossha-Koi holds its practice periods on Wednesdays and Fridays for 2 periods a day, but when they are preparing for an event, they usually practice almost every day. If you experience one of their performances, it's easy to see just how much work they put into crafting the perfect show. They're always filled with so much energy, and so much detail goes into the dancing that you can't help but be amazed.
I had the opportunity to interview Ameera, a Yossha-Koi member from Indonesia, about being a part of the circle and her experiences so far. Ameera, who previously had dabbled in many genres of dance, including ballet, contemporary, and Indonesian traditional dance, was mesmerized by Yossha-Koi upon seeing them for the first time. She decided to join the circle during her first year at APU.
SPA: Why did you choose to join Yossha-koi?
Ameera: At first, I loved their performance during the Fall 2019 Entrance Ceremony. The first time I saw them, they were really cool and their performance moved my heart! I knew that I wanted to join them. I also like to dance and I love trying new styles of dances.
SPA: What usually motivates you to get up and practice for hours?
Ameera: The passion people have for this circle is what motivates me. Our leader, Hina, who is also my friend and fellow RA at AP House, worked so hard for our last event, Ikigomu. She created a planning sheet just to have this performance for everyone because all of our previous performances were cancelled due to the pandemic. Seeing her and all of my fellow Yossha-Koi members working hard is what makes me tell myself, "Wake up! Let's go and practice!" every day.
SPA: What do you think is the most challenging part about being in Yossha-koi?
Ameera: I think one would be time management. After all, we're still students that have to balance schoolwork and activities outside of clubs. Sometimes you also need to pay for Yossha-Koi costumes, so I think it puts into perspective the kind of money management I have to do myself. But even with those challenges, everything is worthwhile in the end because you get to experience so much and also learn to manage yourself better at the same time!
SPA: Due to social distancing, how have club activities changed during the pandemic? Has it hindered or slowed down practice? How do you adapt with these changes?
Ameera: We had to stop practicing and cancel events for a long time because of COVID-19. By the time the situation got better, we had the chance to perform for last year's Tenkusai (the performance was broadcasted online). The preventative measures we took include implementing social distancing and making masks mandatory during practices. We also had breaks in between our practice to properly ventilate the practice room. Health check surveys are also mandatory to be filled by all members.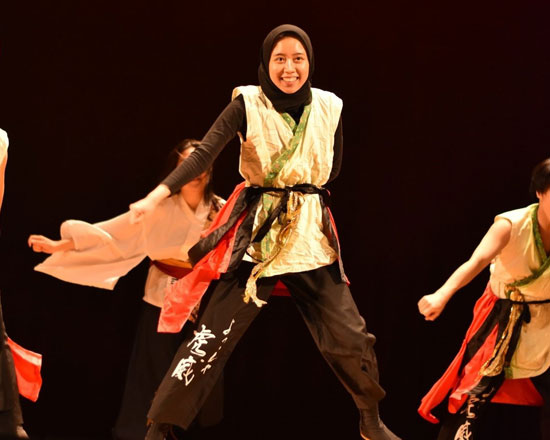 Ameera in a performance of "Ikigomu". (Photo by Stephanie)
SPA: As an international student, has Yossha-koi helped you in interacting or making friends with people from different cultures?
Ameera: I think we all have a common goal of wanting to put up an amazing performance for everyone, and that is what helped me in making friends through the circles. Sometimes we also try to learn languages from each other and that definitely pushes me and other students to interact with one another more. So yes, I would say Yossha-Koi has helped me make more friends from different cultures!
SPA: How has Yossha-Koi made you grow as a learner? Other than dancing, is there anything that you gained and found valuable?
Ameera: Definitely communication and teamwork. Of course, we have the same passion and goal, but we also have to remember that different people have different priorities and we have to consider the language barrier that exists. It's all about being able to understand each other and have tolerance. For example, even when Japanese students are struggling to speak English, they still want to put effort into trying. The same goes for international students. The circle taught me a lot about how important communication and teamwork is just to make the dream work.
SPA: Do you have any words of advice for new students interested in joining the circle, even if they don't have dance experience?
Ameera: For me, the important thing is to challenge yourself and be open to new things! University is the time to explore yourself, your passions, your likes. Make new friends and explore your interests until you find that one reason that makes you wake up every day in the morning. For Yossha-koi, we don't have auditions. Even if you don't have dance experience, you can still join! We will teach you from scratch. We don't even have auditions for performances. As long as you commit and want to learn after applying, you can participate.
To keep up with Yosshakoi's activities, be sure to follow their Instagram page at apu_yosshakoi.
Click here for an article about the 2021 performance of "Ikigomu".
Special thanks to Ameera Anarha for the interview
Thank you for reading. May you have something to be passionate about in the next semester.
Click here for APU Club and Circle website.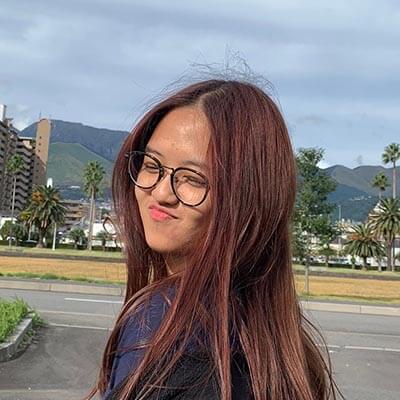 AMARA Zahra Djamil
Hello! I'm Amara from Indonesia. I enjoy writing and sharing stories. Being a part of SPA has given me the opportunity to meet new and creative people at APU and learn about their interesting experiences. When I'm not busy with schoolwork, I like to watch movies in my free time.