Have you ever imagined how amazing it would be to run your own business while studying abroad in Japan?! Actually, APU has many "senpai"s who started their own businesses in Beppu after graduation, having made preparations while still in APU.
Irine and Gufi, owners of Fluffyflu
Meet Napatsorn Permpetch (Gufi) and Irine Intara, 3rd year APM students from Thailand whose passionate for craft and art works turned into a business called Fluffyflu. Though their business is based in Beppu, they have also shipped their products to Tokyo, Okinawa, Nagasaki, and Chiba. This article will go through the steps they took to start their enterprise and how they overcame challenges.
Day 1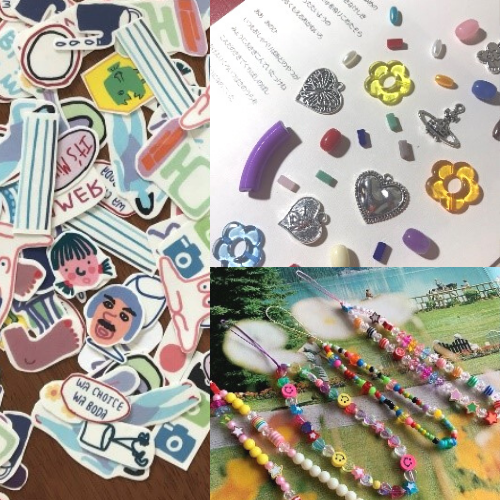 First looks of Fluffyflu
The initial idea for the business plan came out of the ongoing COVID-19 situation which forced students to spend more time at home. Gufi realized this was an opportunity to share her artworks and generate money from them while also having a fun time by herself. The pandemic made her think of the word "flu," and then she made it sound cuter by adding "fluffy." There she got her business name "Fluffyflu". Later on, she created a platform on Instagram to sell her own tattoo works.
Two Is Always Better Than One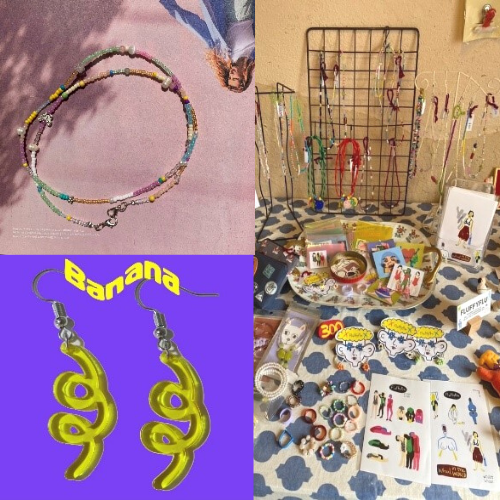 Fluffyflu's Products
In February 2020, she partnered with her best friend who shared the same interests, Irine. Irine already had her accessory works back in Thailand which helped to expand their business.
First Pop-Up Store
Once they received positive feedback and generated sales, they decided to move forward by having their first pop-up store at Four Clover's Café in Beppu.
Fluffyflu at Four Clover's Café
The Big Step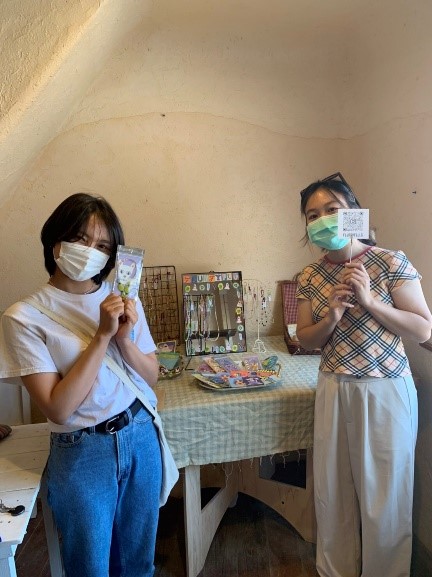 Fluffyflu at Kuru Kuru Market
With a strong passion, they next decided to join Kuru Kuru Market, which is a flea market that is run by another APU student in Beppu. Later, this became their main pop-up store where they have created the most sales.
Also, by September 2021, they plan to have another pop-up store in Oita!
I asked the two about their experiences running their own business. The following is my interview with them.
What do you think is the hardest part of opening a business in Japan as an international student?
Gufi: LANGUAGE is the big thing for us. We both can speak Japanese; however, it might not be at a level that we can fully convey and market our products in proper business terms with customers. Also, we had an online store on a Japanese platform shut down because we misunderstood the terms and conditions in Japanese. So, Japanese is the issue that we need to be concerned about.
How do you manage that?
Irine: Basically, we use Google Translate and get help from our lovely Japanese friends. However, another important thing is to be comprehensive in Japanese business culture, so we went through various Japanese online store platforms to observe and adapt their ideas into our business.
What did you get from owning a business?
Gufi: Since I am the one who is taking care of the Instagram and the website, I need to actively push myself to learn more specific Japanese marketing terms in order to suitably persuade Japanese customers and understand more about the Japanese culture market. This is stepping out of my comfort zone and reaching out to more people. Also, this allows me to enhance my self-confidence in my artworks when I hear others' appreciation for them.
Irine: I have developed my graphic design skills for advertising as well as utilized my knowledge from my Promotion and Sales Management class in a real situation. Also, running Fluffyflu enriches my life: I wake up every day with a goal. Also, why not enjoy something fun while making money out of it?
Tips
"Just Do It"
- Gufi and Irine
Gufi: First, you have to realize your own passion, put in some effort, then just do it. If we went back to the time we started and we didn't seek opportunity or have courage to negotiate with Japanese associations, Fluffyflu would never get this far. Another thing is that Japanese people are very kind. Even if you are not fluent in Japanese, they will try to understand, so don't be worried.
Follow @fluffyflu.g to support their products and get information on upcoming intersting events!
Online Interview with Gufi and Irine, owners of Fluffyflu
Special thanks to Gufi and Irine for sharing their encouraging story of opening a business, which is especially inspiring considering they succeeded outside their home country. This is such a huge step toward later challenges in life. I hope our readers can feel that power of enthusiasm and continue driving life with passion.
All international students have permission to be in Japan (a visa) for studying at a university. If an international student wants to do something not covered by their visa – like work a part time job, serve as a TA, take an internship, or participate in certain local exchange events – they must first apply for and get a work permit. You can apply for a work permit even if you haven't found a part-time job or an internship etc. yet, so we recommend applying for one in advance.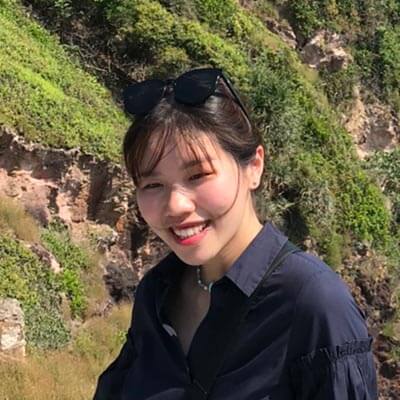 Nichakorn Kurpipat
Sa-was-dee (greeting in Thai)! I'm Pim, a Fourth year APM student majoring in SMO (Strategic Management and Organization). I love to observe nature and learn from inspiring people and their lifestyles. I then turn those experiences into positive energy to drive myself towards a successful life - a happy life. Let me share it with you!