On November 10th, the SALC successfully collaborated with the CLA Program to launch the first ever Bilingual Book Club Event using the Vietnamese Week 2018 Grand Show story.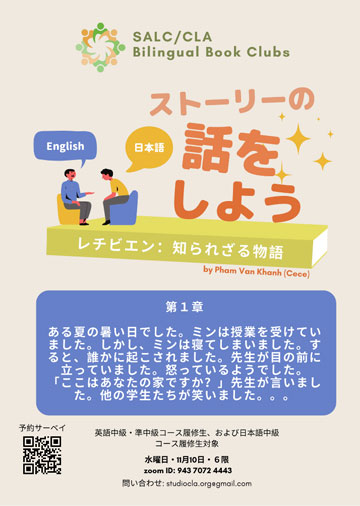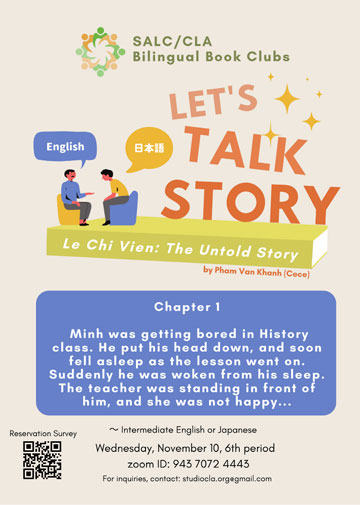 The SALC or the Self-Access Learning Center is frequented by students who want to improve their language skills. The SALC room on the first floor of F Building contains a large collection of study materials and is a place where students can drop by and study by themselves or interact with their peers. The SALC also employs Peer Advisors (PAs) who directly help students with English, Japanese, and Chinese writing and speaking skills. Since last semester, students can book online study sessions with PAs and English teachers through Zoom.
The CLA Program is a relatively new program launched in April 2020 by Associate Professor Paul Sevigny. CLA stands for Community Literacy Activists, which is what participants of the program aim to become. The program intends to produce six bilingual graded short stories based on previous Multicultural Weeks at APU, which will then be used for exchange events between domestic and international students. This Book Club Event is the first public event that uses a story produced by the CLA members.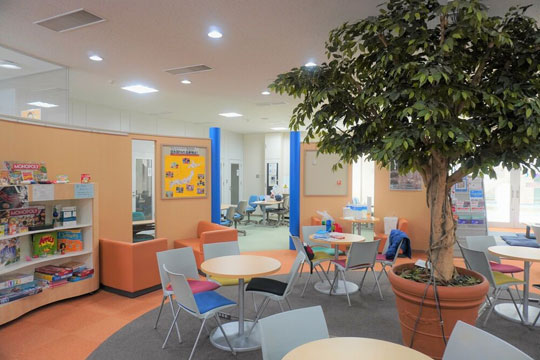 SALC (Self-Access Learning Center) located in Building F, a convenient location for students.
The Book Club Event on November 10th was a collaboration between the SALC and the CLA Program in hopes of creating a space where domestic students and international students can interact with each other and enjoy reading. The story used in this Book Club Event is called "Le Chi Vien: The Untold Story" (レチビエン:誰も知らない物語), which is based on the Grand Show of Vietnamese Week 2018. Domestic students were to read the English version of the story, whereas international students were to read the Japanese version of the story before coming to the online event. Then, at the event, students discussed with each other about difficult vocabulary, the events in the story, and the culture depicted in the story in both English and Japanese. Participants of the event reported that they had a great time hearing each other's points of view, as well as learning their target language and Vietnamese culture.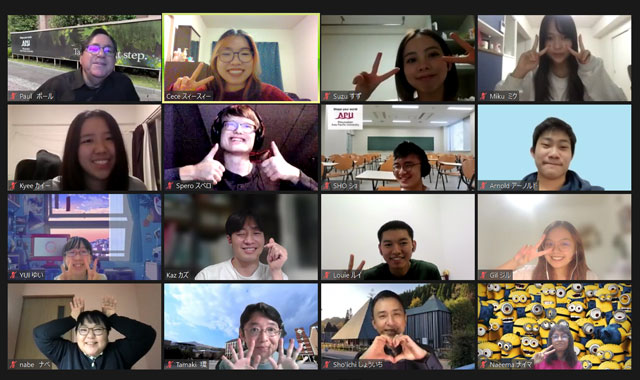 Participants and organizers of the SALC/CLA Book Club Event
Organizers of the SALC/CLA Book Club Event
The CLA members are working with full momentum to prepare for the next Book Club Event in December based on the story of Indonesian Week 2019 Grand Show. If you are interested, please pay attention to the announcement on Campus Terminal. We look forward to seeing you there!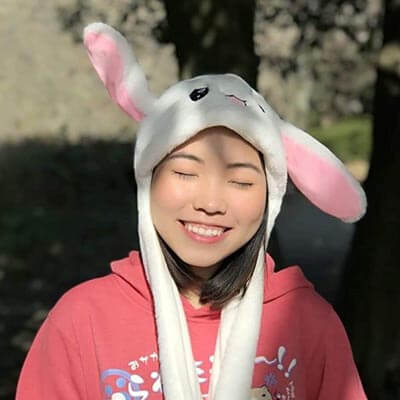 PHAM Van Khanh
My favorite part of being a member of SPA is interacting with students and professors whom I normally wouldn't talk to and listening to their interesting life stories. If you have an interesting story at APU, you can always tell me.