NEW COLLEGE
College of Sustainability
and Tourism
APS
College of Asia Pacific Studies
Lead from Asia, cultivating graduates with the practical knowledge to change the world
We will train our students to cultivate broad perspectives and flexible thinking to reach solutions to the world's complexly intertwined problems. To this end, they will study three interdisciplinary areas – International Relations; Culture, Society, and Media; and Global Economy – based on Political Science, Sociology, and Economics, mainly of the Asia Pacific region. Furthermore, students will visit various locations to boost their hands-on learning through fieldwork and thus acquire practical science with which they can demonstrate their abilities in the global community.
Mission
The College of Asia Pacific Studies, with the Asia Pacific region at its core, will lead a paradigm shift in global society of the turbulent 21st century through its research and education. The college will contribute to the resolution of various problems, the creation of new values that transcend national and regional boundaries, and the realization of coexistence based on a respect for diversity to ensure the sustainable development of global society.
Human Resource Development Goals
The College of Asia Pacific Studies will cultivate individuals who can contribute to sustainable development and coexistence in the Asia-Pacific and the wider world.
Studies will provide students with…
comprehensive understanding of the diverse political conditions, economies, societies, and cultures of the world,
basic and advanced knowledge of the humanities and social sciences
develop language, communication, and problem-solving skills.
Message from the Dean of College
College of Asia Pacific Studies
Professor Yoichiro SATO
The College of Asia Pacific Studies will aim for a new goal in 2023. We will retain our original academic goals that were set upon the opening of this university, including internationalization nurtured on campus as well as the capacity to empathize and the appreciation of diversity, which can be achieved through a wide array of studies. In addition, we will launch a new curriculum as well as off-campus learning opportunities with which students can systematically learn the three academic areas central to sociology, to cultivate highly professional individuals who will flourish globally.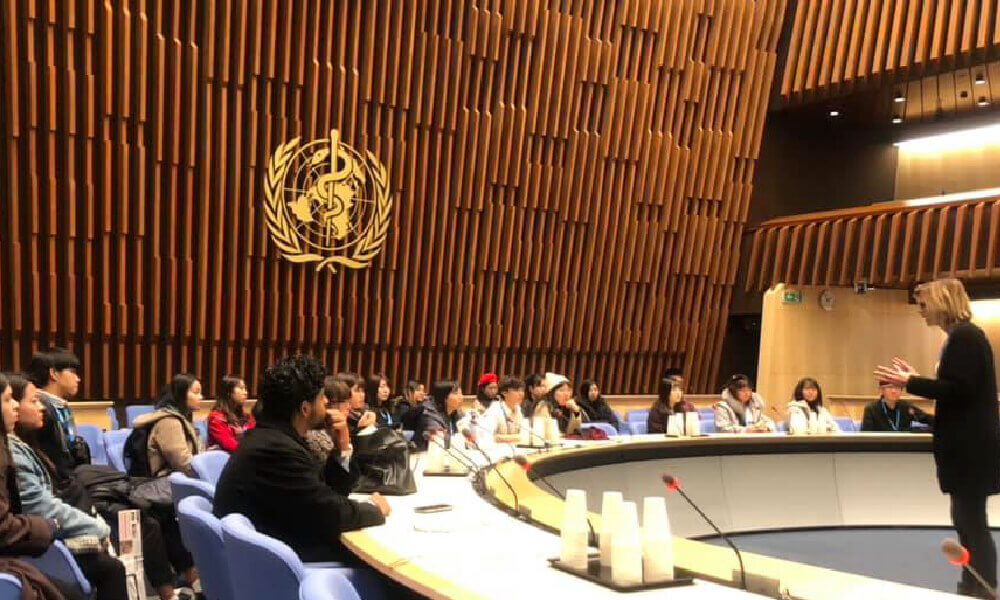 A study method that maximizes learning in the three academic disciplines
In the College of Asia Pacific Studies, students place emphasis on deliberating on the paths to solving problems through research, discussions, and presentations. In addition to attaining expertise that is necessary to resolve the varied issues of the Asia Pacific region, they will also acquire practical science through the following modes of learning: Focus, Diffusion, Expedition, and Practice.
An interdisciplinary study of Political Science, Sociology,
and Economics applied to the three academic areas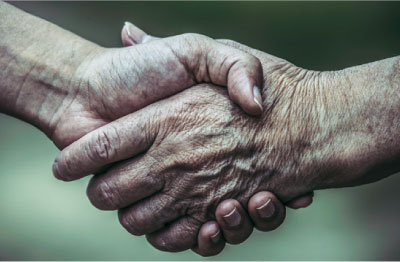 International Relations
Legal, political, and economic viewpoints are used to examine and then explore solutions to global issues, such as international conflict, human rights issues, and environmental destruction.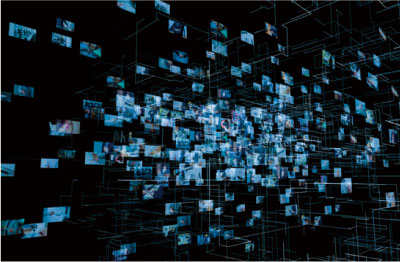 Culture, Society, and Media
Both the micro and macro perspectives of culture, society, and the media are applied to investigate new means of coexistence in the diverse region of the Asia Pacific.
Four cycles that maximize learning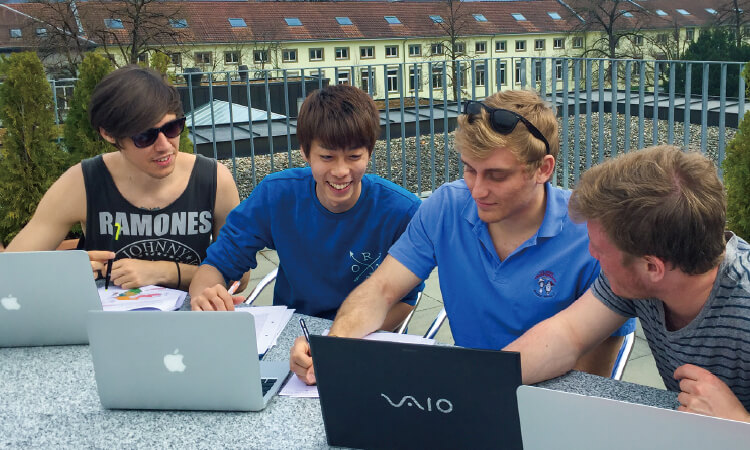 Learn skills that are viable in the international community, with the world as your campus
The world is the campus in the Expedition mode of learning in the College of Asia Pacific Studies. We have expanded short-term intensive courses, field studies, and mutual access online to and certification for courses during the regular semester with our prestigious partner universities overseas that have concluded student exchange program agreements with us. A strong emphasis is placed on the international validity of the specialized research area in the Expedition mode, which includes opportunities to participate in internships at think tanks overseas, embassies, and international organizations.
APM
College of International Management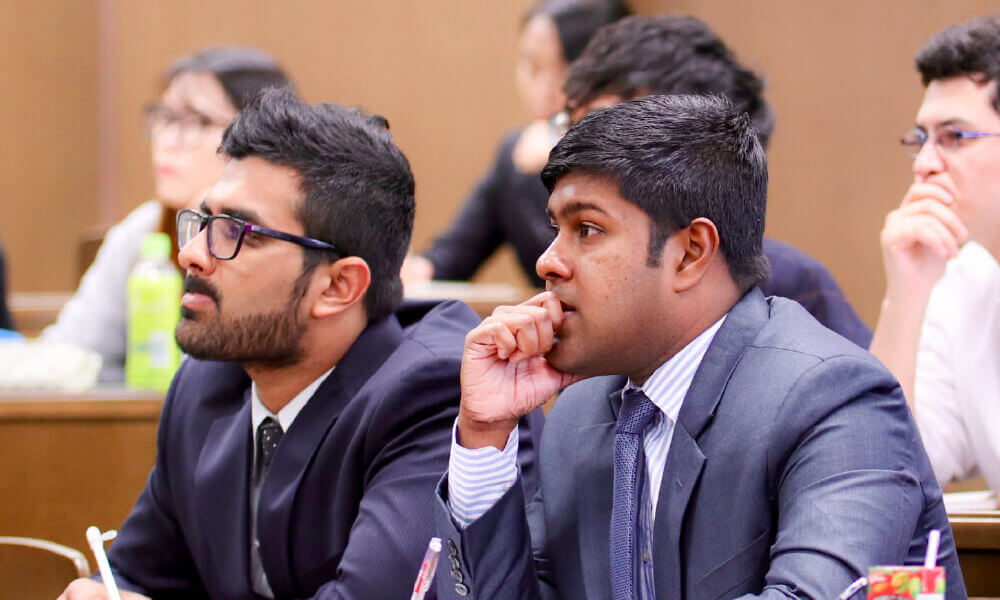 Training global business leaders who will change the world
The world is facing numerous, unprecedented problems with the COVID-19 pandemic and outbreak of international conflict. The College of International Management is dedicated to the nurturing of leaders who can change society with the power of business. As the center of internationally certified, diverse, and inclusive education in the Asia Pacific region, we aim to further evolve into a vision-driven, mission-oriented business school.

The College of International Management and the Graduate School of Management have earned two international accreditations, in addition to joining the PRME(Principles for Responsible Management Education) community in May 2021, making APU one of three such institutions in Japan.
Mission
To create a fusion of cultures that nurtures globally competent and socially minded leaders who thrive in our changing interconnected world and take responsible action toward inclusion and sustainability.
Human Resource Development Goals
Business leaders with a sense of social responsibility who can play an active role on the world stage Globally Competent & Socially Responsible Leaders
Message from the Dean of College
College of International Management
Professor Lailani L. ALCANTARA (Philippines)
At APM, you will study business in an unparalleled diverse environment that gives you unique opportunities to grow personally and professionally. You will deepen your knowledge on business; cultivate leadership, entrepreneurship, and global skills; and develop appreciation for diversity and inclusion by tackling business, environmental, and societal challenges together with people across the globe. Join APM and become a force for good in your career.
Refine and advance world-class business skills through practice
The College of International Management applies three educational methods that emphasizes practice and experience, by consolidating four areas of study that include entrepreneurship and business operations. In particular, students will acquire international standard business skills through the Capstone course, in which they work on solving actual corporate problems.
Three Educational Methods
That Consolidate Four Study Areas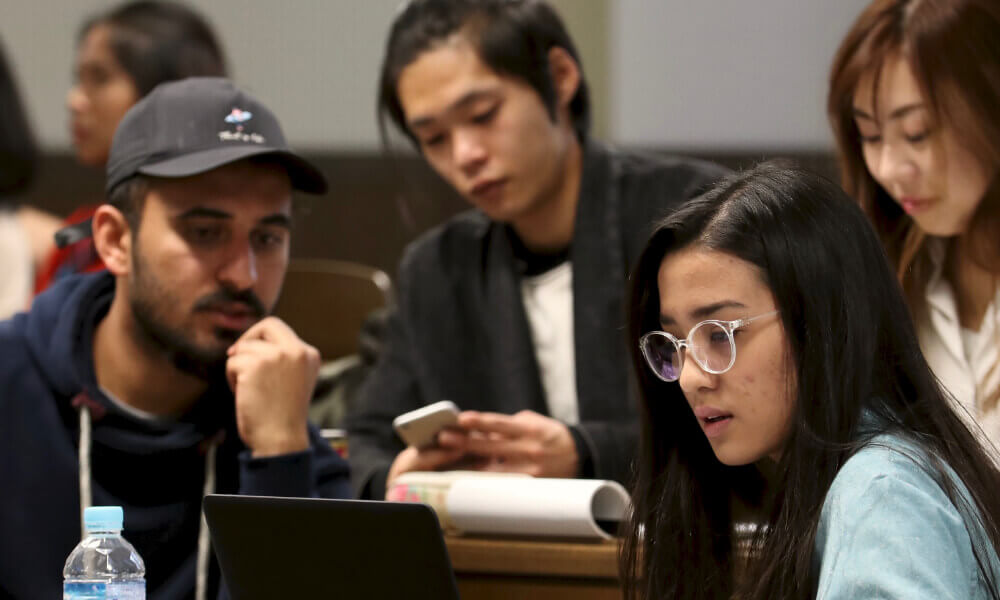 Capstone: Engaging in solving actual corporate issues
The Global Management (Capstone) course is a required subject for fourth-year students in the College of International Management. This course welcomes staff from various companies who are involved at the forefront of corporate planning and marketing, to give presentations on their business and industry, and the students address the challenges faced by the firm.
<Corporations that have collaborated with us>

KOSÉ Corporation, Yanmar Holdings Co., Ltd., Sony Corporation, etc.
UNIVERSITY-WIDE LEARNING
A New Style of Learning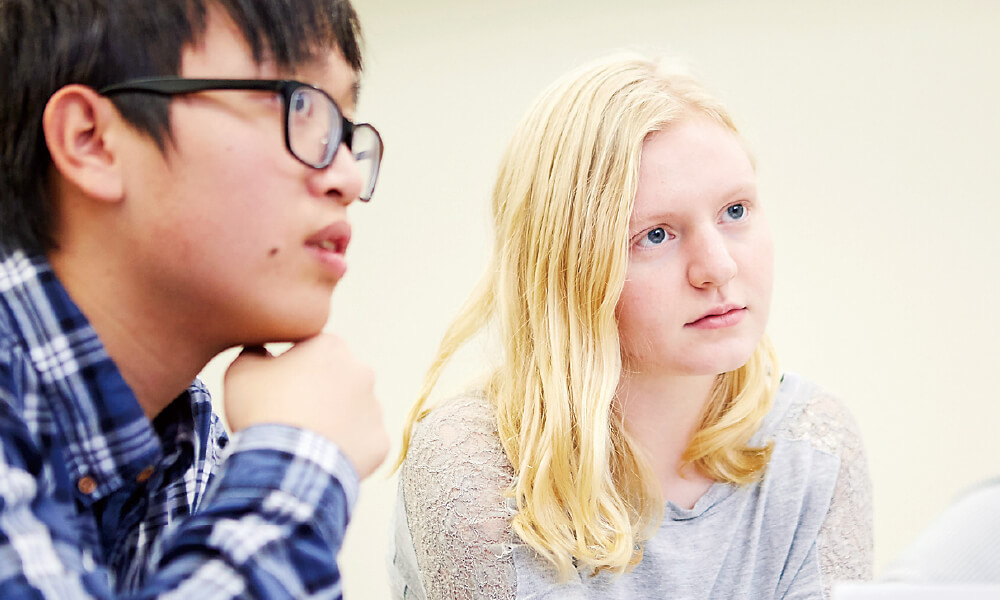 An evolved, university-wide learning program that ties in with and supports undergraduate studies
APU will further develop its exceptionally global environment and education to cultivate basic skills that are sought by today's society. We strengthened university-wide training, which includes the first-year program utilizing international education on-campus housing, the introduction of ICT and data science education, and leveraging networks on and off campus. We thus promote learning within each college as well as studying issues that connect with the world today.
NEW BUILDINGS
New AP House and New Academic Building

APU's unique Global Learning Community
New AP House (international education on-campus housing)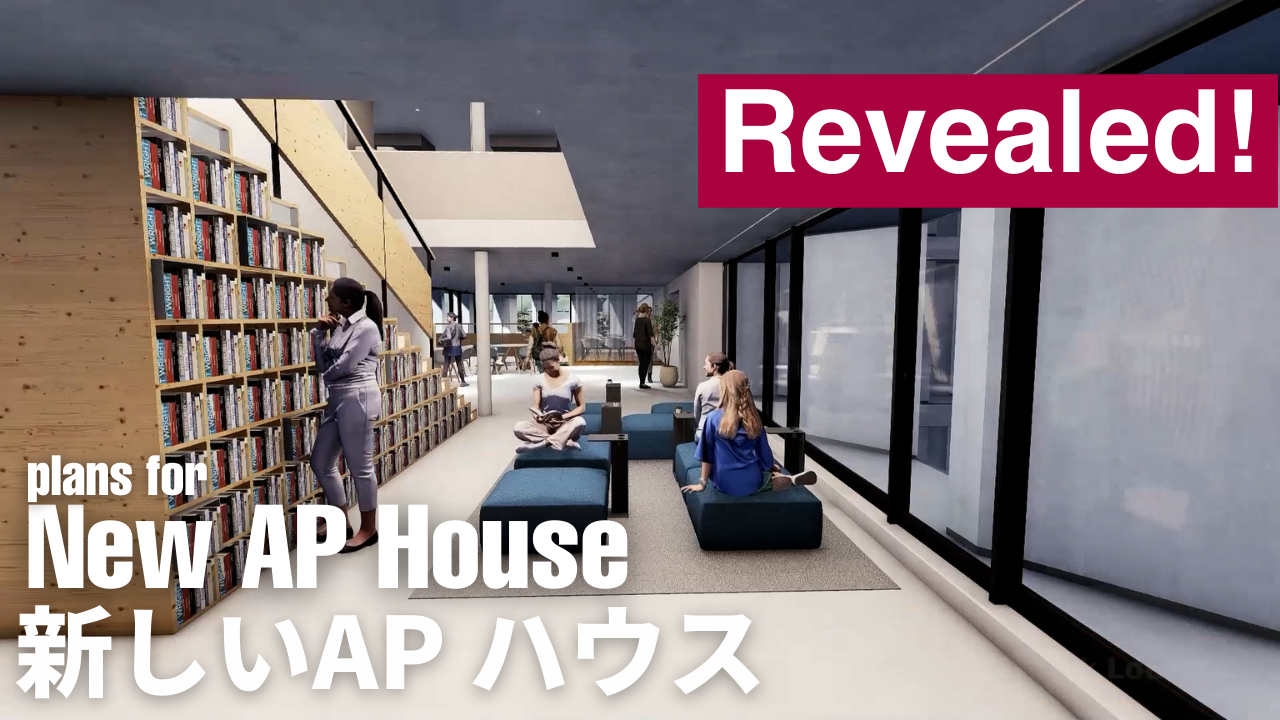 This new international education on-campus housing is also open to students who live off-campus as well as to local and corporate APU stakeholders as a place for collaboration and exchange. This venue also facilitates programs such as Global Citizenship for first-year students, most of whom move into this multicultural space on-campus.
New Academic Building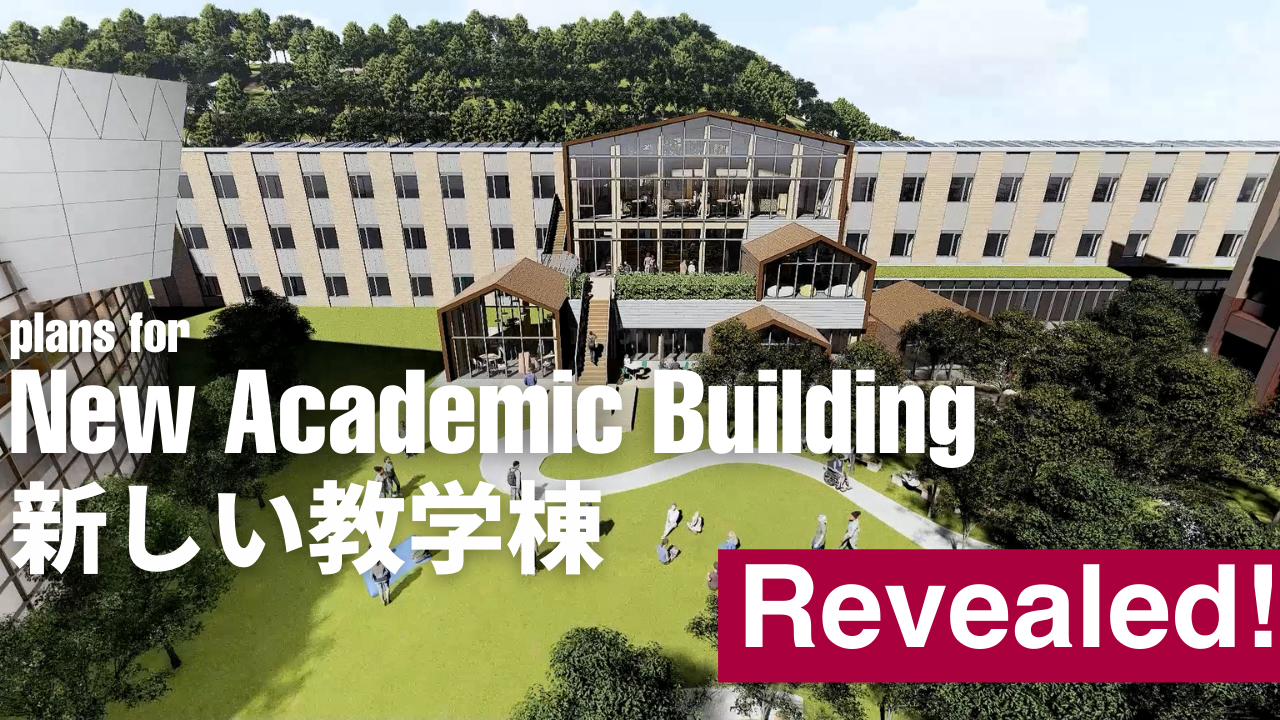 Classrooms that are optimized for groupwork and presentations as well as various Student Commons (shared spaces outside of the classroom) are generously installed throughout the building. This infrastructure will help create a global and diverse community comprised of students, faculty, and stakeholders.