2min read
International Online Case Competition (IOCC 2022*1) is a distinguished Project B*2 initiative that seeks to provide a unique platform for students all over the world to refine their critical thinking and problem-solving abilities through simulation. This event, which was held throughout the month of April and had its Grand Finale on the 1st of May, is much more than a regular case competition. Before the Grand Finale, we talked with the co-founders of IOCC, Mohammad Muntasir Islam and Risane Rizvi, both fourth-year APM students from Bangladesh, to learn more about this initiative.
*1) Case competition
Originating in the United States, this is a team-based competition held around the world with the aim of improving the practical thinking ability, teamwork ability, and problem-finding ability of participating students.
*2) ProjectB(Type B: Selected Project) Projects selected by the university as Type B are outstanding projects that support the university's ideals: nurturing multicultural understanding; cultivating responsible members of international society; utilizing academic knowledge from studies at APU; and contributing to the world, local areas, or the APU community. For more details, click here.
Could you briefly introduce IOCC 2022 and tell us more about how it stands out amidst other case competitions?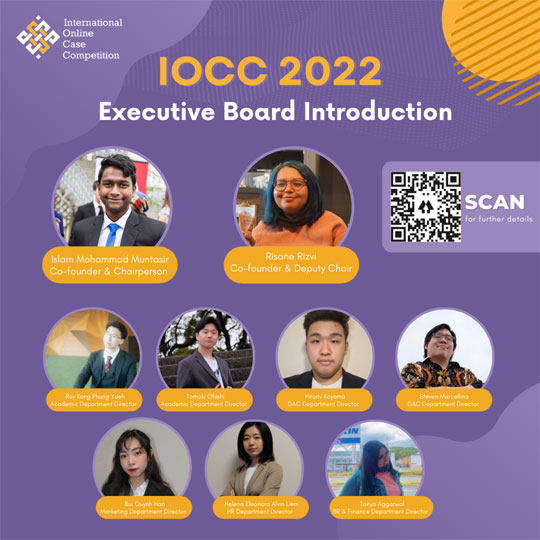 IOCC, short for International Online Case Competition, is originally an idea propounded by the APU faculty. Ever since the coronavirus hit us, we have not had any international competitions at APU where students from different parts of the world could participate. Although previously, we did organize the Global Business Case Challenge (GBCC), it was merely invitational and was restricted to just 12 participating universities. So, that is where IOCC comes in. Even when we are looking at the bigger picture, international case competitions organized by Asian institutions are very few and far between. Therefore, with IOCC, we found an opportunity to set up this kind of platform on a global level that is open to students from all nations and continents. This has not been done yet.
In addition to all this, IOCC is much more flexible than the usual case competitions, as students from different universities are able to participate in one team with no limits or participation fees. Moreover, the biggest selling point of IOCC is that we have 8 categories for our preliminary round. Generally, case competitions are made to be business-centric, causing non-business students to shy away from these competitions. Keeping this in mind, we have introduced the category system to ensure that our cases are comprehensive and truly inclusive.
Lastly, IOCC is not just a case competition but is designed as a platform that breeds academic learning and knowledge as core values. As a result, we offer a number of academic sessions where industry professionals are invited to share their experiences and expertise, as well as networking sessions that allow participants to come and get to know each other, make friends internationally, and exchange opinions multiculturally. We also provide tips for case solving on a regular basis through SNS and announce mini case challenges that help students who are unfamiliar with cases or who simply wish to develop their skills before the actual round starts.
What motivated you to take this initiative?
APU, as a university, has always been trying to transcend the boundaries that have been posited by the pandemic. We have always had the support and encouragement from the faculty, the Student Office, the Dean, and the Associate Deans to go forward with a project that would be inclusive and would make APU stand out. Seeing our successes in organizing previous events, the APU staff were particularly eager to see us take on this responsibility. Therefore, we set about to do Project B, as was suggested by them.
The primary motivation for our project is derived from the fact that nothing like this has been done before. Due to the pandemic, many extra-curricular activities at APU have come to a halt. Because of this, students have suffered. There are many students who are hoping to engage in activities and make friends, but they have not been able to do so, just because of the lack of opportunities. So, we wanted to rise up to the challenge. We tried to capitalize on the current timing rather than considering it an obstacle. Alongside all this, we were also looking to actualize one last big platform before we graduate, which would truly be a culmination of all our years at APU, of all our experiences, learnings, and memories.
Could you walk us through the initial days after the conception of the idea? What were your first steps?
R: The initial stage was primarily about analyzing what other competitions have been doing and basing a structure on that. We wanted to make sure that IOCC was not just an exact copy of all these other competitions, but at the same time, we didn't want to bring in something so different that it would not be comprehensible. Therefore, we tried to find mutual ground between these two by discussing with professors and assessing the feasibility of our ideas.
M: A lot of the founding structural plans were designed by Risane. I was more of a people person, contacting the professors and other associated parties. As soon as we decided about IOCC, and we got a green light from certain professors and faculty members, the first thing we did was get a team together. Something with the scale of IOCC would never have taken flight if we did not have the right team. So our first instinct was to contact people we have worked with in other organizations or friends who could possibly be interested in our project. After that, we drafted plans, prepared proper documents, and went through interviews. Eventually, we got accepted by Project B.
What are your overall expectations and goals for this event?
What we consider a success for this event can be measured from both quantitative and qualitative perspectives. In terms of quantitative perspective, we would love for a high response rate from the universities we have contacted. We currently have 50 registered teams from multiple different countries and we are hoping the numbers will go up. From a qualitative perspective, I think we are doing quite well, as we have not only garnered support from our faculties and professors, but also from prominent international companies and renowned professionals from different industries and expertise. Additionally, we at IOCC, have a staff of over 50 members, who are all really talented and motivated. Our staff don't just listen to orders, but they give their own ideas, from drafting emails to timeline adjustments. There is evidently a two-way communication channel that creates a very good base for a long-lasting future.
What have been the challenges so far?
The biggest challenges we have faced are technical challenges. The number one technical challenge was the fact that creating and using new email IDs caused a lot of our messages to end up in spam. Because this is a completely new event, there were also difficulties in estimates of funding. Other than that, there have been many managerial and organizational challenges as well, especially pertaining to the flow of information to keep track of and the numerous stakeholders to appease. However, as time passed by, we were able to identify the problems we were having and were able to deal with them efficiently.
What do you hope for the future of IOCC?
For the future of IOCC, we want it to become a fully-fledged organization at APU, be it as an annual event or as a student circle. We want this to be a long term project that APU students can inherit and run because it is a true soul belief that this program can continue providing and creating value for not only international students on a global scale but especially for APU students. We really hope that the student community that we have built currently, who are working as staff, will take up the challenge. We are now trying to groom them to take forward the legacy of IOCC.
Any last message for the readers?
This is the first edition of IOCC, but it is here to stay. In this short time, IOCC has not only helped us to gain new experiences and harness individual skills, but on a more personal level, it has provided us with a community to fall back on. We hope the same for other APU students. We believe IOCC to be the perfect place for you to meet new people, form strong bonds, learn, and persevere together.
To learn more about IOCC 2022, check out their SNS: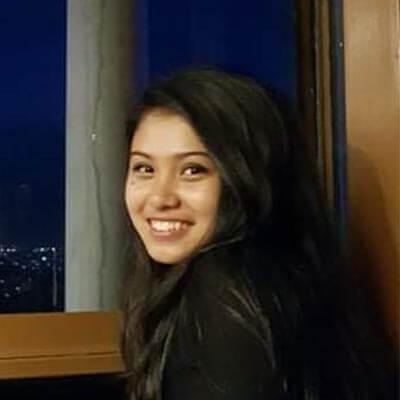 Alexa MAHARJAN
Hi! I am Alexa Maharjan, a third semester student from Nepal. I enjoy pursuing a range of interests, including but not limited to dancing, travelling, watching movies, and playing soccer. Writing is another hobby of mine that I am excited to explore as part of SPA. I hope to be able to put forth my ideas and vision while simultaneously getting a deeper understanding of student life at APU during my time as a SPA member.