Welcome back to SPA's list of on-campus part-time jobs. In Part 1 and Part 2, we talked about 9 popular student jobs for APU students (which you can read about here). However, we are even more excited to introduce you to more jobs you might not have even heard of in two separate articles! As usual, we have tried our best to give you the overall description of each job, as well as where to find information and how to apply. So, buckle up and together let's discover some hidden part-time positions but right for you on APU campus , but right for you!
---
10. Social Media Unit (SMU)
The SMU team is responsible for a large part of the media you see on APU's official social media accounts as well as write student blogs for the Admissions Office website. As a member of SMU, you will come up with ideas, collect information, and take and edit photos and videos together with Admissions Office staff to create the perfect viral post for SNS. In addition, you can also share your knowledge and first-hand experience as a student with high school students around the world who are interested in studying at APU.
This job is perfect for those who are interested in creative work and are interested in marketing or media work in the future. Not only will you meet peers with similar goals and passion, but you will also get to work closely with the Admissions Office and improve your professionalism. They only hire once a year, so don't miss your chance once you see the announcement on Campus Terminal or Instagram!
blogs for the Admissions Office website https://admissions.apu.ac.jp/blog/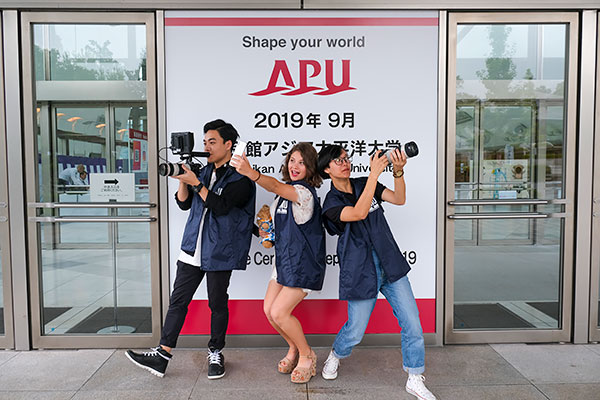 11. Student PR Assistant (SPA)
Yes! It is us! SPA team! We write for the official student website 'For APU Students, From APU Students (FAFA)' to deliver news and articles on school events, faculty members, APU alumni, and more. The page is primarily aimed at APU students, but it is also a place for non-APU students to find out about life at APU.
This job is unique compared to other jobs on this list, but very typical of a freelance writing job: You get paid for each article you write rather than the time you spend. You can either write an entire article on your own, or team up with other FAFA members to create a more detailed and insightful one. New members are recruited every year around February on campus terminal, so if you want to see your name as the author of an official article, don't hesitate to apply!
To view the SPA member profiles, click here.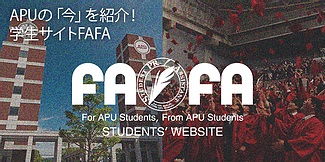 Please keep an eye out for new developments at SPA in the future!
12. Creotech Library Staff
The number of books in APU Library is enormous! So, the library staff needs a little assistant from students to help collecting and returning the books to the right shelves. It sounds simple, but you might be challenged with some difficult kanjis you have never encountered before. Aside from getting to know literature from all over the world, you will also gain access to the top-secret library basement! Did you know that the library has a basement?
This position is of lesser need, so the recruitment posting is also more discreet. If you go to the APU On-campus Part-time Job Center, you might find openings there. Then, you will also have to pass the application round and the interview round before getting officially hired.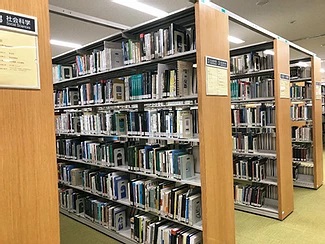 13. Analytics and Math Center (AMC) Tutors
Another job in the library, AMC supports learning about basic mathematics, business mathematics (for 2011 curriculum students)/advanced mathematics (for 2017 curriculum students), and statistics. Since APM students (2017 curriculum students) are required to master mathematics and statistics subjects to graduate,
AMC is an APM student's best friend. The tutors at the center will provide one-on-one sessions to help students in mathematics and statistics subjects (Of course they will not solve the assignment, but will support students to solve it!). If you want to work in teaching and have talent in mathematics and statistics, definitely consider joining this team. They post their recruitment announcement on Campus Terminal too.
To read more about AMC, click here.
The next article will be the last of the list of student staff and part-time jobs on campus.
Please look forward to reading it!
---
The article is based on coverage in 2020. Due to the COVID-19, the situation may be different from normal, so please check the campus terminal and each website for the latest information.
All international students have permission to be in Japan (a visa) for studying at a university. If an international student wants to do something not covered by their visa – like work a part time job, serve as a TA, take an internship, or participate in certain local exchange events – they must first apply for and get a work permit. You can apply for a work permit even if you haven't found a part-time job or an internship yet, so we recommend applying for one in advance.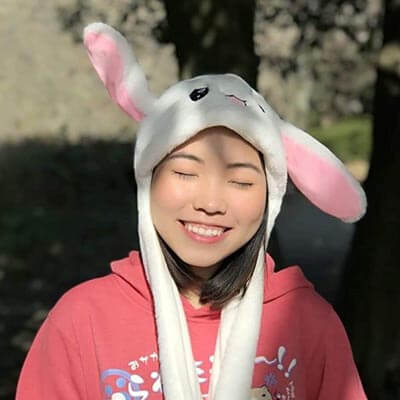 PHAM Van Khanh
My favorite part of being a member of SPA is interacting with students and professors whom I normally wouldn't talk to and listening to their interesting life stories. If you have an interesting story at APU, you can always tell me.