September is here. For APU, with graduation ceremonies in spring and fall, it is graduation season. Completing your degree doesn't mean you will leave your APU life behind. The world after university may look scary at times, but trust us, we won't have to get through it by ourselves. Instead, there are many resources at APU to assist with your future path.
Job hunting consultation with the Career Office
Well known among current students as a valuable career resource, APU Career Office offers consultation for APU alumni as well. As you move forward in your professional development, you may be thinking about graduate school or changing jobs. The Career Office offers counseling to help graduating students and alumni to make the most of their talents in this changing world of work. Reservation can be made to the Career Office's mail address (career1@apu.ac.jp).

Connecting with APU Alumni
The APU Student & Alumni Association was established in 2003 aiming to foster interaction among alumni all over the world through a variety of activities, including regional exchanges and welcome parties for new graduates. There are 37 chapters in total (updated 6/2021), with 10 chapters in Japan and 27 chapters overseas. The association is very active in holding webinars to provide insight into different industries from alumni who have professional experience; it's a great way to gain information about career options you may not be aware of!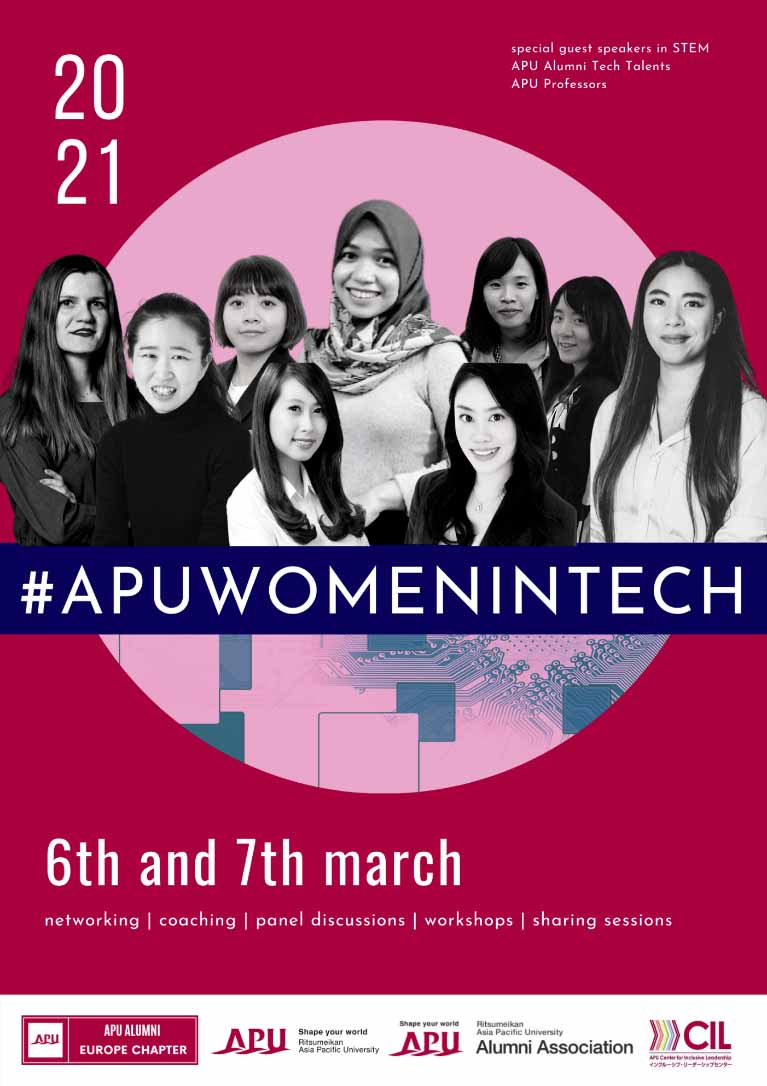 APU Women in Tech is a 2-day global online conference presented by APU Alumni Europe with networking, mentorship, panel discussions, and so forth
With the APU Alumni Database, where thousands of APU alumni have shared and updated their working profile, you can get a glimpse of what to expect in your future career path, or even consider reaching out to broaden your network.
Using APU facilities
Considering making a library card at APU? As an APU alumni, you are eligible to sign up for a library card in APU Library to read, make photocopies, and borrow books! More information can be found here.
Classrooms, halls, and their equipment are also available for use after application and a nominal payment. Find out more about these procedures here.
In addition, did you know that APU also allows alumni to have their wedding photos taken on campus? Just please make sure to inform the Alumni Office in advance.
APU sends out a monthly mail magazine called "One APU mail magazine" to APU alumni and related people. Sign up to get the latest news and event information about APU and its alumni. And most importantly, we, SPA and Loop.A.S., will be posting interviews with APU alumni on this blog. I hope you enjoy reading them. I hope this helps the graduating students who want to stay connected with the APU community even after they depart to shape our world!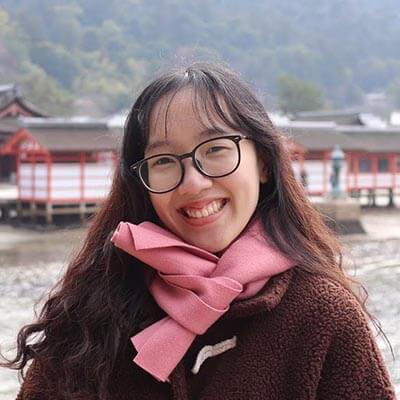 Ha Phan Ngoc DOAN
Hi! I'm Ha, class of 2021FA, majoring in IRPS (International Relations and Peace Studies). On campus, I was a Resident Assistant, Teaching Assistant, APU Student Ambassador and Student Staff at APU Library. I can't wait to share with you all my experience as a SPA member!