On Wednesday, January 23, 2013, the final presentation competition of First Year Student Workshop II was held as part of APU's freshmen education programs. The presentations were reviewed by a judge panel of APU faculty members, WATANABE Nana, representative of Ashoka Japan – an international support network for social entrepreneurs, and Tahmid Moinul, an APU graduate (APM Grad, Fall'05) and a social entrepreneur involved in linking Japan and The Philippines through a language learning business called PIKT.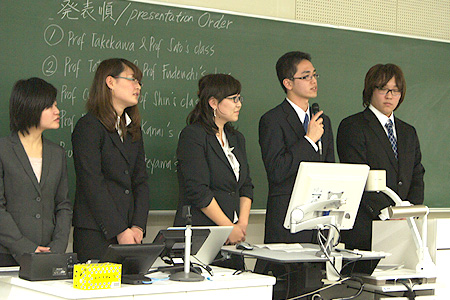 First Year Student Workshop I is a compulsory curriculum subject for all first year students and is designed to help students gain the study skills they need to succeed at university including academic writing skills and carrying out a literature review. First Year Student Workshop II makes use of the APU multicultural campus environment to promote international understanding and greater interaction between domestic and international students.

First Year Student Workshop II takes place under a different study theme every year. This year's theme focused on creating social action business proposals. During the spring and fall semesters a total of 1200 freshmen took lectures on social entrepreneurship and, with the support of Teaching Assistants (TA), put together business model proposals towards solving societal problems. On the day of the final presentations, five groups out of 200 that successfully made it through the preliminary rounds delivered their presentations, in both English and Japanese, focusing on a range of issues including providing relief for people living in the so-called "trash mountains" of the Philippines, and educational development projects for impoverished people in Bangladesh. The winner and runner-up prize were presented by WATANABE Nana of Ashoka Japan.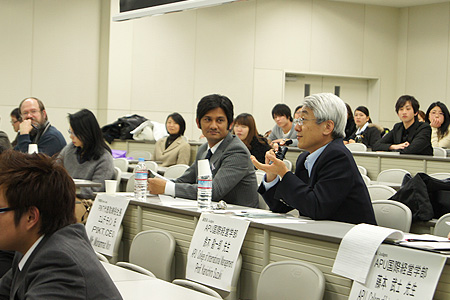 At the conclusion of the presentations, Associate Professor SHIN Kimie of the Education Development and Learning Support Center addressed the audience and brought the event to a close: "From a perspective of nurturing young minds towards contributing to the future, social action entrepreneurship fits well with APU's vision and mission. Held as a compulsory subject for all first year students, I feel that this program is very meaningful because it encourages students to work in groups with members of different cultural backgrounds, to overcome language barriers and different outlooks and ways of thinking, and to formulate ways of solving issues facing society. I look forward to the day when one of you becomes a social entrepreneur of the future".

Results of the AY 2012 First Year Student Workshop II Final Presentations

Grand Prize winner:
"Green Farm"
(Led by: Ass. Prof. TATEYAMA Hirokuni, Ass. Prof. FUDEUCHI Misa)
YASUMASU Ryo (APS, Japan), YAMASAKI Masataka (APM, Japan), HO Wei (APS, China),
HIGA Sayaka (APS, Japan), NAKASHIMA Mika (APS, Japan), NGUYEN Thi Xuan Nga (APM, Vietnam)
Runner-up Prize:
"S-Miles-Shoes That Bring Smiles For Miles"
(Led by: Assoc. Prof. CUTTING Miki, Assoc. Prof. SHIN Kimie)
XU Zifeng (APS, China), YAGYU Noritaka (APM, Japan), MIYAKAWA Ayumi (APS, Japan),
HUYNH Van Nha (APM, Vietnam), JILLIAN Toshie S. (APS, Singapore)
APU offers a range of freshmen educational programs to assist students in making the transition to university study and life.
Related link:
Undergraduate – Freshmen Education Programs