教育プログラム|連携事業
Mar 18, 2013
On Friday, February 15, 2013, a presentation was delivered at the KUMON Institute of Education head office in Tokyo by six APU students who completed an internship-style workshop series held jointly by APU and KUMON. The six students were accompanied by members of the APU faculty and instructors involved in the FIX training courses being held at APU jointly with KUMON.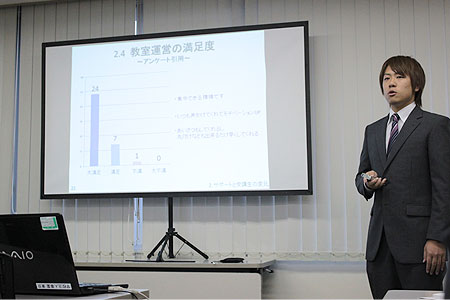 Managed by students recruited from the student body, the FIX training courses are offered for students at APU as extracurricular courses and make use of KUMON study and learning materials. The course also offers participants the opportunity to take part in an internship-style workshop series, which is recognized at APU as a regular curriculum course. With the help of KUMON staff and APU faculty members, and based on the "Kumon Way" teaching method, internship participants gain first-hand experience at interacting with KUMON students, learn how to observe students, and also how to give advice.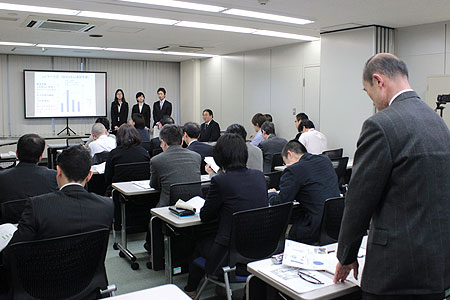 Based on the knowledge they gained through their classes and research, the six internees made a range of proposals during the results presentation for greater publicity of the FIX courses, trainee support, and course management. Over 40 KUMON employees attended the presentation and offered practical advice and feedback.
Program internee, MASAGO Toshiya (APS2, Japan), spoke about his experiences so far: "Being involved in this course has offered me so many experiences that I couldn't gain through regular classes. The presentations also taught me the level of achievement the company desires, and the importance of team preparation. I hope that these experiences help me during my job hunt and beyond".
Assistant Professor TATEYAMA Hirokuni of the APU Education Development and Learning Support Center was in charge of this program and spoke about the meaning of this project: "Internship-style workshops, held in collaboration with a company offering courses on-campus, is a unique APU project that allows participants to put their experiences into practice, but also serves as career development support. I am sure that experiencing the difficulties involved in working as a team and with dealing with course students, and the accompanying sense of responsibility, has helped our students to develop and grow. I am also sure that this experience has offered our students an opportunity to begin thinking about their own future careers".