From Sunday, March 10, until Sunday, March 17, 2013, APU hosted 20 undergraduate students from St Edward's University (Texas, USA) for the "Business in Japan" study program. Involving business-related lectures by APU faculty, industry inspection field trips, and cultural exchange, this program was held as part of the Global Collaborative University Education (GLUE) program between APU and SEU.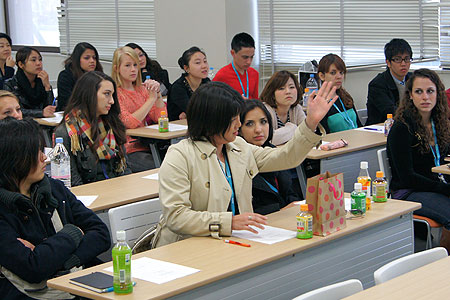 Staying at AP House 3, the students took part in ice-breaking games organized by APU student buddies and a tour of the campus. Their buddies also accompanied them on a tour of Beppu city including the famous "Hells" hot-springs and a hot-spring steamed cooking experience.
On March 12 the group received a lecture by APM Professor NAKAYAMA Haruo on the subject of "Challenges facing the Japanese Economy" during which he described a wide range of issues including Japan's aging population, economic stagnation, recent movements in the Yen/Dollar exchange rate and how this is impacting Japanese manufacturers.
With the main focus of the program centering on learning about Japanese business, the group took part in an inspection tour of the Nippon Steel and Sumitomo Metal Corporation steel works (March 13), the AEON Park Place Oita shopping complex (March 13) and also the Nissan Motors Kyushu automobile plant (March 14).
The tour was not all about business though and the St Edward's University students also enjoyed the chance to try their hand at the Taiko Japanese drum, ikebana flower arranging, and the Japanese tea ceremony.
Now in its second year, the Business in Japan program is held as part of the GLUE program jointly offered by APU and St Edward's University. The next stage of the project involved APU domestic students scheduled to enter APU in the spring semester travelling to St Edward's University for ACCESS, a short-term intensive culture and language study program. GLUE has been adopted by MEXT into the "2011 Re-Inventing Japan Project".