On Monday, April 1, 2013, the Spring Entrance Ceremony was held at the Beppu City B-con Plaza, welcoming 993 new students from around the world.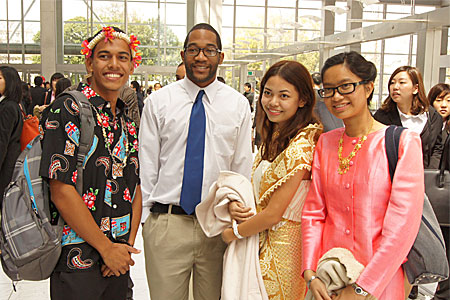 This Spring the University welcomes 912 undergraduate students from 38 countries and regions (697domestic and 215 international), 13 graduate students (3 domestic and 10 international) and 68 short-term and exchange students (27domestic and 41 international). (As of March 27, 2013)

President KORENAGA Shun welcomed the new entrants and offered a few words of encouragement: "We the faculty and staff of APU are pleased to welcome you to Japan's leading international university, which is now entering its 14th year. The university is still young, but it remains unique among the universities of the world, and we have built a reputation for producing highly capable graduates on our multicultural campus. Whether you pursue a career or advance to graduate school upon graduation, APU is the perfect platform from which you can follow your dreams, and I promise we will provide you with the utmost support".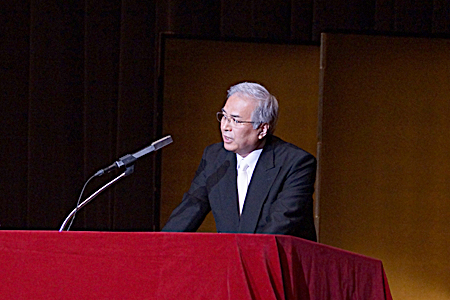 TULADHAR Alisha (College of International Management 2nd year, Nepal) addressed the audience on behalf of current students. ONO Misaki (College of Asia Pacific Studies, Japan) and ADITYA Chandra (Graduate School of Management, Indonesia) then spoke on behalf of the undergraduate and graduate new entrants respectively.

Speaking on behalf of the new undergraduate students, Ms. ONO shared her aspirations for the future, "I believe that APU is a place where many ambitious and diverse students come together to develop a deeper understanding of the issues facing people around the world. No two people are the same; we are all different. However, these differences are what make the world interesting. We can develop good relationships if we utilize our differences, respect each other, and attempt to understand each other better. The next four years will be a life-changing experience for us. So let's make the most of the opportunities offered by the APU learning environment, be bold, take on new challenges and enjoy the kind of campus life that each of us hopes to lead".

Mr. ADITYA then spoke on behalf of the graduate school new entrants: "I joined APU because it offers classes in English while being located in Japan. I have always wanted to go to Japan to learn about its culture, about its media and technology, but language has been a huge barrier. Apart from all the different reasons we have in joining APU, I believe that we all share a common thing, that is the feeling of gratitude towards the opportunity and support that this university has provided us to continue our education in order to achieve our dreams and hopes, whatever they may be".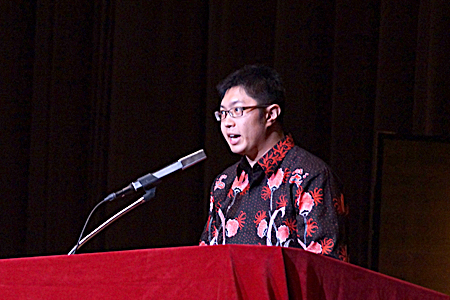 Many current students also came along to the ceremony to welcome the new entrants to APU and enjoy the colorful performances that followed including traditional Indonesian dance, Korean folk music and a Japanese drum performance.

The Entrance ceremony was also broadcast live on the internet via Ustream. Footage can be viewed APU Gallery: The 2013 Spring Entrance Ceremony.