On Friday, May 10, 2013, the "Venture Business Managers Forum @ APU" was held as an opportunity for students to learn more about venture businesses and entrepreneurship from industry leaders at the frontline of the venture business world.
The panel discussion was facilitated by Special Advisor to the APU President, SUGASHITA Kiyohiro, and welcomed the following five panelists: MAKINO Masayuki (Works Applications Inc.), HACHIMINE Noboru (OPT Inc.), TANGE Masaru (SHIFT Inc.), KANAYAMA Yuki (VASILY Inc.), and HAMADA Hisato (VIVA JAPAN Inc.).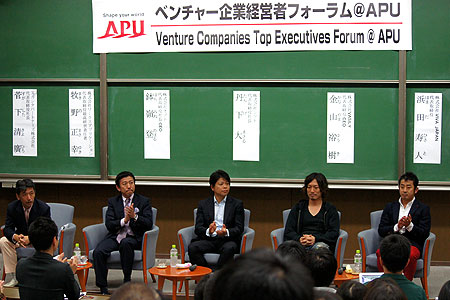 During the panel session, each speaker recalled their personal experiences of establishing their businesses, spoke about their current position, and described the kind of challenges they look forward to in the future. The speakers also offered valuable advice to our students who will soon be heading out into working society.
The forum was attended by approximately 200 students interested in venture businesses and becoming the next generation of entrepreneurs. The event proved to be a great opportunity for students to get advice, hints and ideas about starting their own company and surviving in the business world.
In response to a question from the audience about the kind of things students should keep in mind during their time at university, Mr. MAKINO Masayuki responded by saying that "Your 20's and 30's are not the time to play around. Study hard, study very, very hard – so much so that when you look back you will not want to return to your student years. The more jobs your experience, the more you will grow. If you want to lead an outstanding life through your own strengths; if you want to lead a life without regrets, then you should just study like mad".
With advice and the occasional joke from Special Advisor SUGASHITA Kiyohiro and the panel speakers, the event proved to be a great success and was brought to a close with a warm round of applause.