講演・シンポジウム|来学者
Jun 20, 2013
On Friday, June 14, 2013, APU welcomed Tokyo International University Visiting Professor, KANNO Shinichiro, who delivered a Social Outreach Seminar on the topic of "The light and shadows of the Chinese economy and Chinese businesses".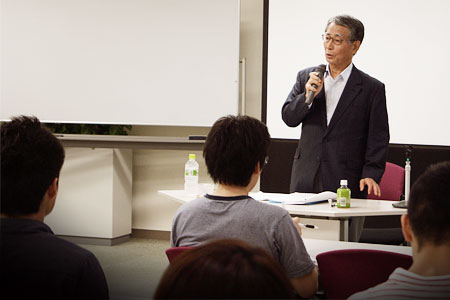 Professor KANNO, a former consultant at Mizuho Corporate Bank, spoke in detail about the current state of the Chinese economy and issues it faces based on his 40+ years of business experience dealing with China. He also spoke about the keys to success for those doing business in China and the factors that businesses need to pay careful attention to. Drawing on his own experiences, Professor KANNO stated that "there are currently approximately 22,000 Japanese companies expanding into China involving 10 million Chinese employees and 100,000 employees dispatched from Japan who should take it upon themselves to actively engage in civil exchange and interaction at the grassroots level". For the audience, this was a great opportunity to hear about local business conditions in China.
Since 2010, APU has been arranging Social Outreach Seminars and inviting business representatives, entrepreneurs and experts to speak to our students as an opportunity to gain the skills and knowledge graduates need out in the workplace.