連携事業|講演・シンポジウム
Jul 22, 2013
On Wednesday, June 26, 2013, Director of the APU Asia Pacific Innovation Management Center (AP-IMAC), Professor NAKATA Yukihiko, concluded a joint research agreement with the Prasetiya Mulya Business School Center for Innovation Opportunities and Development (CINODEV, Jakarta, Indonesia) under the research theme of "Eco Innovation". In collaboration with CINODEV, AP-IMAC – an affiliate institute of the Ritsumeikan Center for Asia Pacific Studies (RCAPS) – will engage in joint research into Japanese eco-friendly cars and renewable energy. A ceremony to mark this agreement was held and attended by AP-IMAC Director Professor NAKATA Yukihiko and Dr. Djoko Wintoro, Dean of the Prasetiya Mulya Business School – one of the leading business schools in Indonesia.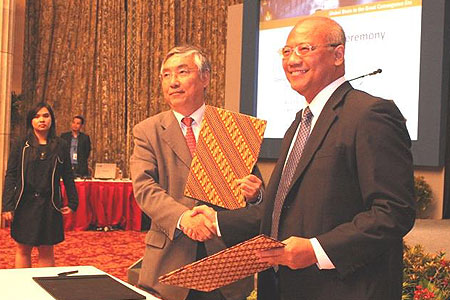 Professor NAKATA and Dr. Djoko Wintoro sign the memorandum on joint research (Jakarta, Indonesia)
The "Global Grain in the Great Convergence Era" conference was also held on the same day as the ceremony and invited Professor Jung Ku-Hyun (KAIST College of Business, Korea), Professor Don Rahtz (William and Mary School of Business, USA), Professor Terrill L. Frantz (Peking University, China), and APU Professor NAKATA Yukihiko as guest speakers. Professor NAKATA delivered a presentation under the title of "Building a global network: A case of Japanese Corporations".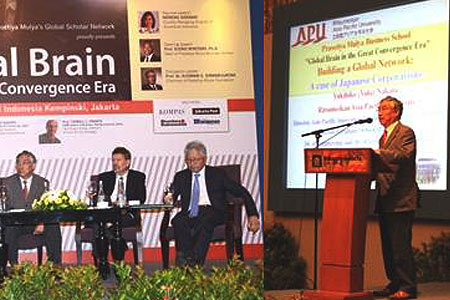 A total of 352 Indonesian students have graduated our undergraduate and graduate schools since APU's establishment and are currently leading active careers in Indonesia and around the world. We look forward to APU students making further use of this research agreement and our expanding global network.