On Monday, July 22, 2013, the Mongolian Minister of Foreign Affairs, H.E. Luvsanvandan BOLD, visited APU. The Minister was accompanied by the Ambassador of Mongolia to Japan, H. E. Sodovjamts KHURELBAATAR, and other Mongolian representatives. The guests were received by APU President KORENAGA Shun and Pro-Vice President Edgar PORTER. Ms. GOTO Sayoko, President of the Oita-Mongolia Friendship Association, also took part in the discussions.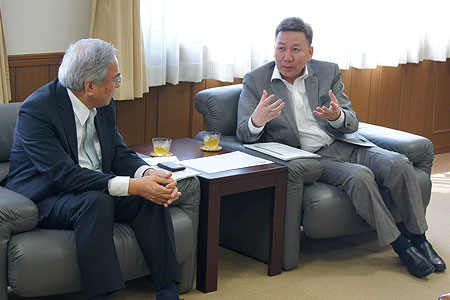 Foreign Minister BOLD began by highlighting the strong relationship between Japan, Oita Prefecture and Mongolia. "We are keen to develop even stronger people-to-people and government-to-government relations between our two countries. I have been impressed with this university and I think it presents us with a huge opportunity to send more students to study in Japan who can then contribute to the development of Mongolia".
In response, Pro-Vice President PORTER described the important role Mongolia can play in the region. "Many people are impressed with Mongolian foreign policy, particularly the 'Third Neighbor Policy'. You have no enemies and no friction with your neighbors. Your nation can play an important role as a diplomatic bridge for countries in the Far East to come together".
President KORENAGA then spoke about the cultural links between Mongolia and Japan, highlighted by the ongoing success of Yokozuna Hakuho and fellow Mongolian sumo wrestlers.
Following the meeting, the Mongolian representatives then met with a group of Mongolian students studying at APU and heard about student life here. There are currently 19 Mongolian students at APU.