On Thursday, August 1, 2013, a debriefing session and ceremony were held to mark the conclusion of a corporate training program for two Santen Pharmaceutical Co., Ltd., employees and one Osaka Gas Co., Ltd. employee as part of the 2013 Spring Semester (second quarter) Global Competency Enhancement Program (GCEP).
During the debriefing session, each trainee delivered a short presentation in English about their experiences at APU and received feedback from English conversation partners and students who studied alongside them throughout the program.
Mr. Hata, the trainee from Osaka Gas, participated in classes from APU's Graduate School of Management. "I realized that confidence is one of the most important things to have when communicating in any language," he said of his experience of living in an environment where English is necessary for communication. Following Mr. Hata, Mr. Wakabayashi of Santen Pharmaceutical commented on his impressions of learning together with students of different cultural backgrounds and on his hopes for the future: "It was a good experience to be able to compare how international students and Japanese students go about doing group work and working on presentations. I learned a lot about how to create an attractive presentation that I'll be able to make use of in my own work in the future."
Following the presentations, APU students involved in the program offered their feedback, praised the trainees for their efforts, and wished them all the best for the future.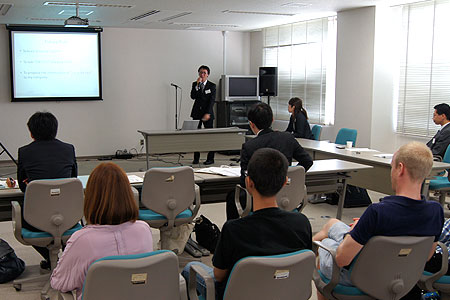 Professor YOKOYAMA Kenji, Dean of the College of International Management, then began the closing ceremony proceedings with a speech before presenting each trainee with a certificate of completion. Mr. Yamakawa, one of the trainees from Santen Pharmaceutical, summed up his experience at APU by saying "the best thing about this program is that I began to really like English. It really made me realize how wonderful it is to be able to talk with so many different people". HR representatives from both companies then shared their impressions of the program.
The Global Competency Enhancement Program (GCEP) was developed to provide industry and business trainees the opportunity to experience our multicultural and multilingual campus environment while studying at the undergraduate or graduate level.