The All-Japan University Futsal Competition was held at Maishima Arena in Osaka from August 23 to 25, and the APU men's futsal team, DELFINO, took third place as the representative of Kyushu. It was the team's first top three win at the national level.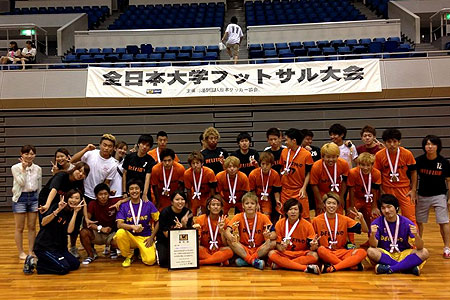 DELFINO was founded in 2000 and currently has 35 members. This was the team's third trip to the national competition after making appearances in 2010 and 2012, and its goal was to place in the top four.
The competition consisted of a round-robin tournament among 12 university teams, 11 teams that won qualifiers in nine regions and one representative from Osaka, and DELFINO advanced to the final four for the first time ever. In the semi-final match, the team fought a hard battle against Juntendo University's GAZIL, last year's winner, but lost 5-3.
In addition to taking third place, DELFINO also took home the Fair Play Award.