On Saturday, October 5, the APU Public Lecture Series for 2013 began. This year's theme is "Introduction to International Relations - Learning How to See the World".The first lecture was given by Associate Professor SHIN Kimie of the Education Development and Learning Support Center. Entitled "Gaining New Perspectives with Curiosity and Empathy", Associate Professor SHIN's talk was geared toward high school students. Taking the format of a workshop, participants learned why misunderstandings occur when people from different cultural backgrounds attempt to communicate.
Another lecture, entitled "Examining Japan's Survival in a Global Society", was given by College of International Management Assistant Professor LEE Geunhee for the general public. Assistant Professor LEE compared a wide variety of cases from around the world and discussed the methods that Japanese manufacturing and service sectors can use to to survive.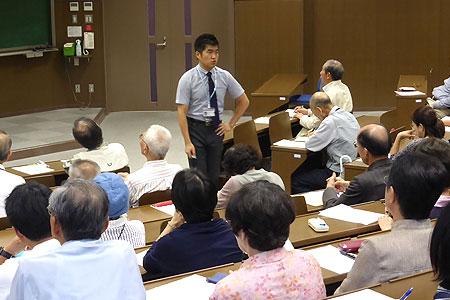 We are currently accepting applications for the next Public Lecture. Please visit the APU Public Lecture homepage for more information.