The Japan Society for the Promotion of Science (JSPS) has awarded APM Professor NAKATA Yukihiko the Hirameki Tokimeki Science Promotion Prize, and the award ceremony was held at APU on Wednesday, October 9, 2013.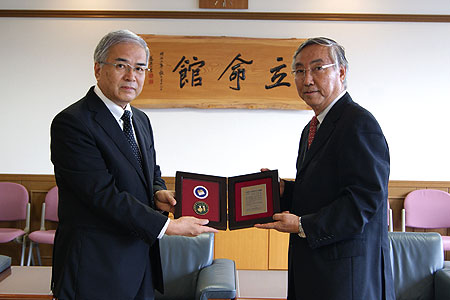 Hirameki Tokimeki Science is a program for disseminating the results of grant-in-aid research funded by JSPS and for fostering intellectual creativity in students for their future endeavors. Professor NAKATA has been conducting funded programs for the past seven years, starting in 2007. His efforts were deemed a notable contribution towards stimulating the intellectual curiosity of students and nurturing their interest in science, and he was awarded this year's prize in recognition of his hard work.
At the awards ceremony, APU President KORENAGA Shun presented Professor NAKATA with the prize certificate and a gift. External lecturer SHUTO Yoshihisa, a collaborator on the program, was also honored with a certificate of appreciation from APU for his efforts. In regards to being awarded the prize, Professor NAKATA remarked, "It is an honor to receive this prize. I would like to continue my activities and make ongoing contributions to the local region, to society, and to the world."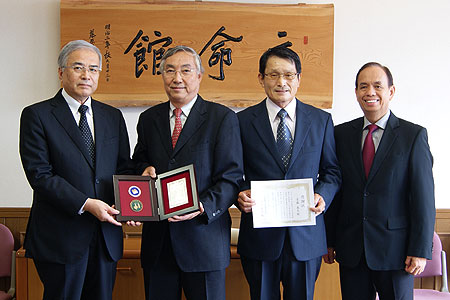 At APU, Professor NAKATA is the acting representative of the coordinated efforts of JSPS, APU and the Asia-Pacific Innovation Management Center (AP-IMAC) to hold science seminars. Over the past seven years, seminars have been held for a total of 273 students from high schools throughout the prefecture, including Oita-Maizuru High School, the Iwata Academy the Oita National College of Technology. Under the theme of Japanese Manufacturing and International Management, the high school students studied the development of technological management from the birth of the LCD calculator to the development of the LCD TV. The seminars proved very fruitful, with 95% of the participants saying they were interesting and 93% saying they stimulated their interest in science.
We look forward to Professor NAKATA's continued success.