On Tuesday, November 19th, 2013, H.E. Jacob Dickie Nkate, Ambassador of the Republic of Botswana to Japan visited APU. Accompanying the Ambassador was First Secretary Mr. Phemelo Telekelo.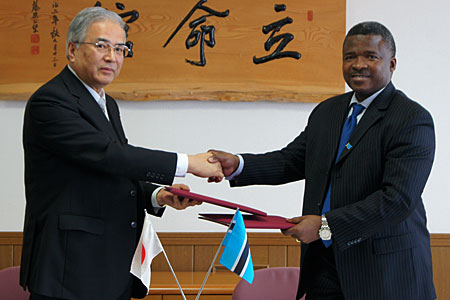 This was His Excellency's second visit APU, his first being in 2008 when he was Minister of Education.
During that visit, a relationship was forged between APU and the Government of Botswana with the goal of dispatching students from Botswana to APU for higher education.
During his most recent visit, the Ambassador was received by President KORENAGA Shun, Pro Vice-President Edgar PORTER, Dean of Admissions KONDO Yuichi, Deputy Director OHTA Takeshi,and other APU staff members.
In his meeting with APU officials the Ambassador stated his desire to continue building upon the relationship between APU and Botswana, noting that APU is the university with the highest concentration of Batswana students in Asia. He inquired upon matters of student welfare and possible avenues of further cooperation. APU officials shared updates and data from the various offices, including updates on the SEND program through which students visit Botswana for practical cross-cultural learning.
The meeting concluded with the signing of a memorandum of understanding between APU and the Government of the Republic of through the Embassy which extends the already existing collaboration agreement regarding student recruitment and development to the coming year.
Later that evening the Ambassador met with students from Botswana for dinner.
Related Link: News
(APU and the Republic of Botswana conclude a Partnership Agreement regarding the dispatch of exchange students)