On Friday, December 6, the Ambassador of Tonga, H.E. Tupou, and the Counselor (Deputy Ambassador) of Fiji, Mrs. Korovou visited APU to view the Oceania Week Grand Show and meet with students. Representing the cultural diversity of APU, more than 20 students from 17 countries joined the discussion meeting.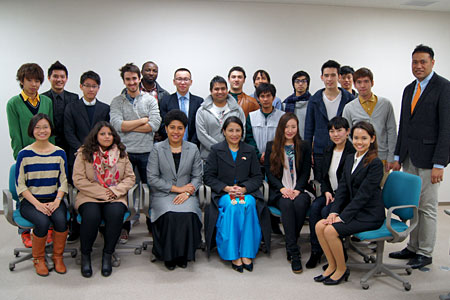 The discussion began with a brief speech by Ambassador Tupou, who said, "You are the youth of today but the leaders of tomorrow". Next, Counselor Korovou gave a brief introduction of the islands of Fiji.
The dignitaries and the students discussed a plethora of topics including the history of Tonga and Fiji, education and culture in two countries, how each of the countries used their natural resources and the proportion of Oceania students at APU. One student asked the dignitaries what it was like being a woman in the diplomatic world. Ambassador Tupou shared her experiences as a diplomat and how she manages her roles as a family person, as a Tongan and as an Ambassador. "Just put your peddle on the gas and move on. Wherever you are, make it a point to add to the table. You are known for your contribution to the table", she suggested, providing the students, especially the female students, with some added motivation.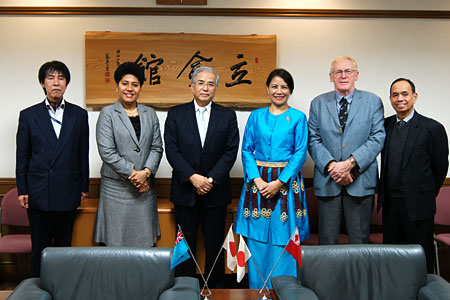 At the Oceania Week Grand Performance 2013, Ambassador Tupou declared, "Today, there will be no learning. Today you will come together to feel the heart of the Pacific. Today at the Grand Show, you will come together to feel the pride of being an Islander, to fall in love with the 'Pacific Way' of Fiji, Papua New Guinea, Tahiti, Hawaii, Samoa, the Cook Islands, Tonga, Australia and New Zealand, to name a few." Counselor Korovou continued by saying, "You will experience more about our culture, and you will know that though we are far, though we are small. Yet we are there, and the impressions you will carry after the Grand Performance will stay with you."
At present, there is a diverse array of students from the Oceania region, including the following countries: Kingdom of Tonga (10), Australia (5), Republic of the Fiji Islands (5), Independent State of Papua New Guinea (2) and New Zealand (1). We hope that relations between APU and the Islands grow stronger and that soon we will be able to make more friends from the other Islands which are not yet represented at APU.
Reporter, Student Press Assistant (SPA): MARDAN Khan C. A.
(College of Asia Pacific Studies, Republic of India)