教育プログラム|連携事業
Jan 30, 2014
On Wednesday, January 22, 2014, first and second-year high school students in the APU Course at Iwata High School gave final presentations on the results of their studies at APU.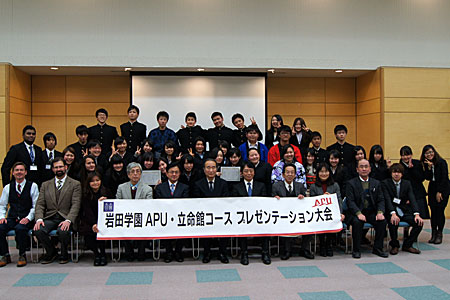 At the session, three groups of first-year high school students gave presentations about the unique aspects of Japanese culture in English. Four groups of second-year students presented sustainable Base of the Pyramid (BOP) business models based on their own research into the subject. During the question-and-answer session, a lively exchange of opinions ensued as the students fielded questions and received advice from other the groups.
After the presentations, an award ceremony was held to recognize the best group presentation and present awards to individual students. The winning second-year presentation, entitled "'4' Project: Making New Things from Garbage, outlined business possibilities related to garbage separation and recycling. Meanwhile, the winning first-year presentation, entitled "International Communication during Matsuri", proposed ways to connect Japanese festivals (matsuri) to international exchange.
At the closing ceremony that followed, APU Educational Development and Learning Support Center Professor OZAKI Teiyu and Iwata Academy Chairman NARUSE Terukazu spoke on behalf of their respective institutions and praised the students for their hard work. Iwata High School teachers, parents and APU students attended the session to provide the Course students with morale support.
Ritsumeikan University, Ritsumeikan Asia Pacific University and Iwata High School first signed a high school-university partnership agreement in May 2007 with the aim of cultivating global human resources in Oita, and the Iwata High School APU / RU Course was launched in April 2008. To date, 99students have completed the Course, which features a curriculum jointly developed by the Ritsumeikan Trust and the Iwata Academy. The Course also employs APU students as Teaching Assistants (TAs) who support the high school students in their weekly lectures under the supervision of Iwata High School teachers.