On Thursday, January 16, 2014, Bayanihan Haiyan Aid, a 60-member strong student group, donated the ¥780,109 in relief aid it collected to Habitat for Humanity Japan to help build houses for the victims of Typhoon Haiyan, which struck the Philippines last November. This follows the ¥325,000 in aid the group already donated to the Philippine Red Cross on November 16, 2013.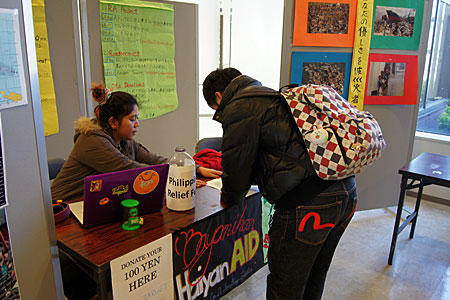 The group was started when ARMAS Camille Ruth Marasigan (APS4), a Filipina student, approached 60 of her classmates, including fellow Filipinos students and Japanese students, to do something to help the disaster victims. From Tuesday, November 19 until December 20, 2013, the group actively solicited donations from passers-by in front of the Tokiwa Department Store and from a donation box installed at the Prefectural Office.
Over the course of these 32 days, students and local citizens donated a total of ¥1,105,109. The aid previously sent to the Philippines will be used to assist in the reconstruction effort.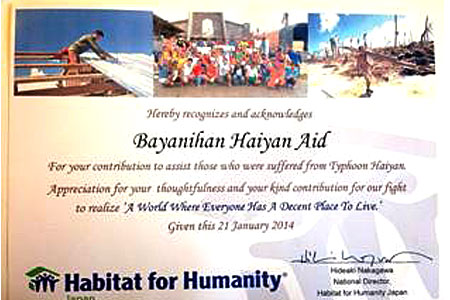 Ms. ARMAS expressed her appreciation for the generous donations by saying, "I am very grateful to everyone that cooperated with this student-led relief effort. My home country has been struggling since the disaster struck, but with everyone's help, I think it can rebuild. I hope you will continue cooperating with our group's efforts in the future."
Typhoon Haiyan struck the Philippines on November 8, 2013, causing unprecedented damage, killing more than 4,000 people and affecting up to 10 million people.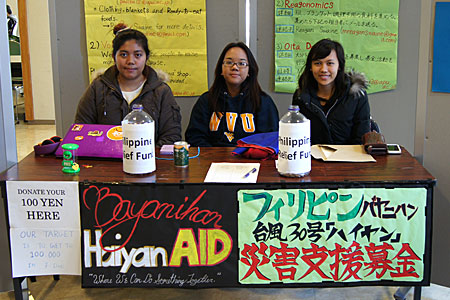 There are currently 15 Filipino students enrolled at APU, and about 100 Filipinos have studied at the university to date. Many of these alumni are also involved in the relief effort.
We pray for a quick recovery for all those affected by the typhoon.