On Saturday, February 15, 2014, APU welcomed Dr. Jonathan Choi, President of Hong Kong-based corporate giant Sunwah and Chairman of the Hong Kong-Japan Business Cooperation Committee, along with Mr. FURUTA Shigemi, Director of the Japan Market for the Hong Kong Trade Development Council, and Ms. KOSAKA Ayano, Executive Vice President of Hibiya Matsumotoro. They met with APU President KORENAGA Shun and Vice President IMAMURA Masaharu among others.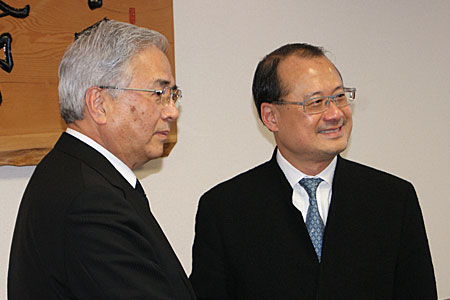 Dr. Choi, who once spent time in Kyoto on exchange, asked questions about the relationship between the Ritsumeikan campus in Kyoto and APU. He also talked about how the Sunwah Group had established a Sunwah College of International Business at Liaoning University in Liaoning, China, and endeavored to give back to society on an academic level. President KORENAGA introduced APU's many unique features, including the fact that approximately half of the student body was made up of international students, a rarity in Japan.
All of the meetings, which were held entirely in Chinese, were conducted in a very friendly and harmonious atmosphere.