The APU Alumni Association celebrates its 10-year anniversary in 2014. To commemorate this event the Alumni Association has made a logo, catch phrase, and of course organized a series of events around the world, starting with the General Assembly held in Bangkok, Thailand, in October 2013. The 10th Anniversary Finale will be held in autumn 2014.

<X means number 10 in Greek alphabet.>
Anniversary events got underway in Jakarta, Indonesia on January 18, followed closely by an event in Manila, the Philippines, on February 15 and Yangon, Myanmar on February 22. Events have also included mini lectures held by APU faculty and a flag relay involving participants writing on a flag before sending it to other alumni chapters around the world. In tribute to the 10th Anniversary some chapters even invited 10 year-old children to participate in exchange events with graduates.
10th Anniversary events will continue to be held by other alumni chapters throughout the anniversary year.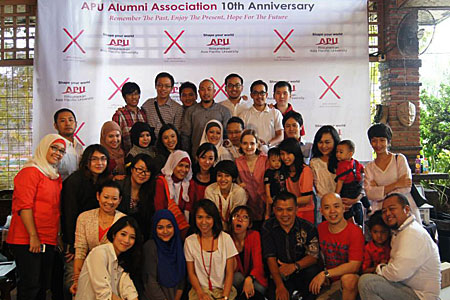 Opened in 2000, and seeing its first batch of graduates off in 2003, APU has been home to 10,253 undergraduate and 584 graduate students from 117 countries and regions around the world. These graduates have flown off around the world, establishing alumni chapters and deepening the networks between graduates, current students, faculty and staff.
For more information about these 10th Anniversary events, please go to the "APU Alumni Association Website".
Related link:
APU Alumni Association Web site
APU Gallery – The APU Global Alumni Network
FAFA"The World after Graduation - Interviews with APU Alumni All Over the World -"