Since AY2006, APU has carried out Japan International Cooperation Agency (JICA) commissioned training programs on local development for administrative officials from Africa, Asia, South America and countries further afield*. The 7 programs held throughout AY2013 welcomed a total of 97 trainees from 42 countries and regions, including Africa, Eastern Europe, Latin America and Asia.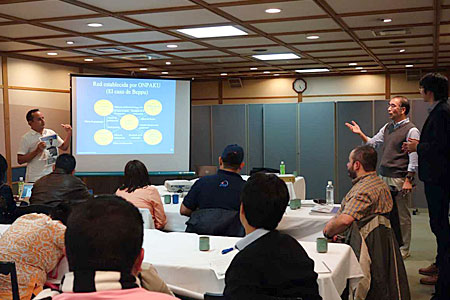 Over the course of the 1-2 week programs, trainees learnt about regional development initiatives first-hand, participating in on-site visits and lectures about the Onpaku Hot Spring initiatives in Kannawa, Beppu City, as well as Kunisaki City's agricultural heritage initiatives, projects undertaken by Yabakei Town's Agricultural Cooperative and local revitalization in Oyama Town, Hita City. Trainees also took lectures at APU about community capacity and regional development, after which they then created action plans in line with issues pertinent to their particular country or project.
Since 2006, APU has hosted 633 trainees from 66 countries and regions around the world, and in line with the university's mission statement, hopes to further expand these JICA commissioned training programs in the future.
*These programs, which APU has been commissioned to carry out by JICA since 2006, aim to equip mayors and administrative officials from around the globe with the skills necessary to promote regional development in their home countries. Trainees learn about Oita's 'One Village One Product Movement' and observe 'Hatto Onpaku Hot Spring' and other regional development initiatives. Trainees also participate in a local homestay and develop a unique action plan. Through this program it is hoped trainees will learn and understand the methods required to utilize the local resources in their home country to revitalize local industry and promote regional development.