On Friday, March 14, we held the APU Spring Graduation Ceremony for 2014. On this day of celebration and congratulation, 699 graduates consisting of 501 domestic students and 198 international students from 33 countries and regions, including undergraduate, Masters and PhD students marked the end of their time at APU. Held at the Beppu City B-con Plaza, this day of celebration was attended by many parents, friends and well-wishers.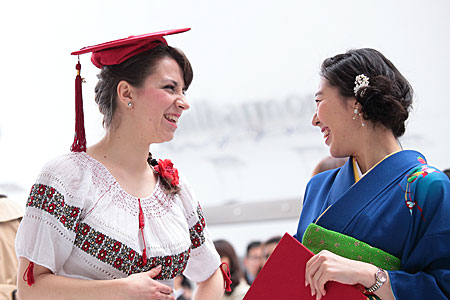 APU President KORENAGA Shun congratulated the graduates before presenting a graduate representative of each College with their degree. "Currently, APU is made up of students hailing from over 80 countries and regions around the world, and 20% of domestic applicants are from the greater Tokyo area. All those who studied in APU's world-class international atmosphere have a "global mind" with the capacity for empathy, and it is this global mind which gives you the power to transform this chaotic world. I hope that this spirit will continue to quietly shine forth in each of your individual lives."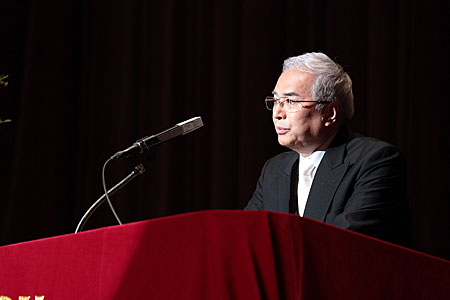 Graduates representing the undergraduate and graduate schools addressed the audience and spoke of their time at APU. Recipient of the ANDO Momofuku Honor Prize, OKU Arika (APS4, Japan) delivered a motivational speech to fellow graduates: "Dr. Momofuku ANDO left the words "if you have a goal, all that's left is tenacity". As APU graduates striving to succeed on the international stage, let us remember the goals and dreams we have now, and let us strive towards making them a reality. We will all encounter tough and difficult times but the world is a small place and there will always be people encouraging us to succeed. Have purpose and together let's help change the world."
Representing the graduate school, HASAN Md. Ziaul (GSAM, People's Republic of Bangladesh) also addressed the audience: "I believe APU produces future leaders who will work for the development of the World. APU not only teaches academic knowledge but it also provides practical opportunities to learn to take responsibility. Not to mention the international networking opportunities that APU provides to all of us. Now, it is our responsibility to utilize the knowledge and networks we have gained effectively in the present information era."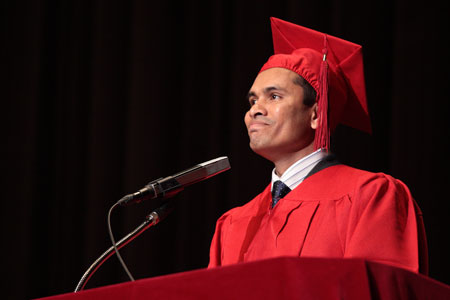 NAKASHIMA Suguru (APM, Japan) was then presented with the President's Award for his outstanding achievements in academic and extracurricular activities.
Bringing the ceremony to a close, the graduates tossed their Ritsumeikan-crimson caps into the air and cheered "We are APU" before heading off towards their new goals and careers.
There was also a special guest in the audience this year. Five years ago, YU Xiao Jun (March 2009 graduate; Republic of China) was unable to attend his own graduation ceremony, so he returned to Beppu to witness this year's celebration. Now an entrepreneur in Tokyo, he finally managed to experience an APU graduation ceremony first-hand.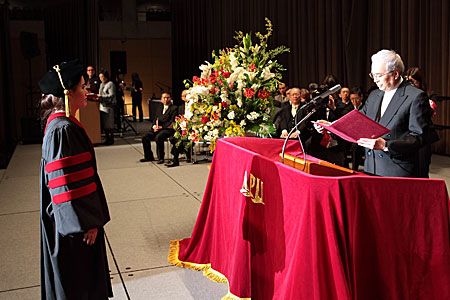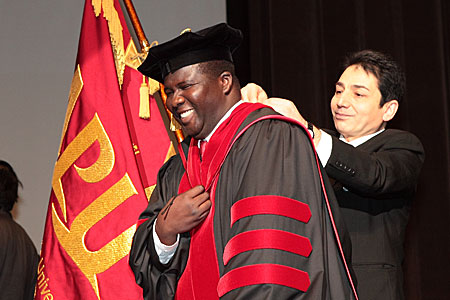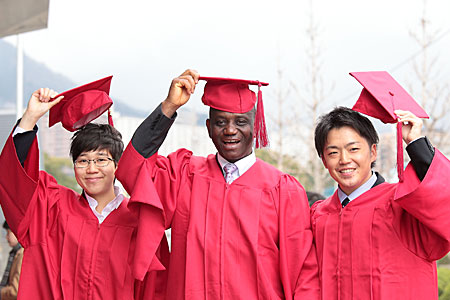 The Spring 2014 Number of Degree Granted Students
Domestic Students
International Students
Total
College of Asia Pacific Studies
306
45
351
College of International Management*
195
129
324
College Total
501
174
675
Graduate School of Asia Pacific Studies Master's Program
0
6
6
Graduate School of Management
0
13
13
Graduate School of Asia Pacific Studies Doctoral Program
0
5
5
Graduate School Total
0
24
24
Total
501
198
699
*Including 13 persons of College of Asia Pacific Management
*The ANDO Momofuku Honor Prize
Established through the courtesy of the late Honorary Doctor ANDO Momofuku, the founder of Nissin Food Products Co., Ltd. The scholarship aims to support undergraduate students who are scheduled to graduate and who have a strong desire to contribute to the Asia Pacific Region in their future careers. Each year one to two students are awarded this scholarship.
The graduation ceremony was also broadcast live on the internet via Ustream. Footage can be viewed here.
APU Gallery 
https://www.apu.ac.jp/home/gallery/article/?storyid=95&lang=english