On Friday, February 28, 2014, His Royal Highness Prince NORODOM Sirivudh of Cambodia, who serves as the Chairman of the Cambodian Institute for Cooperation and Peace, visited APU to hold talks with Vice President YAMAGAMI Susumu, APS Professor MATSUMOTO Morio, APS Associate Professor KIMURA Rikio and APM Associate Professor NATSUDA Kaoru.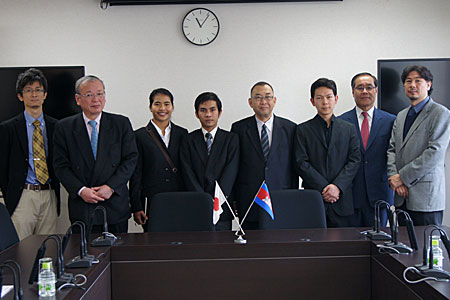 Prince NORODOM discussed the importance of education and emphasized the roles that universities such as APU must play. When Vice President YAMAGAMI gave an overview of the university, Prince NORODOM was surprised to learn that nearly half of APU's students are international students. He asked about the scholarship systems, how quotas were set for each country, and what steps Cambodian students need to take to apply to APU.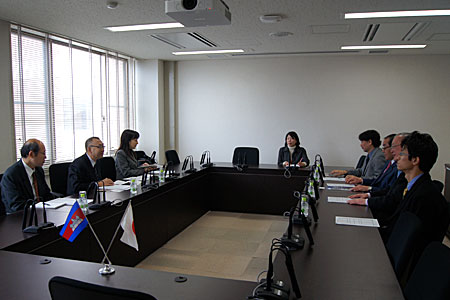 The discussion, which extended beyond the scheduled time limit, covered a broad range of topics and even touched on the fact that an APU alumnus now works at the Cambodian Institute for Cooperation and Peace.
After the talks concluded, Prince NORODOM met with three Cambodian students and toured the campus. At present, there are nine Cambodian students enrolled at APU.