On Tuesday, April 1, 2014, the Spring Entrance Ceremony was held at B-con Plaza in Beppu City, welcoming 1002 new students from around the world.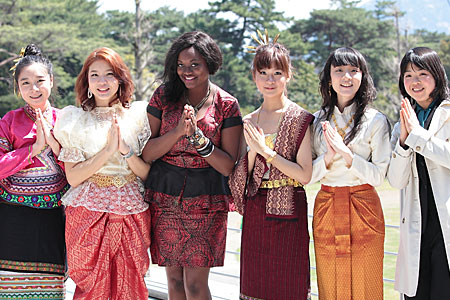 This spring the University welcomes 926 undergraduate students from 41 countries and regions (680 domestic and 246 international), 20 graduate students (4 domestic and 16 international) and 56 short-term and exchange students (12 domestic and 44 international) (as of March 27, 2014).
President KORENAGA Shun welcomed the new entrants and offered encouragement: "[APU has] an advantage that no other university has – and that is the endless number of communities that exist on campus. These are places for communication and interaction. This campus abounds with opportunities to awaken your curiosities, encounters with people who will encourage you to break out of your shell, and challenges that will take you closer to achieving your dream. Once you have sparked a flame in your own hearts and minds, I guarantee that the person you see in the mirror in four years' time will not be the person you see today".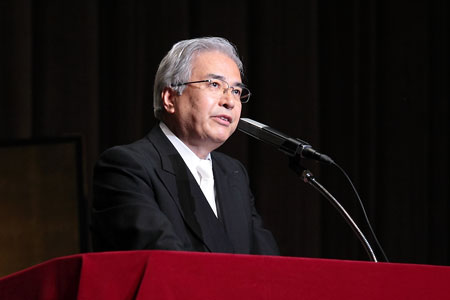 Dr. George E. MARTIN, President of St. Edward's University in the U.S., attended the Entrance Ceremony as a guest, and spoke of St. Edward's collaborative agreement with APU: "Last year, St. Edward's and APU signed a Statement of Commitment to long-term collaboration with one another toward the goals of mutual understanding and acceptance, and the development of a peaceful world. We believe that by working together we can better prepare our students to thrive in this challenging new century through a personalized educational experience that emphasizes critical thinking and social justice".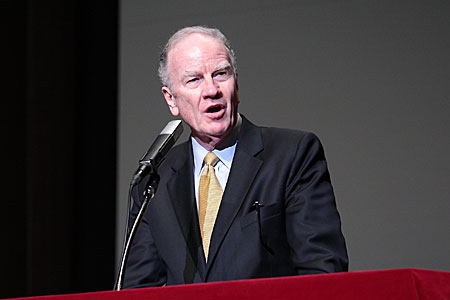 HONG Sangwon (College of International Management 4th year, Republic of Korea) addressed the audience on behalf of current students. ISHIHARA Mika (College of Asia Pacific Studies, Japan) and VINSENSIUS Benny Purwanto (Graduate School of Management, Republic of Indonesia) then spoke on behalf of the undergraduate and graduate new entrants respectively.
Speaking on behalf of the new undergraduate students, Ms. ISHIHARA shared her aspirations for the future: "We are now entering a new chapter of our lives. We should not be afraid of the challenges to come as they will just shape your world for the better. We are blessed to be in this phenomenal place where we can expand our possibilities, so let's make these next four years fruitful and inspiring by using our limited time wisely, working hard together and sharing life together".
Mr. VINSENSIUS then spoke on behalf of the new entrants to the graduate school: "One of the reasons why I decided to come to this university is to take the opportunity of studying the MBA program offered by APU with its attractive global environment. For me, this is both a challenge and an opportunity at the same time. After graduation, I plan to get deeper involved in the business and management area of electrical and automation system engineering. I hope that I can contribute more positively for the society of my home country, Japan and other Asia Pacific countries in the future".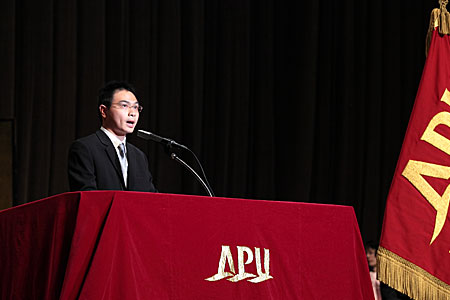 Many current students also came along to the ceremony to welcome the new entrants to APU and enjoy the colorful performances that followed, including a traditional Indonesian dance, Korean folk music, Chinese traditional art, a Japanese drum performance and a Japanese dance performance.
The Entrance Ceremony was also broadcast live on the internet via Ustream. Footage can be viewed at the APU Gallery: The 2014 Spring Entrance Ceremony.