On Wednesday, April 23, 2014, a ceremony was held at the APU Convention Hall to mark the start of the Iwata Academy - APU/Ritsumeikan Course. The ceremony was attended by 17 first-year Iwata Academy students, their parents, and representatives from Iwata Academy and APU. Also attending were the APU student Teaching Assistants (TA) that will be involved in this course.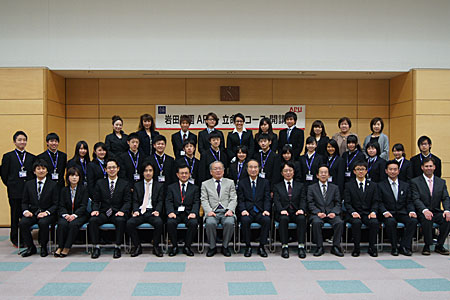 During the opening ceremony, APU Vice-President, YAMAGAMI Susumu offered a few words of encouragement before presenting each participating Iwata Academy student with an APU library card, "Here in the multicultural environment at APU you will all be in contact with a diverse range of cultures. I hope that you will effectively utilize the library and what you learn from APU teachers to experience a wealth of things that will benefit your future. We all wish you the very best." Iwata student, OTSUKA Keito spoke on behalf of the new course students, "I hope to use the various experiences and exchange with international students to gain an international perspective, something I believe is necessary in the age to come."
NARUSE Terukazu, Chairman of the Iwata Academy, offered a few words, "I look forward to seeing you make the most of this amazing environment and how opening up your mind to the rest of the world from the time you are at high school will have shaped you in 3 years time."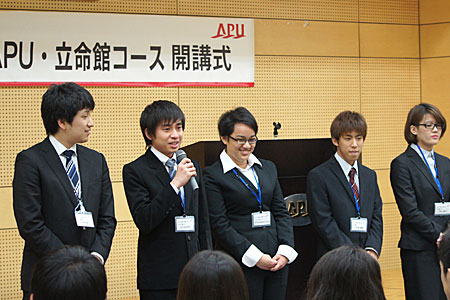 MATSUMOTO Yoshihiko (APS 4th year), former course graduate and TA for the current course, said "the dissemination skills and ability to think about things from many different perspectives that I acquired on the course, through interaction with university students, taking APU lectures, AP language training and overseas fieldwork, have been very useful even after entering university." UEO Yumiko (APS 2nd year) answered "we learnt about how to prepare for and carry out presentations and debates in English, all of which helped me acquire a more positive attitude."
Ritsumeikan Asia Pacific University and the Iwata Academy (Oita City) signed a university-high school liaison agreement in May 2007, as a way of promoting the development of globally-minded graduates in Oita Prefecture. This agreement led to the establishment of the Iwata Academy - APU/Ritsumeikan Course in April, 2008. Including this year's intake, the program has so far welcomed 116 Iwata Academy students. Students on this program study under a course curriculum developed by APU and the Iwata Academy.
Related link : Iwata Academy HP "APU.Ritsumeikan Course"(Japanese)