教育プログラム|AACSB
May 9, 2014
On Thursday, February 27, 2014, the College of International Management (APM) and the Graduate School of Management (GSM) of APU welcomed Dr. Iain Watson, Executive Dean of the University of Queensland as part of the accreditation process for the Association to Advance Collegiate Schools of Business (AACSB)*.

<Dr. Watson with Faculty and Staff Members>
APM and GSM began the AACSB application process in 2008 and are now in the final stage of obtaining accreditation. His visit to APU this February was a preliminary inspection for AACSB's on-site visit planned for October, for which Dr. Watson will be responsible.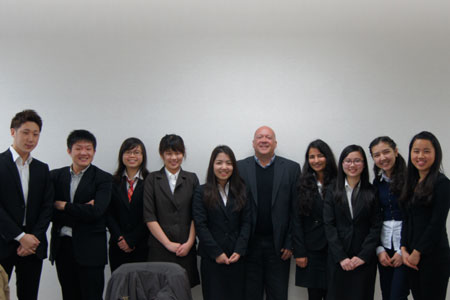 <Dr. Watson with Students>

Dr. Watson toured the APU campus, engaged in dialogue with students and participated in meetings with APM and GSM Dean Yokoyama and other faculty and staff members during his visit.
APM and GSM are working toward continuous quality improvement in education, research and APM and GSM operation as they aim for accreditation.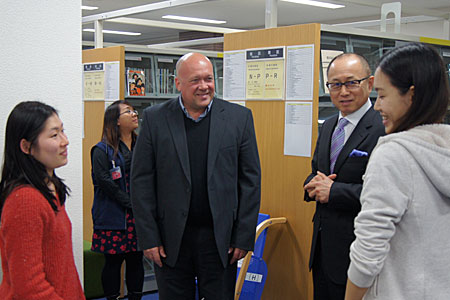 *AASCB is an international accreditation body for business education (headquartered in the U.S.). As of March 2014, 694 institutions in 45 countries and regions hold AACSB accreditation (two of which are in Japan).