On Monday, May 12, 2014, APU concluded a cooperative agreement with the Osaka-based Asia Pacific Institute of Research ("APIR"). The pact was realized after APIR approached APU about concluding an agreement in which both institutions leverage their shared focus on the Asia Pacific to promote research.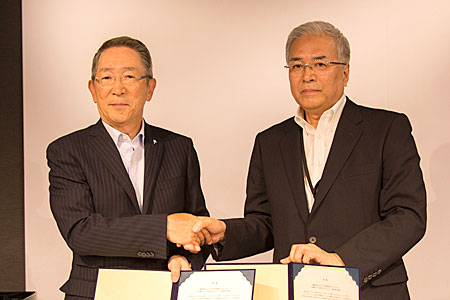 APU President KORENAGA Shun and APIR Director MIYAHARA Hideo were on hand for the signing ceremony at Knowledge Capital in the Grand Front Osaka Building. After the ceremony, a panel discussion featuring Ritsumeikan University Professor Emeritus Dr. SAKAMOTO Kazuichi, Interact Japan president Ms. OBINO Kumiko, Softbank Chairman Ms. FUJISAWA Kumi, and APIR deputy director Mr. SAWA Akihiro was held on the topic of making Kansai a world-class region.
Going forward, APU and APIR will cooperate with each other in the fields of global human resources development, community development and research exchange on issues facing the Asia Pacific Region.