On Friday, June 13, 2014, Ambassador Extraordinary and Plenipotentiary of Bangladesh to Japan, H.E. Mr. Masud Bin MOMEN visited APU to hold talks with Vice President YAMAGAMI Susumu, APM Professor Abdullah-Al-Kafi MAJUMDAR, APM Professor Munim Kumar BARAI and international students from Bangladesh.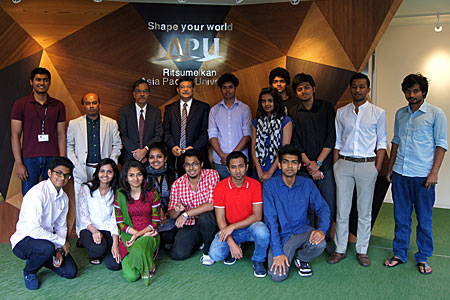 One of the student participants, ISLAM Tahmidul (College of International Management, 3rd year, Bangladesh) commented on the meeting: "The Ambassador asked many questions about class content, international student support systems and post-graduation career paths. He also said APU's faculty, academic systems and library were excellent."
After the meeting, the Ambassador and others joined a tour of the APU campus led by Bangladeshi students.
At present, there are 42 students from Bangladesh studying at APU.