The MAKINO Textbook Scholarship Award Ceremony was held at APU on Wednesday, July 16, 2014. The purpose of the MAKINO Textbook Scholarship is to help reduce the financial burden on students when purchasing textbooks. Twenty students were awarded with book vouchers that they can use to buy textbooks.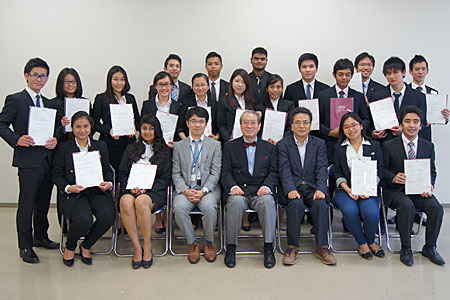 This scholarship was established on the offer of APM Visiting Professor MAKINO Hirofumi who wished to set up the scholarship with the hopes of financially aiding students with the purchase of expensive technical books and textbooks.
The ceremony began with Dean KIM of Student Affairs introducing Professor MAKINO and giving a few words of thanks. Professor MAKINO also greeted scholarship awardees with, "I want all of you to not only give your best at just your studies, but everything that you do including sports, volunteer and exchange activities, and having fun. You should never be 100% satisfied with your current situation and should always be a bit dissatisfied and left wanting more. Keep your goals high and do your best to make your dreams come true. It is my hope that this scholarship will also play a small part in helping you realize your dreams." Professor MAKINO handed out the Scholarship Award Certificates and the book vouchers to each student.
Each student gave a few words of thanks after receiving their scholarship and spoke about their own future dreams. Lastly, Professor MAKINO took time to become better acquainted with the students and carefully answer questions and share anecdotes about his own experiences studying overseas and professional career.
MORITA Yuya (College of International Management 3rdyear, Japan) said "Professor MAKINO touched on two things in his speech that especially left an impression on me. The first was the importance of giving your best in everything that you do as it will lead to wonderful encounters and successful outcomes. The second was the need to continue to feel dissatisfied. It is most likely true that people will be able to live their lives with a solid sense of purpose afforded by unlimited ambition and an inquiring mind. After hearing the superb speeches of the other 19 scholarship recipients, I am left feeling an even greater sense of responsibility and honor for having been able to participate in this scholarship award ceremony." WICKRAMANAYAKE Pathirannahalage Pravini (College of International Management 3rdyear, Democratic Socialist Republic of Sri Lanka) said "This scholarship was not merely a relief from the financial burden of purchasing textbooks, but also, most definitely an inspiration and an added stimulus for me to excel in my academics and engage in more volunteer activities. I would like to thank Professor Makino once again for the generous donation you have made. By helping reduce the financial burden of purchasing textbooks, you have provided us with the opportunity to further shine in our academics. "