On Friday, September 19, 2014, the Fall Entrance Ceremony was held at the APU Millennium Hall.
This is the largest number of Fall enrollees that we have welcomed to the APU campus since the University's opening, with 606 international students making up the majority of the total 642 enrollees who we are pleased to embrace as new members of the APU community. The Entrance Ceremony reflected APU's characteristic international environment as we greeted the new enrollees from 53 countries and regions, including Japan, whose beaming smiles were brimming with ambition and purpose.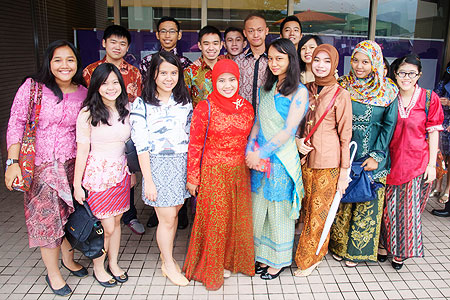 This fall the University welcomes 511 undergraduate students (26 domestic and 485 international), 64 graduate students (3 domestic and 61 international) and 67 short-term and exchange students (7 domestic and 60 international). (As of September 16, 2014)
President KORENAGA Shun welcomed the new entrants and offered a few words of encouragement: "The components of education at APU are outstanding professional education, intensive language education and liberal arts centering on global justice. APU is a university that specializes in social sciences such as management, economics, sociology and international relations. Cultivate an extensive knowledge of your chosen field. Domination through power and realpolitik run rampant across the world and there seems to be no end to the tragedy of many human beings losing their lives to war and violence everyday. But nothing can come of war and violence. The human race must turn towards compromise and tolerance arising from dialogue. It is not military force or brutality that controls and manages the world of human beings but rather the wisdom that brings civilizations together. On this campus, overflowing with potential, train your mind and your heart and enjoy your student life. Create a future in which you will shape and develop civilization."
KUSANO Yutaro (College of Asia Pacific Studies, year4, Japan) addressed the audience on behalf of the current student body and OZUNA Victoria Susan (College of International Management, United States of America) and BOLTAEV Azamat (Graduate of School of Asia Pacific Studies, Republic of Uzbekistan) spoke on behalf of the undergraduate and graduate new entrants.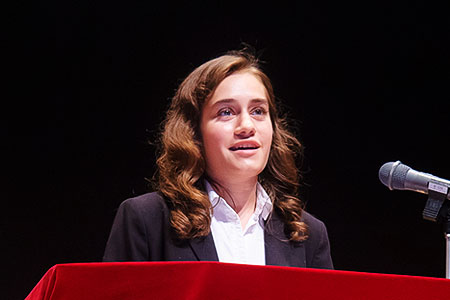 Speaking on behalf of the new undergraduate students, Ms. OZUNA shared her aspirations for the future, "I wasn't content going to a university in my local area, staying with the same people, and hearing all the same viewpoints that I had been surrounded with since childhood. I wanted to plunge into the unknown, take a risk, and go to a new country, expanding my mind in ways I would never be able to do elsewhere. I wanted to challenge myself, and frankly, there aren't many things more difficult than moving to a new country. And most importantly, I wanted to surround myself with new languages, new foods, and new customs. Through that, I hope to learn to let go of my hesitance and embrace a new, smarter, and bolder me, a me that is now the proud student of a great school."
Mr. BOLTAEV then spoke on behalf of the graduate school new entrants: "In my thought APU creates an international environment where different nations can be close to each other, a particular land with a great chance to grow an international mind, a place that gives the feeling of intercultural exchange and mutual understanding while making countless friends from various countries. Therefore, I believe that APU is an essential environment for preparing me as a specialist in International Relations. Studying in APU will be an asset for my future as I hope to prepare myself as an Uzbekistani specialist in International Relations promoting the relationships between my country and Japan, as well as other Asia Pacific countries."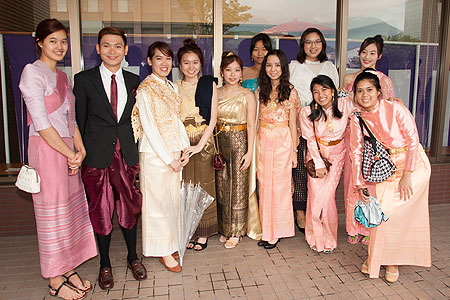 Many current students also came along to the ceremony to welcome the new entrants to APU and enjoy the colorful performances.