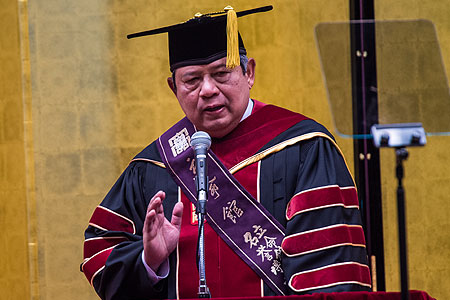 On Monday, September 29th, Ritsumeikan University held an Honorary Doctoral Degree Conferral Ceremony for Dr. Susilo Bambang Yudhoyono, the President of the Republic of Indonesia. In October 2004, Dr. Yudhoyono became the first Indonesian president to be directly elected by the people. During his tenure, he has led Indonesia through some very difficult times, including the great Sumatra earthquake, Indian Ocean tsunami of 2004, the Aceh Peace Agreement in 2005, and the global financial crisis in 2008. President Yudhoyono has built a new, stronger and stable Indonesia with great potential which is acknowledged worldwide.
Not only has President Yudhoyono contributed greatly in ASEAN and Asia, but also he has promoted an "all direction foreign policy" where Indonesia would seek "a million friends and zero enemy".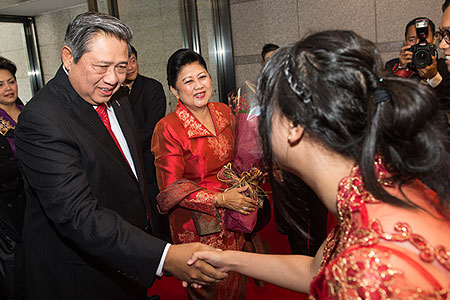 After being welcomed with a bouquet of flowers by Ristumeikan and APU student Monica Elvina Saputra (APS 4) at Ritsumeikan's Suzaku campus, President Yudhoyono was presented with an Honorary Doctorate and sash by Ritsumeikan Chancellor KAWAGUCHI Kiyofumi. The two gentlemen shook hands tightly as the 400-strong audience applauded strongly.
In his opening address, Chancellor KAWAGUCHI said that as an academic institute nurturing the human resources who will lead the Asian era, Ritsumeikan invested in supporting the growth and learning of Indonesian students. President Yudhoyono followed with a speech, saying that Japan was one of Indonesia's most important international partners, and that he was looking forward to a future in which the many Indonesian students studying at both Ritsumeikan University and APU were contributing to the strengthening of ties between the two countries.
There are currently 261 Indonesian students studying at APU (as of September, 2014), with a total of 752 students having studied here since the University opened. Indonesian graduates are active in countries around the globe, including the establishment of the NGO "Hoshizora Foundation" in their home country of Indonesia.