The 12th Asia Pacific Conference was held at APU on November 1-2, 2014, hosted by the Ritsumeikan Center for Asia Pacific Studies (RCAPS). A number of researchers and students gathered together from 32 institutions in 16 countries and regions, including India, Republic of Indonesia, Republic of Uzbekistan, Republic of Singapore, Republic of Korea, People's Republic of China, People's Republic of Bangladesh, Republic of the Philippines and Malaysia, as well as Japan.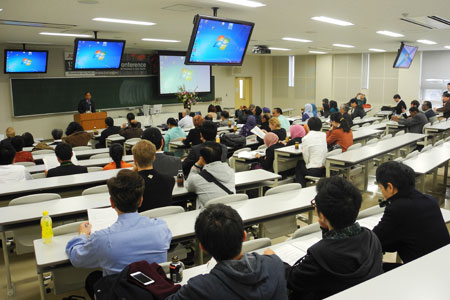 The conference featured a keynote speech, "On Institutional Luck Egalitarianism," by Associate Professor Akira Inoue (Graduate School of Core Ethics and Frontier Sciences, Ritsumeikan University). Touching on examples from the Asian Pacific region Professor Inoue talked about the latest debates in defense of luck egalitarianism, an egalitarian theory of justice that advocates for mitigating the effects of environmental factors people have not voluntarily selected as a means of eliminating inequality and that has recently been the target of much criticism.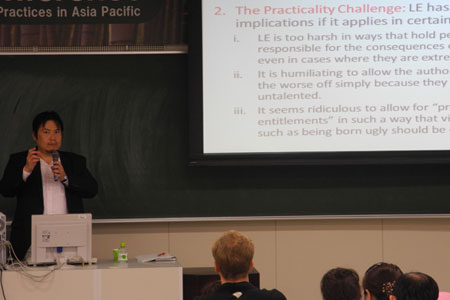 In the two-day conference, the researchers discussed extensively the theme of "Ethics, Human Security and Sustainability: Knowledge and Practices in Asia Pacific". Researchers who presented at this conference will be invited to submit a full paper article for publication in the next issue of the "Ritsumeikan Journal of Asia Pacific Studies (RJAPS)".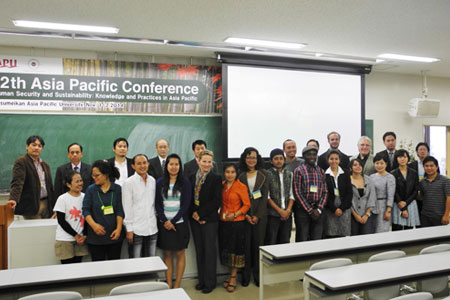 *Begun in 2003, the Asia Pacific (AP) Conference is an annual event held by the Ritsumeikan Center for Asia Pacific Studies (RCAPS) under the concept of "shaping the future of the Asia-Pacific region" – one of APU's fundamental principles.